Football Expert & Columnist
Manchester City will win Premier League title if they beat Arsenal on Saturday Night Football
Arsenal are too open and lack the power and ability to win ugly
Last Updated: 30/03/14 3:26pm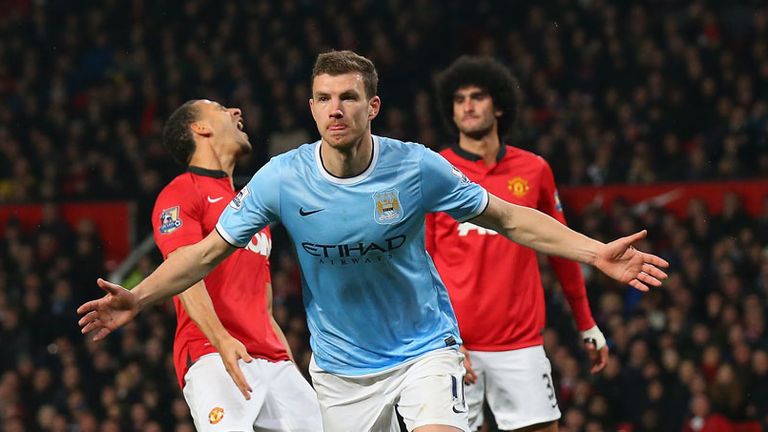 If Manchester City go to Arsenal and win this weekend I think the Premier League title will be theirs.
Three points would mean City can afford to lose at Liverpool and still overtake Chelsea at the top of the table – and they're more than capable of beating this low-on-confidence Arsenal side. 
A few weeks ago, when Arsene Wenger's team were still title contenders, this game looked like it would be the biggest of the season - but despite Arsenal tailing off, there's still plenty riding on this one
City need the points for their title push, while the home side can't afford their season to dwindle away because Everton are challenging them for fourth.
It's fine blowing away lesser teams but against bigger teams, when you need to dig in, Arsenal just don't seem capable.
Jamie Redknapp
Arsenal's 6-0 defeat to Chelsea last week was incredible, but we shouldn't be surprised because it's happened to them in all the big games this season: they lost 5-1 at Liverpool and 6-3 at the Etihad.
Who will win the title? Check out the odds
You can understand losing by one or two to good sides like that but Arsenal have been conceding too many in what should be tight occasions. And that's all because of their approach.
Arsenal go into these games so open with a team seriously lacking in strength. Chelsea must have looked at the opposition's team sheet last Saturday and thought 'they can't live with our power here'.
Jose Mourinho went with David Luiz and Nemanja Matic as defensive midfielders from the start at Stamford Bridge. He wanted his Chelsea team to be really difficult to beat, strong and well-organised. Wenger, on the other hand, just sent his group of players out and said 'go and play'.
As much as I like football being played in the right way, a lot of it is about power and being able to stop the other team – and Arsenal just don't seem to have that.
It's fine blowing away lesser teams but against bigger teams, when you need to dig in, they just don't seem capable.
Forwards
Arsenal don't seize the big moments either. Three minutes into that game, Olivier Giroud had a great chance on his left foot to put them one up. He missed and Chelsea went down the other end and scored.
They're the moments that decide titles and times when you need your forwards to make the difference.
Game changing strikers, like Robin van Persie and Sergio Aguero, though, cost money. If Arsenal had put their hands in their pocket and put £50m or £60m on the table in the summer for Luis Suarez they would have signed him – and probably won the title.
Wenger always wants to do things on the cheap, though. The problem is the days of being able to go and pluck the likes of Patrick Vieira or Thierry Henry or even Emmanuel Adebayor from obscurity for next to nothing just doesn't happen anymore. Everyone is trying to do the same thing and the only way you can get those players is by paying up.
Wenger stumbled across Mathieu Flamini, who's done okay this year and has been one of their better players in the big games, but he's also played Mikel Arteta – who played on the right at Everton – as a defensive midfielder.
In the big games the back four need protection. Chelsea don't play one defensive midfielder in those big games, they play two. And that's the difference between the two managers: Wenger doesn't win big games and Mourinho does.
Football isn't all about playing beautiful football, it's about winning ugly at times. Arsenal don't seem capable of doing that and their midweek draw with struggling Swansea was the perfect example.
Fantastic
When Man City lost to Barcelona I said if they only end up with the Capital One Cup with this group of players this season it will be a huge disappointment and a failure. They're fantastic to watch and one cup isn't good enough.
However, since their Champions League exit they've won three on the spin, scored 10 goals without reply and now seem to have that mentality where they feel they can go and beat anyone.
At Old Trafford, in their 3-0 win over Manchester United, they were excellent from the first minute to the final whistle, from Joe Hart through to Edin Dzeko. They swarmed over United, who couldn't live with their power and quality.
I thought the little change of shape Manuel Pellegrini has implemented in the last three or four games worked well for them, too.
Instead of going with two up front he played David Silva off Dzeko and it worked perfectly. Silva offers that link-up play and the number 10 role really suits him. It also means City don't get out-numbered in midfield either.
The trio of Fernandinho, Yaya Toure and Silva was immense in that match and stood out in what was a brilliant all-round performance.
Jamie is backing City to beat Arsenal 3-1 - 14/1 with Sky Bet
Given Arsenal's frailties over the last couple of games and their confidence, I think City will beat them this weekend.
The home side are without Laurent Koscielny, not to mention Theo Walcott, who scored twice in the reverse fixture. And if Man City play anywhere near their potential they'll win the game. I'm going for City to win 3-1.
I still reckon Arsenal will finish in the top four because I don't think Everton are going to win all of their remaining games but the Gunners have got to bounce back.