Leon Osman and Everton dreaming of Champions League
Toffees have impressed under Roberto Martinez in 2013/14
Last Updated: 31/03/14 1:12pm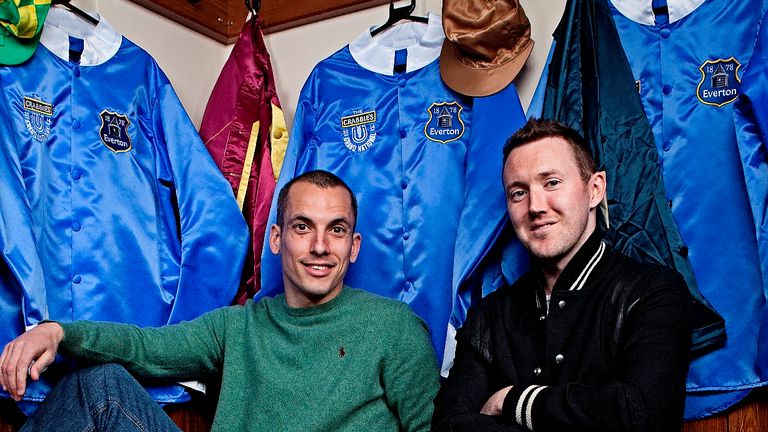 It's a decade since Leon Osman made his first start for Everton. It was the back end of the 2003/04 season and then-manager David Moyes was already making plans for the 2004/05 season – a campaign in which Everton would qualify for the Champions League.
Osman scored in that first full game, against Wolves, and went on to establish himself as a more regular player the following season.
The manager came in with some great new ideas, a breath of fresh air as such. He really changed the philosophy of playing from the back.
Leon Osman
But he has always had to fight more than most for the right to play in Everton's team. Back then the likes of Lee Carsley, Kevin Kilbane, Mikel Arteta and Tim Cahill made up the numbers in midfield. Ten seasons on, Osman is amongst an entirely different group of players challenging for a first team place, hoping to qualify for Europe's elite competition.
"To play for this club is always going to be an enjoyment," he explained. "Every time you go out on the pitch it's fantastic. We've got a strong squad at the minute and the manager likes to keep what he calls his front four players fresh and sharp as often as he can and that means you're going to have to sit out a game or two. But he's right, when you come into the team you're fresher and sharper than you would normally be."
I caught up with Osman ahead of this weekend's Crabbie's Grand National at Aintree. He was given a tour of the course alongside his team-mate Aiden McGeady. The Irishman missed out on a starting place in Sunday's win over Fulham, when the front four had Romelu Lukaku at its head, backed up by Osman, Gerard Deulofeu and Ross Barkley.
Barkley is the headliner grabber, thrilling supporters in this country whose allegiances extend beyond the Blues. He is one of the few in Roy Hodgson's England set-up who is genuinely exciting fans ahead of Brazil.
"Ross is going to capture the imagination, especially as he's English, and he's done terrifically well. His goal the other night [away at Newcastle] was incredible, but we shouldn't get too get carried away, he's still only young and we've got to let him develop," cautioned Osman.
But surely it's great to see someone playing with no fear as Barkley does? "It is. I think whenever you're young you seem to play without fear. We've got a few in the team like that, Romelu up front and Gerard are also really young, and John Stones at the back. It's nice to see them all doing well."
Adjustment
The midfielder has always epitomised the team ethic. He's one of the senior players in Martinez's side, but despite Osman's longevity at Goodison Park, the Spaniard is only the second manager he has worked with. It was an adjustment that took a little time to get used to.
"It was different from what I believed Everton was and what it had seemed like for years. The manager came in with some great new ideas, a breath of fresh air as such. He really changed the philosophy of playing from the back. I think we've got some intelligent players at the club. Quality on the pitch, but also with mental qualities as well. When the manager is trying to bring across new ideas, if you can pick them up quickly you're going to be able to implement them well."
Martinez's side are in a good place. Five successive wins and a home fixture against Arsenal this coming weekend has given Everton more than an outside chance of a top four spot. They are by no means bookies' favourites but supporters have had a good season regardless of the outcome.
All the talk last summer was about adjusting to the new regime and the likely departures of the best players. As it is, only Maroune Fellaini has gone. With £27million in the bank from that transfer and Barkley stepping up in his place that represents a great transition.
Development
The fear is that important loan signings such as Lukaku, Deulofeu and Gareth Barry will depart this summer. All three have been crucial to the club's success this season. Everton may not be blessed with the spending power of those around them, but Martinez can point to player development if he wants to extend loans and even secure permanent deals.
Lukaku and Deulofeu have been given opportunities that would otherwise have been denied them and their parent clubs will see a better player should they return. Even an experienced campaigner such as Barry has had his reputation enhanced by playing every week. Everton represent the alternative to those squads that are bursting at the seams, full of players parked up on big transfer fees and big wages. It may not appear so, but money doesn't have to win out every time.
Osman clearly loves playing for his local club, but in the time we spent chatting at Aintree it was clear that he saw the values they uphold too. A Champions League place would cap off a fantastic first season under Martinez. But should they miss out, there is plenty of evidence to suggest good times ahead.