Gary Neville: Tottenham need to clear up Tim Sherwood speculation
Gary Neville says it's "nonsense" Tim Sherwood's future is in doubt with so much for Spurs to play for.
Last Updated: 08/04/14 9:02am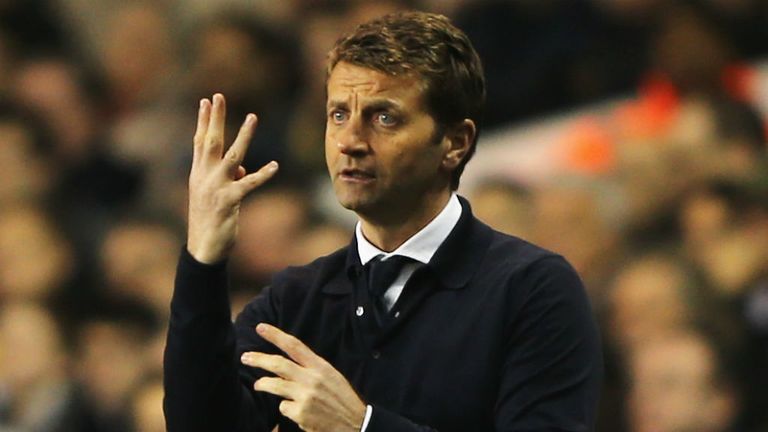 Spurs claimed a comprehensive home victory on the day Sky sources reported that their manager, who only took over from Andre Villas-Boas in December, will be relieved of his duties in the summer.
The victory sees Spurs move above Manchester United into sixth place and they are now just five points behind Arsenal in the race for a Champions League spot.
And Neville says it's "nonsense" that news should be leaked about Sherwood's future when the club still has plenty to play for this season.
"It makes a nonsense and a mockery of the stuff that's come out today," he told Monday Night Football.
"Why would a CEO or chairman tell a manager that he's not going to be here next season - if that has happened?
"There's still things to play for, Europa League places at worst, there's potentially Champions League places. Everton have got tough games against City and United and if they lose those two and if Tottenham win then all of a sudden...
"We could be sat here in two or three weeks' time and Tottenham could be one point off Champions League spaces - and they've told the manager that he's not going to be here next season potentially.
"I think that's something that needs to be cleared up, probably by Tottenham, because it will just unsettle things. It's poor timing of the news coming out today.
"I don't understand that. I don't understand who it suits."
Responsible
Neville also insists that Sherwood cannot be held fully accountable if the club fail to achieve their ambition of qualifying for the Champions League.
He says sporting director Franco Baldini and chairman David Levy, who sanctioned the sale of Gareth Bale to Real Madrid and the £100million summer spending spree last summer, are also responsible for their current position.
Neville added: "Levy, at the start of the season, was hailed as some sort of genius for the way he held off on the sale of Bale and got millions for him.
"He got players in first and did his business well, but when the players were lined up there it looked like a blancmange to me. I couldn't quite work out what they'd signed.
"It looked like a lot of number 10's and a few out wide. There were players I didn't know and players that you think needed 12 months to settle into the Premier League.
"I think the person who picks up the job next season will get a better Paulinho, a better Lamela and a better Eriksen. Capoue has been in and out, so they are going to get better service out of those players next season.
"We've seen before that it takes some time for players to settle into the Premier League. The idea was they were going to replace Gareth Bale, who was part of a very settled team with Tottenham for a couple of years, and then all of a sudden stick six players in and think they were all going to settle in?
"That's why I think Andre Villas-Boas should have been given to the end of the season to work with the players. Baldini had dumped a load of players on him.
"I imagine at the moment there's a lot of blame game going on. Baldini will be blaming Sherwood and Villas-Boas saying they are not getting the best out of the fantastic players he's signed.
"Levy is stuck in the middle taking either side between his head coach and sporting director. That's where you've got confusion."