Gary Neville: Manchester United can still sign stars after Bayern Munich loss
Gary Neville says Man Utd don't need Champions League football to sign the players they want.
Last Updated: 10/04/14 11:03am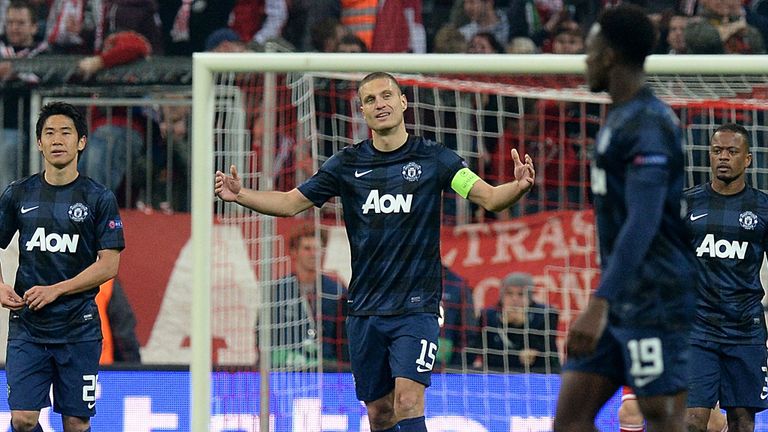 A 3-1 defeat to Bayern Munich in the Allianz Arena confirmed a 4-2 aggregate loss for David Moyes' side and with the club languishing in seventh place in the Premier League, their manager has now accepted that they will not be in Europe's top club competition next year.
It would be the first time since 1995/96 that United have failed to qualify for the Champions League, but former captain Neville doesn't feel that will hinder their transfer plans this summer.
"I've never bought into the theory that United will struggle to sign players because they're not in the Champions League for one season," he told Sky Sports.
"They've got to target the players and get them as early as possible. That was the problem last season, the main targets they didn't get.
"They have got to make sure those players are on board and they can connect with those deals as quickly as possible.
"They've got time now to be able to do that."
Game management
Patrice Evra gave United a shock lead in the second half in Munich, but Bayern equalised within a minute through Mario Mandzukic and goals from Thomas Muller and Arjen Robben saw them through to the semi-finals.
And Neville was disappointed with the way Moyes' side played after opening the scoring, insisting they were too open and allowed their opponents back into the match.
"The game management after going 1-0 up was poor from United for about 15 minutes," he added.
"Even at 2-1 with 71 minutes on the clock, you need to keep it at 2-1 until 85 minutes and try and twist it back the other way. They couldn't stop the tide coming against them at that point.
"After the goal, they needed five or 10 minutes of solidity. The killer was within a minute and I think that psychologically changed the way in which United felt about the game, and the way in which Bayern responded.
"The game was end to end and you knew United were in trouble. At 1-1, it was going from one end to the other and that didn't suit the way United were going to win this game; they couldn't go punch for punch with Bayern.
"They had to play the way they were doing pre going 1-0 up and after the first goal went in and the equaliser went in so quickly, it became punch for punch for 15 minutes.
"That's where Bayern just pulled away from them."
Frustrated
Neville believes Bayern Munich remain favourites to win the Champions League, but says they have shown vulnerability in the knock-out games so far.
He says the talent of Franck Ribery and, in particular, Arjen Robben made the difference and he was frustrated with the way his former club failed to cope with them in the second half in Munich.
"I think Bayern, to be fair, over two legs of this tie have been predictable," Neville added.
"But you have to deal with the two wide players. Pep Guardiola teams always keep the ball, but they have the star quality.
"Robben is the one that, in the European Cup Final last year and here tonight, has turned it on and you have to deal with him. He's a special player.
"There were examples in the first half. Every time Robben cut inside, then Michael Carrick or one of the centre-backs were quickly going up to him.
"When the game became end to end, it just did not suit Manchester United. It's got to be more than one v one when you're dealing with Robben cutting in on that left foot. You have to have a midfield player sat in there waiting for him so it almost puts him off and makes him go back.
"They didn't have him there because they were up the pitch looking to score."