Football Expert & Columnist
Liverpool are full of confidence after winning match of the season, says Jamie Redknapp
Liverpool have won the match of the season and are full of confidence, says Jamie Redknapp.
Last Updated: 14/04/14 10:13am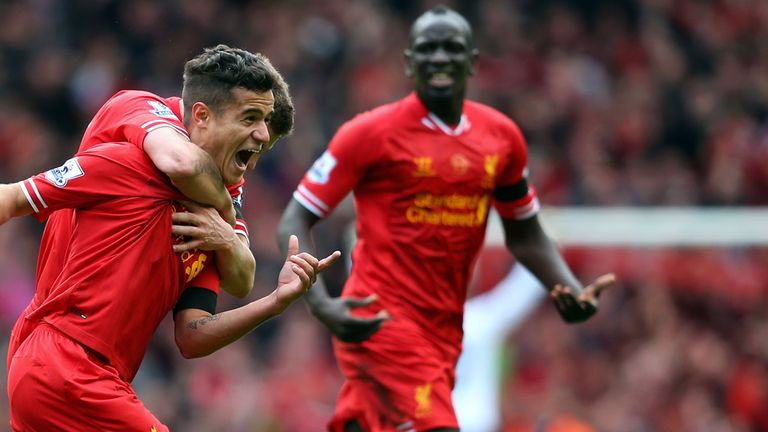 Brendan Rodgers' side took control of the title race by beating rivals Manchester City 3-2 at Anfield on Sunday, their tenth straight win in the Premier League.
After taking a 2-0 first-half lead, City fought back to level and appeared to be on the up when Philippe Coutinho capitalised on a Vincent Kompany blunder to snatch the three vital points for the hosts.
Those swings in momentum, coupled with the late sending off of Jordan Henderson and unseen handball by Martin Skrtel, contributed to a fascinating encounter which Redknapp branded as the best in this campaign so far.
"It was such a great advert for the Premier League," he told Sky Sports. "It had absolutely everything; it was sensational.
"Liverpool started on the front foot, like we all expected, and then in the second half they were on the ropes as City came fighting back. There was then that piece of genius by Coutinho.
"It was just a brilliant football match from start to finish. It had contentious moments and some brilliant individual performances from good young players - and a lot of English talent on show as well. It was the match of the season by a long way.
"But that's ten wins in a row and shows the confidence Liverpool are playing with now."
Hurdle
Liverpool finish the weekend two points clear of Chelsea and safe in the knowledge that City, even if they win their games in hand, won't be able to overhaul them at the top of the table, unless the Reds slip-up in their remaining four fixtures.
With Chelsea still to come to Anfield the league is far from won, but Jamie Carragher reckons Brendan Rodgers' men have cleared a major hurdle en route to ending their 24-year title drought.
"For weeks Liverpool have been ticking games off and been under pressure," he said. "If they'd lost or even drawn they would have looked like they were out of it. But everyone had pencilled in 'City at home, Chelsea at home' - and I think this was the massive hurdle.
"Chelsea, if they come to Anfield and win, they could go above Liverpool and City were favourites in everyone's eyes with their games in hand - but now it's back in Liverpool's hands."
Carragher paid credit to Reds boss Rodgers for his tactics, praising his positioning of opening goalscorer Raheem Sterling and the way he introduced Joe Allen to push Coutinho further up the field when Liverpool were under pressure in the second half.
Mistakes
However, he also highlighted the poor performance of City captain Vincent Kompany which, he says, had a major impact on the result.
The respected centre-half was a doubt for the match due to a knee injury picked up in training but nonetheless started for the visitors - and proceeded to be caught out for all three of Liverpool's goals.
Out-manoeuvred for Sterling's opener, out-jumped for Skrtel's second and at fault for a sliced clearance that fell to Coutinho for the winner, the Belgian was well below his best.
"You look at the goals and he's involved in all of them," said Carragher.
"I can totally understand why his manager played him [despite injury concerns] because he's such a massive influence on the team and if I was in his position I'd have played.
"But when you're not quite 100% fit and, even over night thinking 'am I going to be fit the next morning', maybe mentally he wasn't quite right."
Niall Quinn on Martin Skrtel's last-minute handball in the Liverpool box
It's unbelievable he should try and do this. He's got away with it because it just so happens where the referee was positioned he couldn't see it. But if Simon Mignolet comes and does that you'd say well done! He clenches his fist to knock it. He knows exactly what he's doing there. If the referee sees it he has to give a penalty.
Carragher on Jordan Henderson missing three games after red-card tackle on Samir Nasri
It's a red card and who knows in the next few games how it will affect Liverpool. It's a bad challenge and it got what it deserved - but he's been a vital part of this Liverpool team. He's the legs for Steven Gerrard and you think of this Chelsea game - he could have played a major part against a Chelsea midfield which at times looks a little one-paced.