Guillem Balague tips Atletico Madrid to beat Chelsea in the Champions League
But Bayern Munich will down Real...
Last Updated: 21/04/14 1:46pm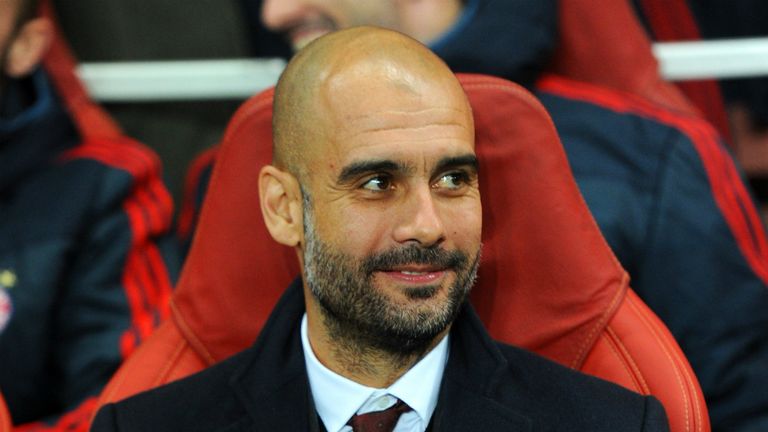 It has been an interesting process for Guardiola at Bayern. He has had to change the perceptions of directors, and what directors do, and the relationships with journalists and fans. He has demanded that the club close all the training sessions, though he was asked to have one open. He was not doing that at Barcelona.
He has also had to get used to the fact that all the directors at Bayern have an opinion on what is going on. Even Franz Beckenbauer criticized the fact that the team pass too often - he even said that he doesn't want them to be as boring as Barcelona. The response from Pep Guardiola to that has been to say, "I will do best and if it doesn't work we will shake hands and I'll go home, no problem".
Also at the end of Champions League games journalists mix with directors, players and the coach for a few drinks. It is part of the culture but Guardiola is not used to this as he kept his distance from journalists during his time at Barcelona. He did not give one one-on-one interviews, with the exception of my book.
However, what has upset him most is that after winning the league his team have dropped a bit in their intensity. And picking up that intensity could be hard. But you still have to say that it seems like a much more balanced team, even though there are doubts over whether Manuel Neuer will be fit to play against Real Madrid.
They have more balance than Real Madrid. Even though they are mentally stronger after beating Barcelona in the Copa Del Rey final, they will play the same way against Bayern Munich by dropping deep and counter-attacking.
Real Madrid do not need a lot to believe in themselves, unlike Barcelona, who often lose their belief. The problem is when they have been asked to raise the level or keep the level at the top, against Borussia Dortmund and Barcelona and Atletico Madrid in the league for instance, they just have not been good enough.
It is partly down to the fact that, apart from having a very good starting XI, the absences of Alvaro Arbeloa and Jese affects them because the replacements have not always performed. They make mistakes at the back and they do not control games that they should. In my eyes Bayern Munich are favourites.
Small margins
Atletico Madrid against Chelsea is a very interesting semi-final. The little details - such as who takes the free-kick or a mistake in a pass - will decide this tie, which is very, very equal.
But you have to say that Atletico Madrid are a team that hardly concede and they always seem to score. Chelsea also rarely concede but it seems like they have lost a spark at the wrong time.
It reminds me of 2005 when, against Liverpool in the semi-final of the Champions League, Chelsea arrived far too tired having won the league with more or less the same team playing every week and they struggled to make an impact at the end of the season.
It seems like this could be the case again so for me Atletico are favourites.
Agreement
Of course Diego Costa will be ready while Arda Turan may come from the bench in the second half. But all in all Atletico are now a team that can now count on their replacements, with Raul Garcia and David Villa making a difference. On this occasion, with Turan doubtful, they might need both.
Jose Sosa has been key in set-pieces with six goal assists since he has arrived. Of course Thibaut Courtois will play but it will cost Atletico Madrid. The agreement, according to Atletico, is three million euros per game.
Chelsea deny that there is such an agreement but that is probably because it is against the rules of UEFA. The agreement is in place and that probably means a more expensive loan deal for Courtois or a cheaper deal to buy Costa. So it will cost them.
Guillem answers your questions...
Got a question for Guillem? Then send it in using the feedback form below, and then look out for his answer next week...
WHAT A MESS
Hi Guillem, how likely do you think it is that Messi is playing like this due to World Cup coming up? Shouvik
GUILLEM SAYS: The reason Messi is playing like this is because of how the team is playing. Against Athletic Bilbao they played two wingers who kept running wide, behind the defence and pushing high. It was easier for Messi to find space. He has not had that this season, especially when they play with four midfielders, and he has been frustrated. I don't think that it has anything to do with the World Cup.
CRUYFF TURN
Hi Guillem, since you talk about the need of a manager who knows Barcelona as a club, what are the prospects of Johan Cruyff coming back to manage the team?Joe, a Barca fan
GUILLEM SAYS: Johan Cruyff will not come back. He had a heart attack and he said he wold never come back as a manager. After that he became the Catalan national coach but that was only for a friendly. But I think he would like to be part of what comes next and at the moment, with the board as it is, they won't let him back in at all.
WON'T LET IT GO
First, will not being in the Champions League give Barcelona an advantage in the La Liga run-in? Plus, do you think the title will be decided in the final game between Barca and Atletico?Rob
GUILLEM SAYS: It is all in the hands of Atletico Madrid. If they win the three games, and it is very likely with two of them in Valencia, against Levante and Valencia, then that is it, they will have won it. And Barcelona will have to do the guard of honour when they play each other at the Camp Nou in the last game.