Louis van Gaal's "perfect" for Manchester United job, says Guillem Balague
Louis van Gaal is ideal to replace David Moyes at Manchester United, says Guillem Balague.
Last Updated: 30/04/14 8:57am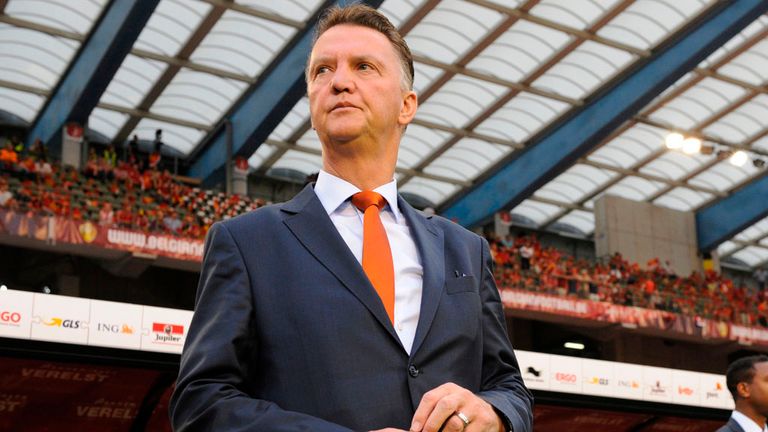 The Netherlands national team boss, who is set to leave his current role after this summer's World Cup, was installed as the early favourite with Sky Bet to succeed David Moyes after he was sacked on Tuesday.
The 62-year-old has managed the likes of Barcelona and Bayern Munich and Spanish football expert Balague feels he has all the right credentials to succeed at Old Trafford.
"Van Gaal is a fantastic manager with a big idea of how the club should be run," Balague told Sky Sports News.
"If you want to understand what's happened with Barcelona in the last decade or so, you have to go back to the job he put in there. If you want to understand what Bayern Munich are now, you have to understand what he did at Bayern Munich.
"He put the whole structure of [Barcelona] in place, started working on the positional game, he put the likes of Xavi and Puyol in the team and certainly was a guy whose dream was to have 11 players from the lower ranks of Barcelona win the European Cup.
"So he suits Manchester United down to the ground. The timing is perfect."
Remain in Spain
Atletico Madrid manager Diego Simeone has also been tipped as a contender, but Balague feels he will stay with the La Liga leaders.
And he also refuted the idea of former Chelsea boss Carlo Ancelotti leaving Real Madrid for Old Trafford.
"They think they can win La Decima - the 10th European Cup. All in all, Ancelotti feels that he's still got a job to do. He knows what he's here for next season. He's not leaving Real Madrid.
"For Simeone, going to Serie A or the Premier League, that's his next step. He feels that Atletico are still a young team that can challenge even if Diego Costa goes.
"He was offered the possibility of becoming the Argentinian national coach after the World Cup and the message that he sent to the federation was 'not now, not yet, I've still got to do some more years with Atletico Madrid'."
Trans-Atlantic Talks
Balague also suggested Jose Mourinho was desperate to apply for the job before Moyes took the reins last summer.
"There's a story in a book that's being published in Spain that says when Mourinho found out he wasn't going to take the job at Manchester United, he cried. I don't know if it's true.
"He asked [his agent] to make sure it was the case that Moyes was taking over because if he wasn't, [Mourinho] would be interested.
"It was too late because the decision was taken by Sir Alex Ferguson. That may change now if it's the Glazers making decisions.
"It is interesting, perhaps having learnt what happened last summer, that the manager has been sacked now to give the next one - and they will know pretty soon who the next one is - the chance to actually build and understand what the club has."
Despite Van Gaal's impressive CV, which includes league title triumphs with Barcelona and Bayern Munich and a Champions League victory with Ajax, Sky Sports pundit Jamie Carragher says Borussia Dortmund boss Jurgen Klopp is better suited to United.
"Klopp is a young, up and coming manager, full of energy, full of personality, and the way his teams play is the way you want to see Manchester United play - with pace and energy, going forward, on the front foot," said Carragher.
"Van Gaal is the elder statesman, the one with the experience, the CV, maybe even the ego to take on Manchester United. But with his age, being in the World Cup with Holland when probably Manchester United will want to be signing players, speaking to players, that might prove difficult.
"If it was down to those two or three, with Ryan Giggs, it would be Jurgen Klopp. He's done a great job at Dortmund, almost won the Champions League and I think he'd be a better fit than Louis van Gaal."
Sky Sports 1 will broadcast a special programme - Moyes: Story of the Day - from 7pm looking back at how the Manchester United manager's sacking unfolded on Sky Sports News with reaction, analysis and a look at the contenders to take over. This will be followed at 10pm on SS1 and Sky Sports News by Manchester United: The Verdict, analysing United's decision to replace Moyes.