Ryan Giggs: Massive day for him on Saturday Night Football, says David Jones
Can Ryan Giggs restore the United way or will he fall to a desperate Norwich, asks David Jones.
Last Updated: 24/04/14 1:15pm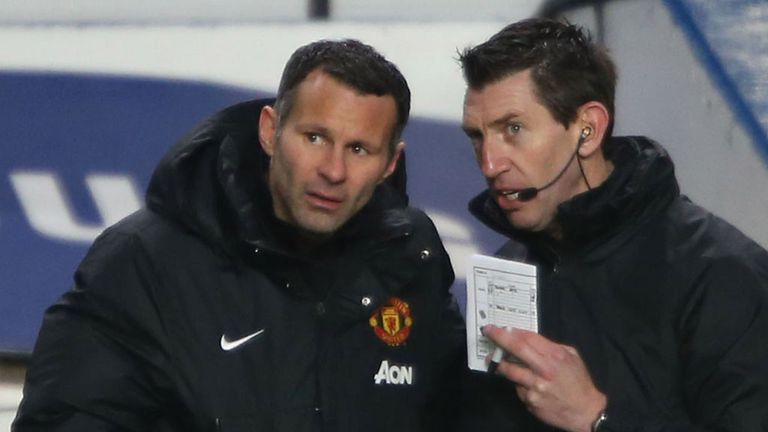 When he strolls up the Old Trafford touchline to take his place in the famous raised dugout he will feel the expectation swelling.
He will hear the excitement building, as the fans who've had so little to cheer at home this season seek comfort in a player revered more than almost any other in the club's astonishing history.
But he might struggle to see the pitch through the cloud of photographers, all eager to capture the day of destiny for this humble, quietly spoken Welshman, who's always preferred to let his feet do the talking.
If Giggs is not yet considered ready for the top job, surely Saturday will give us a glimpse of his future. But what impact can he have on a squad left battered and bruised by criticism for much of the campaign as they plunged from one low to another?
Can Giggs return the players to 'the United way' which was so alarmingly forgotten under David Moyes' stewardship? And with four games of the season to go, can he mastermind an upturn that will leave United fans relishing rather than dreading the new campaign?
But are we expecting too much from a brilliant footballer who has never been in charge of a senior team before? After all he's taking over the same ageing group of players we've repeatedly been told are no longer good enough to compete at the top of the Premier League.
Their pride must be wounded, and surely they will be desperate to right some wrongs, starting with the visit of Norwich on Saturday. It will be fascinating to see the XI Giggs entrusts to put the smile back on the face of United fans.
Will he look to experience, as his mentor Sir Alex Ferguson often did in times of crisis? Will he prefer players with pace to put the zest back in United's attacks? Will he find room for Juan Mata - the player Moyes gambled on to buy him time to rebuild?
Rookie
Spare a thought in all this for Norwich, for whom arguably this game matters even more. After all they are fighting for their Premier League future and in all likelihood will have to beat at least one of United, Chelsea away and Arsenal at home to stay up.
They too have a rookie in charge but Neil Adams will be in the unfamiliar position of being the most experienced manager involved at Old Trafford.
His two games in charge have shown promise but haven't produced a single point.
They troubled league leaders Liverpool at Carrow Road last Sunday but will have to reproduce that form over 90 minutes to earn something at Old Trafford.
Five away games so far against top seven sides have resulted in five defeats for Norwich, and though it might not seem that way, United have been pretty ruthless against teams in the bottom half, it's the top teams who've troubled them.
But Sunderland's miraculous win at Stamford Bridge on last week's Saturday Night Football offered a timely reminder that the unexpected can happen.
Would it really be a major surprise if in a week of upheaval for Manchester United a team scrapping for survival snatched a lifeline to spoil the party?
Giggsy, it's over to you.