Peter Beagrie
Football League Expert & Columnist
Peter Beagrie analyses the Sky Bet Championship final day drama
Sky Sports expert Peter Beagrie analyses all the drama from the final day of the Sky Bet Championship.
Last Updated: 03/05/14 3:58pm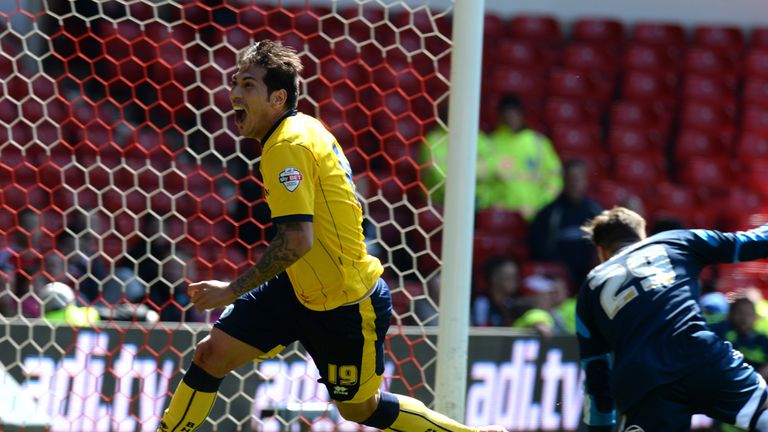 The second tier of English football reached its climax on Saturday with a play-off and a relegation spot still to be decided.
Play-offs
Three teams were in with a chance of securing the final play-off position - Reading, Brighton and Blackburn - but it was the Seagulls who guaranteed their second play-off in as many years after beating Nottingham Forest 2-1 at the City Ground. The Royals failed to win against the already promoted Burnley and Blackburn missed out after having needed both sides to lose.
BEAGRIE'S VIEW: "We've seen scenes here (The Madejski Stadium); at first celebration and now desolation which is a total contrast to the elation of the Brighton fans.
"They (Reading) were up against a really good outfit who are a model of consistency right throughout the side. It was always going to be a tough fixture and that's why we had Brighton down as favourites.
"It really is incredible, they're (Brighton) not noted for their goal prowess. We thought that they would be compact and if it was a 1-0 that they could get a victory. We thought they were favourites and that's turned out to be true.
"They've had it in their own hands on several occasions. It's tremendous to be coming in to the play-offs on a high like that."
Today's results mean Brighton will play third-placed Derby in nest week's semi-finals, while Wigan and QPR will meet in the other Wembley qualifier where, on Saturday May 24, the third team to be promoted to the Premier League will be decided.
"There's no reason why Brighton can't [go on an win play-offs] and on reflection, the two fixtures that have cropped up now, it's not Wigan against Derby - who can outscore each other, it's not QPR against Brighton - which would be like a chess game; there's a total contrast in the way the two fixtures over the two legs are going to be played against the four clubs involved.
"For me I'd looking at Derby County as favourites," he added.
"They and Wigan can score goals on a big wide open pitch. Wigan, I've got a sneaky suspicion for because they've already been there and they've been on the big occasion - that's done and dusted with that semi-final with Arsenal where they covered themselves in glory - If they could navigate their way through this two legged play-off, and get to the final, that stands them in good stead.
"There will still be more twists and turns and ups and downs."
Relegation
David Nugent's penalty gave champions Leicester a 1-0 victory over Doncaster and doomed Rovers to a relegation on goal difference in a dramatic finale at the other end of the Championship table.
Doncaster looked safe until Birmingham came back from 2-0 down to draw at Bolton, thanks to a last-gasp equaliser from Paul Caddis.
Results also meant that Millwall and Blackpool secured another season in the Championship.
BEAGRIE'S VIEW: "When you think of the downward spiral that they've (Birmingham) been on, that sequence of losses; to come from goals behind as well shows character, call it what you want, but I think there was a lot of route one as well with Zigic in there.
"You saw the sense of relief and the stress has been etched on [Lee] Clarkey's face over the last couple of weeks because he lives, eats, sleeps and breathes it. The situation that he inherited there was a bad one, the way the season has gone on with a lack of funding and how he's had to rely on loan signings - he's had to rebuild and rebuild.
"They're a predominantly young side, he's brought the odd smattering of experience in but you saw the celebration when he ran in to the crowd; that level of commitment to do the best job he possibly could and deliver and secure a second tier future is absolutely brilliant.
"I know the financial stresses that Doncaster are under - you look at Yeovil, Barnsley and Birmingham - all those teams down there are down there for a specific reason. Yes, there are expectations to the rule at the top end like Burnley, who are not in the top five budget-wise and have secured a top-two position, but there is an inherent problem and it's finance."
What did you make of the final day of the Championship season? And who do you think will win in the play-offs? Let us know by commenting below.