Kevin Phillips
Football Expert & Columnist
Kevin Phillips blogs on a 'fantastic finish' to his career
Final Leicester game 'ideal' way to bow out, says Super Kev
Last Updated: 06/05/14 4:57pm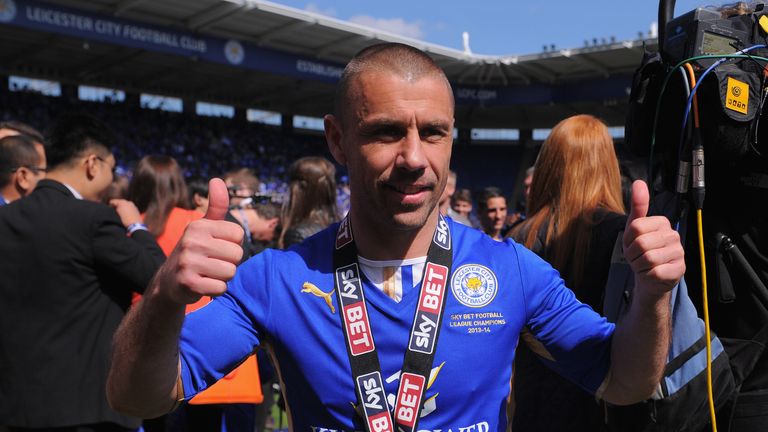 I was delighted to start the game and thank Leicester manager Nigel Pearson for that. To then get a standing ovation from both sets of supporters and everyone in the ground when I came off midway through the second half was very humbling and quite emotional.
Winning the game meant we finished on a high and, although it wasn't nice to see Doncaster go down, it was a great way to end my career and lifting that trophy as well made it even more special.
I had my family there, my kids were mascots and it was just a brilliant way to bow out.
Strange
After announcing my retirement through this blog last Monday, it was a strange week building up to the game.
We had a few days off so I had time to think about the match and let it sink in that this was going to be my last game but it never really did - and I don't think it really has at the moment.
It feels like I'm going to go on holiday, come back and then start preparing for pre-season. I guess it will probably really sink in when I report back, in a coaching capacity, not training or as a registered player.
When Saturday eventually came it flew by so quickly, as well. I tried to take it all in but it was a busy, emotional day.
There were plenty of celebrations that night, too - and I probably had one too many!
After the game we had a party arranged at the ground with players, wives, family and the kids and then we went out with some friends and family later on.
It was certainly a late one and I was suffering on Sunday! I played in Jody Craddock's testimonial on Bank Holiday Monday in a Sunderland team against a Wolves XI and I wasn't moving too well, let's put it that way!
It was fantastic testimonial, raising money for a great cause and it was really good to meet up with and play alongside my former Sunderland colleagues, who I had a really successful time with - but after Saturday's party, I wasn't at my best!
No regrets
Looking back on my final season, I have to say it's been the perfect finish.
When I signed for Crystal Palace last summer obviously I'd have liked a bit more playing time in the Premier League but I couldn't really argue at my age sitting on the bench and getting the odd minutes here and there.
Then, moving to Leicester in January, I said to myself I'd retire if we clinched promotion, so everything's panned out spot on.
I've got no regrets or qualms about the way my career has ended.
Now I'm going to enjoy my summer break and look forward to what lies ahead in the next chapter of my career.