Real Madrid out of title race after Valladolid draw, says Gerry Armstrong
Barcelona v Atletico Madrid final day showdown will be 'sensational'
Last Updated: 08/05/14 10:32am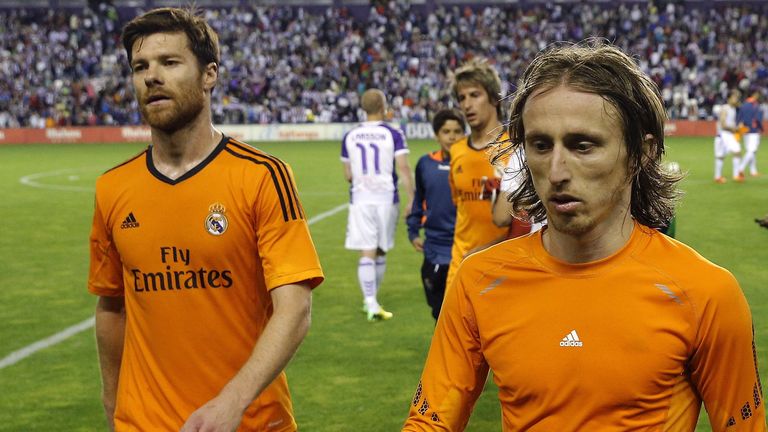 The Real Madrid boss saw his side concede an agonising leveller late on against Valladolid on Wednesday night, which wrecked Los Blancos hopes of snatching the La Liga crown from top two Atletico Madrid and Barcelona.
The 1-1 draw at Estadio Jose Zorrilla moved the hosts out of the relegation zone but left Real four points adrift of their neighbours with two to play, meaning Ancelotti's men are relying on Atletico and Barcelona dropping points in their remaining contests - including their final day meeting at the Nou Camp.
Sky Sports Spanish football expert Armstrong reckons it is unlikely both Atletico and Barcelona - who both failed to win over the weekend - will falter again.
Instead, he says Real Madrid may be better off re-grouping ahead of their May 24th Champions League final Atletico - and ensuring the likes of Cristiano Ronaldo and Angel Di Maria, who limped off at Valladolid, are rested and recovered before the showpiece.
"In my opinion, yes, Real Madrid are out of the title race now," he said.
"We said they needed a second goal, they didn't get the second goal and I thought Valladolid were worth the draw in the end.
"Real didn't dominate enough in the second half. They were trying to hang on to 1-0 and defend. It was only when it went 1-1 that they started going forward again and trying to get a goal.
"Now Ancelotti will have to re-jig and re-think his ideas. I feel it's been too much for them and they're looking tired, just like Atletico Madrid did last week. After the semi-finals, home and away, they're running on empty.
"It will all be over this weekend from Real Madrid's point of view because I can't see Malaga taking points off Atletico Madrid. I think Atletico will win that match and that's Real's title hopes gone.
"Celta away for Real is also a difficult place to go and I wonder if Ancelotti will think 'let's cut our losses. We've got players who are injured, let's think about the Champions League final'.
"He might even rest players in the Celta away game and Espanyol home game and just think 'let's go for the Champions League final'.
"Ancelotti will assess that over the next day or two when he looks at the injuries and sees what's happening. Ronaldo is the key one though."
Sensational
While Real Madrid supporters will be devastated by the midweek slip-up, the result does set Atletico and Barcelona on course for a final day decider at the home of the Catalan giants.
If both sides win this weekend, they will arrive at the Nou Camp knowing victory would mean league glory.
A draw would be enough for Atletico, who currently sit three points clear of Barcelona, but the hosts, who would have to win, could capitalise on the head-to-head record rule and clinch La Liga.
"Barcelona are back in the title race," said Armstrong. "It's working out to go down to the very last game.
"Barcelona will know if they win against Elche then Barcelona against Atletico will be winner takes all.
"Barcelona have to win, a draw isn't good enough. Can they do it? If you say 'we're not going to win anything this season but for one game at the end of the season if we raise our game we can win the league', that's a great carrot to be dangled in front of you.
"I think it's going to be sensational."