Best of the Final Day: We pick out the highlights of Super Sunday's decisive action
Sky Sports casts an eye over the final day of the Premier League season and picks out the highlights.
By Simon Wilkes and Dave Bowers (@SimonJWIlkes and @Davidalexbowers)
Last Updated: 11/05/14 11:44pm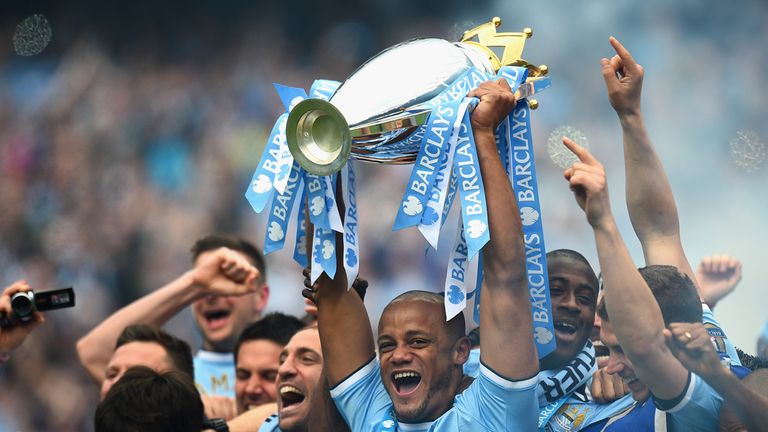 Game of the Final Day
It may have lacked the last-gasp drama of that late, late win over QPR two seasons ago, especially after Martin Skrtel's own goal at Anfield settled any home nerves on the pitch and in the stands at Etihad Stadium, but City still need to be applauded for getting the job done in a manner befitting Premier League champions. Patient, flowing football was rewarded on 39 minutes when Samir Nasri thumped home a right-footed drive from 20 yards, and if the champagne was put on ice at half-time, it was also flowing once Vincent Kompany drilled home a second goal on 49 minutes.
Manager of the Final Day
'The Engineer' was the architect of this most thrilling Premier League title for City, which saw them win 17 of their 19 games on home turf thanks to a league-high total of 63 goals. They netted 102 league goals in total, falling just one short of the record, and Pellegrini's commitment to attacking football was unshakeable, while he always held is nerve and composure both on the touchline and in front of the TV cameras. The sight of him getting the bumps from his players shows a togetherness that arguably wasn't there under Roberto Mancini, which bodes well for City in future seasons, and is a concern for their Premier League rivals.
Player of the Final Day
The mercurial Frenchman often plays second fiddle to David Silva, but stepped up to the plate when it mattered most, scoring the opening goal which broke West Ham's resistance - and delivering the corner which lead to Vincent Kompany's close-range finish. His crisp 20-yard strike was too hot to handle for Hammers goalkeeper Adrian, and ensured the hosts could get the party started in the stands.
Recovery of the Final Day
Any hope of putting some pressure on Manchester City with an early goal against Newcastle disappeared when Martin Skrtel sliced a cross from Yoan Gouffran into his own net on 20 minutes - his fourth own goal of the season. It stayed 1-0 to Alan Pardew's visitors until the 63rd minutes, when talismanic skipper Steven Gerrard staged another Reds recovery by delivering to superb deep free-kick to the far post, where Daniel Agger stabbed home from close range. Two minutes later there was a mirror image of the first goal, with Gerrard again sending in a superb delivery to the far post, where this time Daniel Sturridge converted to give Liverpool a 2-1 lead. Shola Ameobi and Paul Dummett then saw red to ensure an easy finish for Brendan Rodgers' hosts - but when the dust settles, the manager, players and fans can all savour what has been a fantastic season capped by a 16th win in 19 games at Fortress Anfield.
Heartbreak of the Final Day
"I'm absolutely devastated," Steven Gerrard told Sky Sports in the aftermath of the win over Newcastle. "Personally gutted and gutted for the fans. They've been magnificent but we can't be too down because it's been a fantastic season and we need to bounce back for next year and try and go one better." Gerrard was a pivotal part of Liverpool being in a position to push City for the domestic crown on the final day, so you felt his pain when watching the interview, with everyone's mind wondering what could have been after that costly slip against Chelsea.
Goal of the Final Day
Young Fulham sub Chris David scored a stunning goal at Craven Cottage to point to a bright future for the club, break Palace's hearts - and scupper some Super 6 players who were on the brink of sharing £250,000 before his dipping left-footed strike from 20 yards. But Goal of the Final Day goes to the returning Aaron Ramsey, who had Arsenal fans thinking what might have been had he stayed fit for the entire campaign. Ramsey suffered a thigh problem against West Ham on Boxing Day - and missed a large chunk of the run-in. There was no rustiness on display at Carrow Road, though, as he volleyed home his 15th goal of the season from a fine dinked cross by Olivier Giroud.
Celebration of the Final Day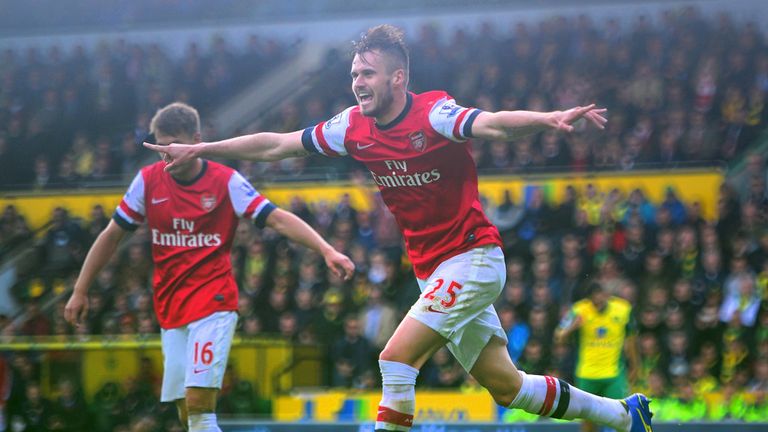 Whoever said that Arsenal's game with Norwich was meaningless should watch the reaction of Gunners full-back Carl Jenkinson, after he put his side 2-0 up at Carrow Road. A boyhood fan of the club, Jenkinson prodded home from six yards out and immediately sprinted towards the travelling Arsenal faithful. Arms aloft, the former Charlton man screamed his way to the terraces – with the reaction of his team-mates proving his popularity within the dressing room. The relief of scoring his first ever goal was plain to see, a true boyhood dream was achieved.
Message of the Final Day
One of the hottest topics leading up to England's World Cup campaign is whether Roy Hodgson should take Southampton's Rickie Lambert or West Ham's Andy Carroll to Brazil. On the evidence of Sunday, the Saints striker deserves a seat on the plane. During their 1-1 draw with Manchester United, the former Bristol Rovers man ran Reds defender Nemanja Vidic ragged – ensuring an uncomfortable final match for the United captain. The highlight of Lambert's majestic display arrived after 28 minutes, when his superbly composed strike left David De Gea with no chance. On the eve of Hodgson's squad announcement, the 32-year-old has given himself an enormous chance to represent the Three Lions at his first, and most likely his last, World Cup tournament.
Talking Point of the Final Day
Since the 2013/14 Premier League season began on August 17th, 10 managers have lost their jobs. Following the results on the final day of the season, that number seems certain to increase this summer. Newcastle United fans have vented their fury on manager Alan Pardew following a series of lacklustre performances in recent months, whilst West Ham fans have let gaffer Sam Allardyce know what they think of his direct style of play. Travel up to the Midlands and you'll discover another set of disgruntled fans at Villa Park, with numerous Aston Villa fans unsure whether boss Paul Lambert has the credentials to take the club forward. Meanwhile at The Hawthorns, Pepe Mel has refused to confirm his long-term future at the club whilst it seems unlikely that Tottenham's Tim Sherwood, Man United's Ryan Giggs and Norwich's Neil Adams will continue on in their roles. There are repeated calls for those in the industry to enforce a managerial transfer window – but until that day arrives, it'll be a squeaky-bum summer for those under-fire bosses.