Football Expert & Columnist
Jamie Carragher: England will miss Ashley Cole but Luke Shaw is the real deal
Jamie Carragher says Southampton's Luke Shaw is 'the real deal' and ready for the 2014 World Cup.
Last Updated: 12/05/14 6:24pm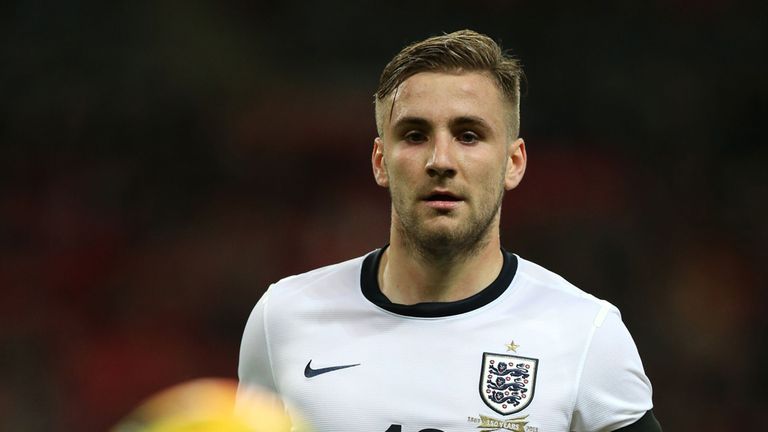 The 18-year-old Southampton left-back's place in Brazil was all-but confirmed when 107 capped Ashley Cole announced he had been left out of the squad on Sunday.
Shaw, who will be second-choice left-back behind Everton's Leighton Baines, joins a host of inexperienced players in the squad but former Liverpool and England defender Carragher is confident Hodgson has made the right decisions.
The Monday Night Football pundit said: "I thought over the last couple of months - when Ashley was out the Chelsea team - that Hodgson would go with Shaw but obviously Ashley's form of late has given him a little bit of a problem.
"He's gone for Shaw and with the fact that Baines looks like he's going to start, it's probably the right decision.
"Ashley has been the best left-back England have ever had and possibly the world's best left-back for a few years as well. He played at the top level throughout his whole career so he should be proud of what he's achieved.
"We'll miss him a lot, without a doubt.
Involved
"It's a massive opportunity for Shaw and, who knows, he could be involved right from the start if Baines gets an injury.
"He's had a great season along with a lot of Southampton players. I think a lot of credit goes to [Mauricio] Pochettino, the manager of the club.
"It just looks like a good club there, with young players coming through, a few big-money signings doing well as well.
"He's fitted in to a good side and it always helps if those around you are playing well but he's had a major impact for how old he is - he is powerful, quick and strong.
"He looks like a man when he's playing; sometimes a young kid comes in and you can still he's still a young kid and needs time to develop but he looks like the real deal."
Saints
Fellow Southampton players Adam Lallana and Rickie Lambert were also named in the squad and Carragher believes 32-year-old striker Lambert is essential in case of a penalty situation.
"It was always a toss-up between him and Andy Carroll," he added. "But I don't think Andy Carroll has done enough since he's got back in to the team [West Ham] in terms of goals scored and he's had injury problems.
"Lambert's been a main-stay at Southampton for most of the season. He's got goals and scored again in the last game of the season, where Hodgson was watching.
"We talk about England going out in past tournaments on penalties and if we get to that knock-out phase there's a great chance it will go to penalties again and there's no better penalty-taker in the squad."
Everton's Ross Barkley will also fly out with the team to the Brazilian base in Rio and Carragher predicts the 20-year-old may have earned a starting XI place for England's opening fixture against Italy on June 14.
"He's always been in the 23-man squad, for me, since the first few months of the season, added Carragher.
"Now it's: 'Will he be in the starting eleven?' He may just be outside of that at the moment but they've got training and warm-up games as well.
"Whatever Hodgson thinks today will be his first XI, it probably won't be that against Italy.
"Unfortunately people pick knocks up in training games and players form goes in the warm-up games - some come to the fore.
"I wouldn't back against Barkley being involved in that first game against Italy because he's something different as he gives you energy and pace.
"He gives you a goal threat as well. He gives you something - he's probably the only player in England at the moment who can run with the ball."
What do you make of Hodgson's 23-man England squad and do you agree with Carragher's views? Let us know by commenting below...