Craig Mackail-Smith on Oscar Garcia's Brighton exit and missing out on the play-off final
Craig Mackail-Smith blogs on life at Brighton after Oscar Garcia's departure and play-off heartbreak.
Last Updated: 14/05/14 11:17am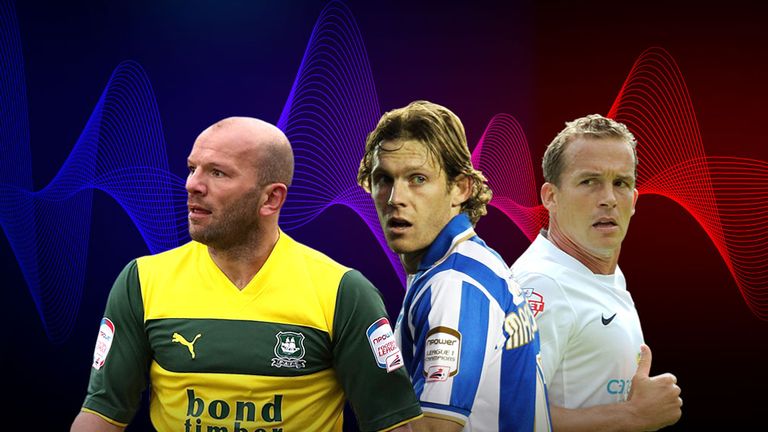 This week we caught up with our regular blogger, Brighton frontman Craig Mackail-Smith, to reflect on his side's disappointing play-off semi-final exit to Derby and the departure of their boss Oscar Garcia.
After a 2-1 defeat at home in the first leg, Albion lost 4-1 at Derby on Sunday and saw their Premier League ambitions thwarted. The following day boss Garcia ended his 11-month stay on the South Coast.
CRAIG MACKAIL-SMITH
We didn't do ourselves justice in the away game at Derby on Sunday. It was a disappointing finish to the campaign.
I'd like Derby to come out on top in the final, just because of the way they play football, plus they've given all these young lads a chance in their team. They play the game in the right way, I'm not saying QPR don't, but they were incredibly attacking against us and quick off the break, just outstanding.
It's going to be tough though, QPR have got a lot of experience and players who have played at the highest level who know how to deal with pressure and that could count massively on the day.
New boss
It was the day after we found out our boss had left the club. Oscar Garcia did a great job here and got us up in to the play-offs.
He must have had these thoughts for a while. It's a shame because we'd been on a high but he's had his reasons and will come out and explain what's going on and we have to move on, again.
Oscar has shown what he's capable of this season; we've had a lot of injuries and haven't been at full strength. I don't think he had the chance to strengthen much in January but he still got us to the play-offs, which not many people expected.
He's done a good job and if a Premier League role comes up for him then I think he'll do a good job, wherever he goes.
Different scenario
It could be anyone who replaces him. Brighton's a fantastic club and one that's on the up with unbelievable facilities and a new training ground this summer. The new manager will have great facilities at his disposal.
There will be a lot of top managers, as well as a lot of young, up-and-coming ones going for the job and it's now down to the chairman and the chief executive to decide who the right man is.
Us players will probably find out after the press; we'll just turn up to training one day and the new manager will be there!
It's going to be interesting for the team. It's a different scenario from when Gus Poyet left last summer, there was a lot speculation going around about him moving on at that time. This time the gaffer is leaving a bit earlier in the summer and it gives the club a bit longer to get another person in before the important pre-season starts.
That's when you all get together and go away somewhere to bond and get that team ethos together. You also need to buy into how the gaffer wants to play; that's massively important.
Oscar did fantastically well last year because he came in very, very late - a couple of weeks into pre-season - he had a lot to do with multiple injured players, and very quickly as well. It's a massively important time and hopefully the club will have the new manager sorted sooner, rather than later.
Holidays
Of course we're all on our holidays now. I think we are meant to be back in training on June 23 but now all the players are saying we'll come in about the first week in July - see you then!
With no manager we've got no idea what is going on. We'll get an email from the doctors telling us when we need to get on our programme for the summer and what they want us to do, what body fat and weight they expect us to come back at but until a manger comes in it could all change.
It's going to be another interesting summer but that's the excitement of football.
I must admit, I am in holiday mode - I've had a KFC today! I wouldn't normally eat food like that but it's been a long journey, I've been injured, I've played games and I thought I'd treat myself to some fried chicken.
That's about as much as I'll enjoy myself over the summer though. I'm going to take it easy, relax, go on holiday somewhere in the sun and then it's back to work for me. I've missed so much football I want to make sure I hit the ground running.
With a new manager every position will be up for grabs again and I want to make sure I'm strong and one of the first on the team sheet.
Don't forget download FL72 Weekly every THURSDAY morning from skysports.com