Fantasy Football: Sky Sports F1's David Croft takes league title
Sky Sports F1's David Croft beat Gary Neville and Fenners & Merse to the Fantasy Football league title.
Last Updated: 17/05/14 9:18am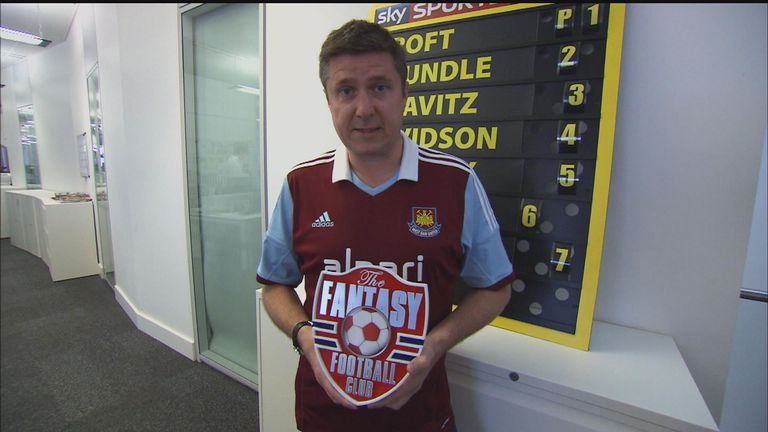 Grand Prix guru Croft went into last weekend in a three-way battle for the championship with football pundit Gary Neville and The Fantasy Football Club presenters Fenners and Merse.
And, amid plenty of late twists and turns, it was the F1 man who came out on top, finishing with a remarkable total of 2368 points.
Neville, who ended on 2354, had held the lead for the previous five weeks but Croft - who had only been top of the table once before during the season - timed his title charge to perfection to clinch the crown.
Fenners and Merse, meanwhile, trailed home in third with 2319.
Here's what the champion had to say as he collected his trophy, whilst proudly wearing his West Ham shirt:
"It's been a long hard season. It's been a good fight. There have been some tough times, there have been some good times - but nothing as good as this moment now.
"The wally - I think that is the phrase you were using on last week's show - has triumphed in the end.
"Gary Neville, have a great summer. If you and Roy need help I'm at the end of the phone. If things are getting tough in Brazil and you need someone who understands tactics and understands about scoring goals and points, I'm your man.
"The celebrations start in Monaco next week. There's a yacht with our name on it and a bottle of champagne.
"Just remember: you have been well and truly hammered."