Diego Simeone earns praise for steering Atletico Madrid to first title since 1996
Gaizka Mendieta and Quinton Fortune praise Diego Simeone for instilling a winning mentality.
Last Updated: 17/05/14 11:20pm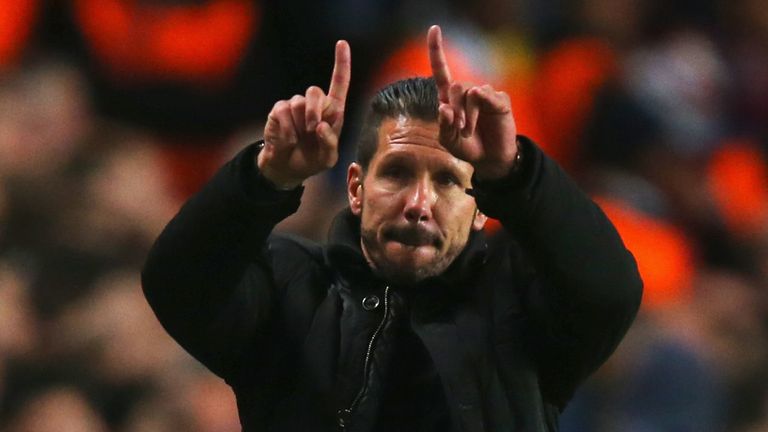 Atletico lost both Diego Costa and Arda Turan to injury before going 1-0 down to Barcelona at the Nou Camp in a game they had to at least draw to win their first title since 1996.
But Diego Godin rose to emphatically head home Gabi's corner after the break and Simeone's side held on to send their 450 fans packed into a corner of the vast stadium into delirium.
"They have shown why they are champions today," Mendieta told Sky Sports after the game.
"They are disciplined tactically and Barca just weren't able to do anything. Other teams would have lost after losing Costa and Turan, but this team just keeps coming back."
"Simeone has build this team from nowhere. Three years ago they were an average team, but he's made a few changes and made them believe they can win games and can win titles. That was shown even more after the first half today."
Fortune, who played for Atletico for three years in the late nineties, said the game encapsulated what his former team have been about this season.
"It sums up that team this season," he said. "They have lost key players, and you thought they had blown the season. A goal down at Nou Camp, they could have gone for it with people running everywhere, but they kept their discipline and their composure.
"Eventually they knew they were going to get a chance and they took it. The performance is unbelievable and they deserve to be champions."
"Simeone has installed that into his players. They work together when they don't have the ball. The second-half performance at the Nou Camp shows a lot of character and that epitomises this team and Diego Simeone.
"We've been blessed with the beautiful football of Barcelona, but this shows you the other side of football. This shows you the hard work, the defensive side of things, the tactical side of things. Atletico showed they don't have much possession of the ball but when they do get their chance, they will hurt you."
Both men were disappointed with the display of Lionel Messi, with Mendieta saying Tata Martino made a mistake in not playing Xavi Hernandez from the start.
"Not playing Xavi in the biggest game of the season is a big decision," he said. "When Busquets was injured, you would have thought Xavi would come on, but he brought on Song. Sometimes in the big games, you have to play the best players and I think Xavi should have played.
"Messi was quiet. He's not been at the level that we expect this season. Atletico did great work in stopping him get the ball near the box, so he had to come very deep to get the ball.
Atletico are not worried about him there, they can screen him and stop him getting in the dangerous positions."
Fortune added: "Simeone has done a great job tactically, but you still expect the best player in the world, when he is on form, to create something.
"It's such an important game and you look forward to seeing what Messi is going to do. There are no more issues about the contract, so you think he would be out there playing like the Messi we know. But the body language was not right. You expect more."
Guillem Balague believes it is the end of an era for Barcelona and expects Luis Enrique - who is reported to be taking over from Martino in the summer - to make changes.
"It's the end of an era and what Luis Enrique is going to try to do is get some of the essence and move the team on," he said.
"Martino did not understand Barcelona, it's quite clear with what happened today, with Xavi on the bench.
"Xavi was upset, he could not believe when he was told two-and-a-half hours before the game that he was not going to play. It meant less control of the game for Barcelona.
"It was Martino's way, a bit more direct, but it did not work. In the second-half you couldn't see Barcelona getting back into it."