The Play-Off Finals: Craig Mackail-Smith, Kevin Davies and Guy Branston predict the scores
Our FL72 bloggers preview this weekend's Football League Play-Off Finals and predict the winners.
Last Updated: 22/05/14 5:18pm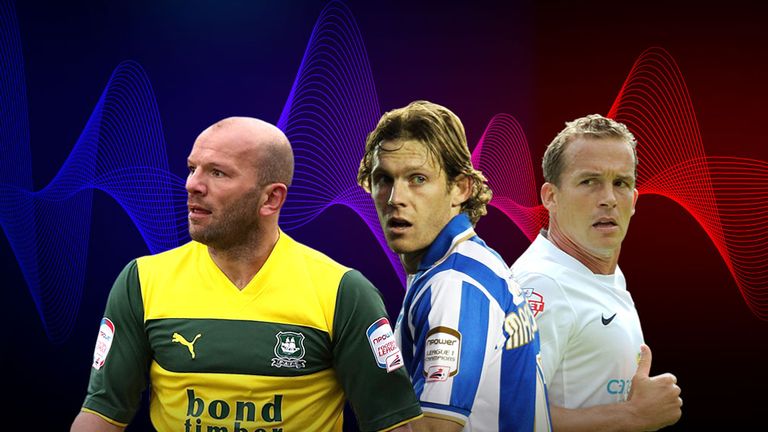 As well as a weekly blog from Leicester striker Kevin Phillips, we have been speaking to some other seasoned campaigners in the Football League.
Brighton frontman Craig Mackail-Smith, Preston forward Kevin Davies and former Plymouth defender Guy Branston - who all appear on Sky Sports News Radio's new show FL72 Weekly - have been giving us their insight on all manner of footballing issues.
In our final blog of the season we've asked our bloggers to go head-to-head and pick their winners of this weekend's Sky Bet Football League Play-Off Finals.
CHAMPIONSHIP - DERBY v QPR
CRAIG MACKAIL-SMITH: This one might start a bit cagey because it's a massive occasion with a huge prize at the end of it. QPR should settle the quickest because of the experience - 4,264 Premier League appearances compared to Derby's 170 - but once Derby get up and running their style of play will suit the big pitch at Wembley and they can play that fast counter-attacking football they love. For this reason I'll think they'll come out on top.
DERBY 2-1 QPR
KEVIN DAVIES: This is the big one and for the club that wins it's huge. I've been really impressed with Derby this season and what Steve MClaren has done there. QPR have underachieved but they've done enough to get in to the final and on their day they've got players with quality. I've just got a funny feeling Derby are going to win this one with the way they play with pace and energy.
DERBY 2-1 QPR
GUY BRANSTON: There are two huge play-offs in the English game, the one in the Conference and this one. It's a game that can throw a club into the Premier League and earn them a fortune. I feel Derby are going to nick it with their youth and exuberance; they'll make a couple of mistakes but with that team they can do it. You have to look at QPR's experience though, and this is going to be a real tough game.
DERBY 2-2 QPR - Derby win in extra time
DID YOU KNOW? The team promoted to the Premier League are expected to earn at least £120m in revenue making this game the richest in the world
LEAGUE ONE - LEYTON ORIENT v ROTHERHAM
KEVIN DAVIES: It's going to be an interesting game with two different styles of play. I think Leyton Orient would love to play a bit more football, as such, and try to open Rotherham up a bit. We found Rotherham well-organised and strong and they work extremely hard. They like to start games at a high tempo but can get tired towards the latter stages of and that's something Orient will be looking at, especially on the big pitch at Wembley. Though I'm not sure I can bring myself to watch it after our disappointment.
ORIENT 2-2 ROTHERHAM - Rotherham go through on penalties after extra time
GUY BRANSTON: Steve Evans is a great character and a wonderful bloke and I think his Rotherham side will comfortably beat Orient this weekend. I've watched my former club a few times this year and they've formed a great side. They're another team with an abundance of money with loan signings from Newcastle and such, and they've been fantastic assets - like James Tavernier - what a great player he's going to be.
ORIENT 0-2 ROTHERHAM
CRAIG MACKAIL-SMITH: I've watched these two sides quite a bit this season and they're both fairly attacking teams - I can't see this being a boring 0-0 at the full time whistle! But Rotherham are just going to take it for me.
ORIENT 2-3 ROTHERHAM
DID YOU KNOW? This is the fourth successive season that the clubs that finished third and fourth in the league have met in the final - the side finishing fourth have won all three occasions
LEAGUE TWO - BURTON ALBION v FLEETWOOD TOWN
GUY BRANSTON: Burton are going to have a tough game. Fleetwood have bought themselves there; I mean that with no disrespect to their manager Graham Alexander, he's got a fantastic squad and has them playing together. I'm also not saying that makes it easy to reach a Play-Off final but he has had the chance to go out buy big strikers and defenders like Mark Roberts and Nathan Pond - who has blossomed into a really good player. Burton might go in to game as underdogs but they're also very knowledgeable of the Play-Offs, with a knowledgeable manager and backroom staff. They've formed a great partnership and Gary Rowett is becoming a standout manager on his own. Getting to the final is a fantastic achievement for them.
BURTON 1-0 FLEETWOOD
CRAIG MACKAIL-SMITH: I watched Burton come back against Southend in the semi-finals and they looked pretty strong. They seem pretty resolute and for that reason I think they may just nick this one against the Cod Army.
BURTON 1-0 FLEETWOOD
KEVIN DAVIES: We've had Iain Hume on loan from Fleetwood for a couple of months and I'd expect his side to come through this one. They were probably expecting to achieve promotion automatically with their budget in that league but I don't think it will be clear cut. It's going to be a close one.
BURTON 1-2 FLEETWOOD
DID YOU KNOW? Fleetwood's first-ever win in the Football League was a 1-0 victory over Burton in August 2012
Don't forget download FL72 Weekly every THURSDAY morning from skysports.com