England v Italy World Cup 2014: Soccer Saturday team selection
Thompson, Merson, Le Tissier and Nicholas name their starting England XI
Last Updated: 12/06/14 1:47pm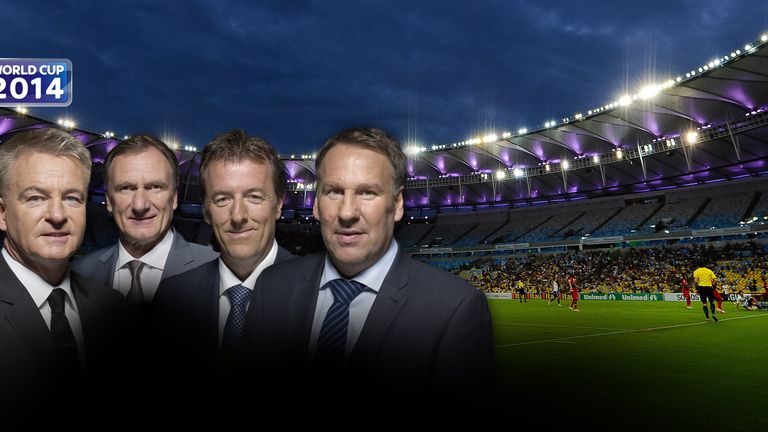 Everyone has a view on who Roy Hodgson should pick for the opening game of the World Cup against Italy - including the Soccer Saturday regulars. Before they went on their summer holidays, we asked them to name their starting XI for the game...
Phil Thompson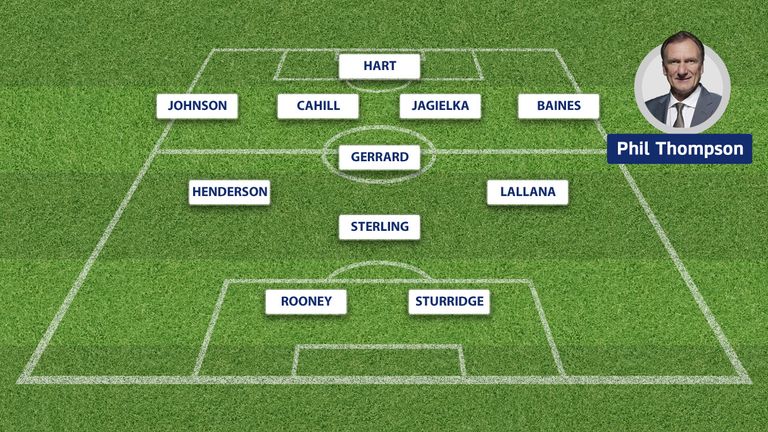 Hart, Johnson, Cahill, Jagielka, Baines, Gerrard, Henderson, Lallana, Sterling, Sturridge, Rooney 
Because of how well Liverpool have played I would go for a diamond formation. You might see Steven Gerrard in the middle, Adam Lallana on the left, Jordan Henderson on the right and Raheem Sterling at the point of the diamond with Wayne Rooney and Daniel Sturridge up front. You could go for a 4-2-3-1 with the same players – that gives him the option. You could go with Gerrard and Henderson as a two, then Sterling, Rooney and Lallana behind the striker. He'll probably go that way so you get some protection and some legs playing with Stevie. The only one I feel should be in the squad that isn't there is Michael Carrick alongside Gerrard – that would be at the omission of Frank Lampard. I'd put Carrick in there to keep the ball and he'd probably start before Henderson.
Paul Merson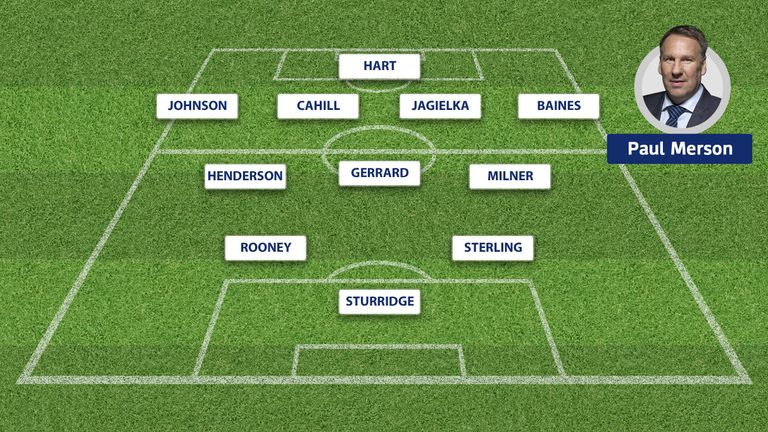 Hart, Johnson, Cahill, Jagielka, Baines, Henderson, Gerrard, Milner, Rooney, Sterling / Lallana, Sturridge  
We all know who the four at the back will be - Leighton Baines, Gary Cahill, Phil Jagielka and Glen Johnson - then Steven Gerrard in front, definitely. Then I'd play James Milner and Jordan Henderson as the legs in midfield. Then I'd go Wayne Rooney and Raheem Sterling or Rooney and Adam Lallana with Daniel Sturridge up front. Rooney is a free spirit, so let him do what he wants. Him and Lallana or Sterling can do whatever they want, go wherever they want. We've got enough players looking after the back. Then I'd say Sturridge has to run himself into the ground with Danny Welbeck (said before injury scare) to come on later. We need legs because we won't pass everyone off the pitch. Milner and Henderson are probably the fittest two players in the World Cup, let alone the Premier League. With their legs you rely on them getting back and forwards. I'd definitely man-to-man mark Andrea Pirlo in the first game, though, because if he gets on the ball we're in trouble.
Matt Le Tissier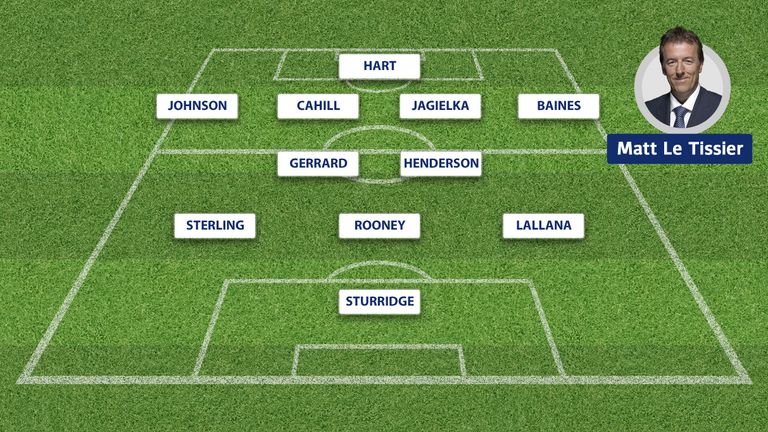 Hart, Johnson, Jagielka, Cahill, Baines, Gerrard, Henderson, Sterling, Rooney, Lallana, Sturridge
England have the players there to be able to flip formations within a game without having to swap personnel so there's plenty of options. Hopefully Adam Lallana or Ross Barkley will be the stars of the tournament because maybe people don't know too much about them outside our country. I also like the way that Raheem Sterling finished the season, he was outstanding in the second half of the season. I think he can find the level of performance for England that he did for Liverpool and really make a name for himself as the young player of the World Cup.
Charlie Nicholas
Hart, Johnson, Jagielka, Cahill, Baines, Gerrard, Wilshere, Henderson, Rooney, Sturridge, Lallana
At right-back I see Glen Johnson as a defensive weakness, but great going forward. In fact, I think the team is weak defensively so I would have to go offensive. It wouldn't suit everybody's style because of the heat but if you win the first game then England will be in the last 16. I would go for it against Italy - they're dull and laborious. I'd go 4-3-3 with Jack Wilshere to play slightly left of Steven Gerrard. He has been injured for a long spell, but sometimes freshness is a good thing and it will help. I would also put Jordan Henderson in there because he's got great energy and I think he's a midfield runner. Up front I'd have Wayne Rooney slightly right – not wide-right – with Daniel Sturridge and Adam Lallana. You want to get through the period which is about attack and in that last half hour if it's not really working you bring on the likes of Raheem Sterling. The young guys are the key to this because of adrenaline and freshness. You look back at Michael Owen in 1998  – when you come into this situation you're fearless. You don't think about it, you just do it. England have an advantage there and they have to make it count in the first game.
Who do you think Hodgson should pick? Click here to have your say with our England v Italy Team Selector