Steven Gerrard England future: Phil Thompson says player must decide
Brendan Rodgers and Roy Hodgson should have no influence over skipper's decision
Last Updated: 23/06/14 1:10pm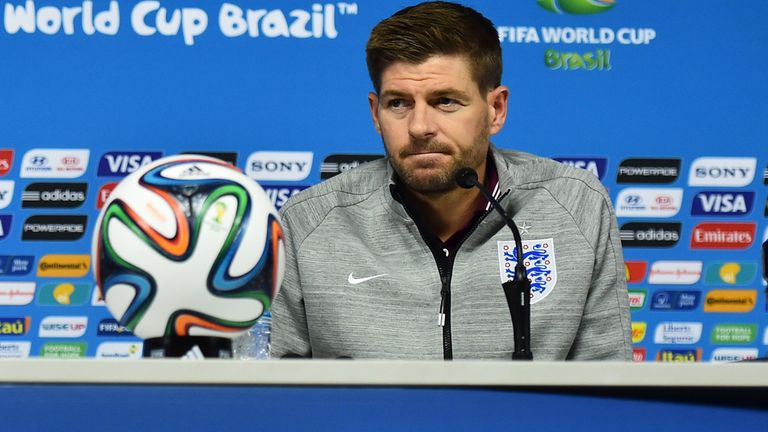 Phil Thompson says Brendan Rodgers will not attempt to influence Steven Gerrard's decision over his international future.
The England captain, who won his 113th cap in the defeat to Uruguay which saw the team knocked out of the World Cup, says he will take his time before deciding whether or not he will retire from playing for his country.
Thompson says the 34-year-old still has the pedigree to play on the biggest stage, but may decide to focus on domestic football with Liverpool after years of injury concerns.
However, he believes the player must make the decision and Anfield boss Rodgers will not put pressure on him to put club before country.
Thompson told Sky Sports News' World Cup Verdict: "Steven Gerrard is still the best midfield player, probably, that England have, but to continue going – is that right? I think Steven will decide.
"Knowing Brendan Rodgers and knowing Steven Gerrard, he won't want to make that decision for him.
"Steven knows that he's got Champions League football and Premier League football and that is most difficult. He's 34-years-of-age and he wants to prolong it.
"Brendan will just say: 'Steven, you think about it. Go away and have your holiday with your family, discuss it with as many members of your family as you want and you make the decision when you feel ready to actually announce it.'"
Problems
Thompson was assistant manager at Liverpool when Gerrard broke through under Gerard Houllier and saw him battle fitness issues in the early part of his career.
And he believes a desire to remain injury-free to play a part in Liverpool's title-push next season, may prompt him to call time on his international career.
He added: "I remember Steven first coming into the Liverpool side and we couldn't get him to play three games a week because he had all of these injury problems.
"We were thinking 'where is the solution to this' and we got it rectified. He had a quick 20-minute operation in 2002 to get it right – and to see him still playing at 34-years-of-age with 113 caps is absolutely incredible.
"To prolong his career, playing in the Premier League, maybe he needs to think about that and we all must respect his decision.
"I know they say Brendan or Roy Hodgson, but I think the decision should be just Steven and Steven alone.
"At 34-years-of-age he has done wonderful to stay there, but if I was looking at it, having the Champions League and the Premier League to go for, it might be the time where he thinks 'if I want to prolong my career and play as long as I can I might need to do that. I might need to step aside'.
"Yes, it may be doing it for England and it may be doing it for Liverpool but it's for him that he must decide."
Row
Gerrard has been involved in another club versus country row after calling on Harry Redknapp to name the Tottenham players who did not want to play for England while he was in charge at White Hart Lane.
The big question with this is what actually happened? Did Harry allow them to skip playing for their country? Did he make up an injury for them?
Phil Thompson
Redknapp, who is now at QPR, claimed on Sunday that certain players urged him to make them unavailable for international duty, a situation which Gerrard described as "disgusting".
Thompson says he has never encountered that situation in his time as a player or coach at Liverpool, but has heard rumours at other clubs.
"I think Harry will be thinking at this moment: 'What have I said? What have I done?'
"He has opened a can of worms with this. When I was a player, which was quite a while ago, we couldn't wait to get down there and join up with England. It was a fantastic atmosphere.
"Things have changed and did change. There's not just Tottenham in this by the way, I think the rumours were about – and I say rumours – that at many clubs players were pulling out, not wanting to go there and creating injuries.
"The big question with this is what actually happened? Did Harry allow them to skip playing for their country? Did he make up an injury for them? Or did he say no, you've got to go and play for your country.
"That is one of the big issues that wasn't answered."