Football Expert & Columnist
World Cup quarter-finals: Argentina, France, Netherlands, Brazil tipped by Jamie Redknapp
Sky Sports pundit feeling less confident over backing Messi and co for glory
Last Updated: 04/07/14 11:15am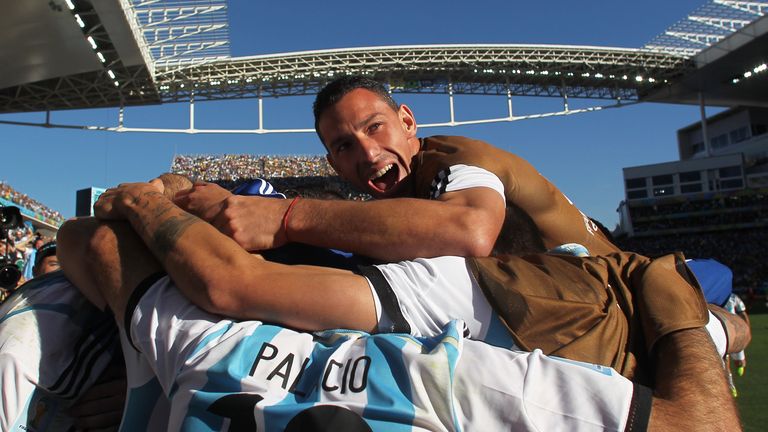 As anybody who has been following my updates on Sky Bet during the World Cup knows, I have picked Argentina to win it.
But having watched them so far I'm not feeling too confident.
They don't seem to have enough guile in midfield. Up front they have got so many options – Angel Di Maria, Lionel Messi, Gonzalo Higuain – and they have been very good, but in midfield I just feel Javier Mascherano and Fernando Gago haven't got the guile to unlock defences.
Against Switzerland they were extremely lucky and if it wasn't for Messi and that little bit of skill he showed then they might have gone out on penalties.
They are going to be playing against a very good Belgium side in the quarter-finals, who are defensively very strong and also have pace in attack in Eden Hazard.
Yet I don't think they've hit the heights that everybody expected and were a little bit lucky to get through against the USA. With Marouane Fellaini in the side they are trying to play a little bit too much long ball and are trying to be too direct because that's how he wants the game to be played. I don't think that really suits them.
I am going to go for Argentina to creep through this one, even though I don't think they are playing with enough confidence yet – and if they do then you never know, it might end up being a good bet!
JAMIE'S SHOUT: Argentina 2-1 Belgium
I'm going for Argentina to win this one. I expect more goals than in the last 16, so I'll go for a 2-1 win. Sky Bet odds 8/1
FIRST GOAL: Lionel Messi
I've tipped him up to be the top goalscorer and he needs one more at least to get alongside James Rodriguez.
France v Germany
This will be another classic between two European sides full of top-quality players. This game will be very interesting and certainly very exciting. France have been a surprise for me actually. I look at their squad and I wasn't quite sure at the start of the tournament, but the attacking players have really hit the ground running. Karim Benzema up front has been absolutely sensational and I like Antoine Griezmann who plays wide left; even though he hasn't started all of the games he seems to be able to come on and make a bit of a difference.
I'm going for a France win because of the forwards and the pace they have; I think Germany will play a high line and I think that will suit the pace that France have. Per Mertesacker is a player that has done great at Arsenal and is a legend for Germany, but if they play too high a line then France can get in behind them.
JAMIE'S SHOUT: France 2-1 Germany
I'm going for a 2-1 France win. France are not the favourites, but Germany seem to be struggling to find the right momentum and balance in their play. Sky Bet odds 10/1
FIRST GOAL: Karim Benzema
He has been sensational in this World Cup so far and has lived up to the expectations.
Brazil v Colombia
Brazil against Colombia should be an absolute classic between two South American sides that are extremely talented. They're not exactly the best defensively, but they are full of star names when you think of Neymar and James Rodriguez; two of the stars of this World Cup.
I think it will be a draw at full-time. They are so evenly matched and there's not a great deal to choose between these two sides, but I'll say Brazil can go through with that little bit of extra quality and home advantage. The pressure they are being put under seems to be pushing them and driving them on even more so I am going for Brazil to qualify, but through extra-time.
JAMIE'S SHOUT: Brazil 2-1 Colombia (aet)
I've got a feeling that Brazil will win this in extra-time and so I'm going for 1-1 at full-time but Brazil to win in extra-time. Sky Bet odds (1-1 at 90 mins) 11/2
FIRST GOAL: Neymar
He and James Rodriguez have been two of the stars of the World Cup and should make an impact.
Netherlands v Costa Rica
I think Costa Rica have done a great job and have certainly been one of the surprise packages, but this is where their journey is going to end. Holland have too much pace in their side, and Robin van Persie if he's fit and Arjen Robben, will cause them too many problems. Robben especially, in the last round against Mexico made the difference. People talk about whether he dived or not [to earn the winning penalty], but the fact is he makes referees make decisions
JAMIE'S SHOUT: Netherlands 2-0 Costa Rica
It won't be comfortable because Costa Rica work extremely hard and have a great work ethic, but I think this is as far as it goes for them. Sky Bet odds 5/1
FIRST GOAL: Arjen Robben
He makes the difference and so I'm going to go for him to be the first goalscorer in a 2-0 win.