Netherlands v Argentina: Lionel Messi and his team-mates to secure World Cup final spot
Sky Sports pundit says Robin van Persie lucky to still have starting role for Dutch
Last Updated: 09/07/14 12:17pm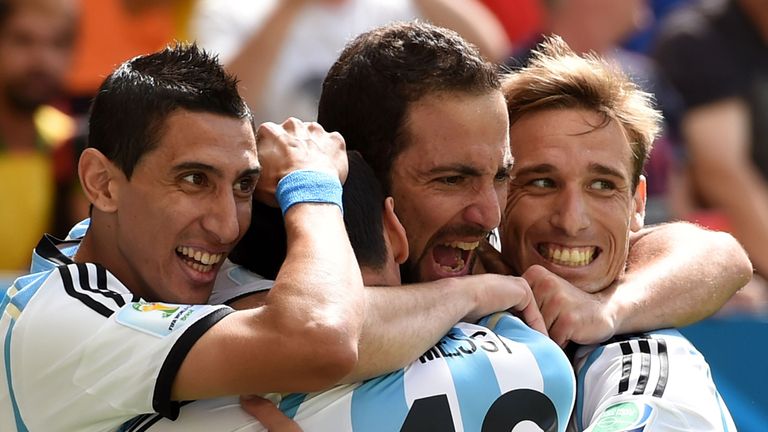 HOLLAND v ARGENTINA (9pm, Wednesday)
Holland got torn to shreds – and I mean torn to absolute shreds – in parts of their group game with Australia, so for them to be sitting in the semi-finals really, really shocks me.
They aren't very good at all and they can't keep getting away with it.
They rely so much on Arjen Robben it's unreal and if he doesn't do it for them up front then I don't see who else will, while if Lionel Messi starts running at Ron Vlaar I dread to think what will happen.
Robin van Persie, after scoring a great header against Spain, has done absolutely nothing; he has barely touched the ball and, in my opinion, is very lucky to still be getting a game.
What they do have, though, is a very good manager who knows how to get results and makes brave calls, as we saw on Saturday when he brought on Tim Krul for the penalties against Costa Rica.
Louis van Gaal has set Holland up okay but I think they have to score first in this game as if Argentina get the opening goal we will have the same game as the one against Belgium, when they won free-kicks, played with a slow tempo and killed things off.
But really I can't see anything other than an Argentina win.
Angel Di Maria will be a massive miss but Gonzalo Higuain will be a totally different player to the one that started this tournament after scoring that unbelievable goal against Belgium and the game changer Messi will get them through.
The frustrating thing watching from an England point of view, though, is that none of the teams at this stage of the tournament are much kop.
There has been no outstanding, dominant team and the defending has been horrible and while that has made it so great watch, it makes you think this World Cup could have been anyone's - even ours.
PAUL PREDICTS: Holland 0-2 Argentina
Here's what Paul said ahead of Tuesday's Brazil-Germany semi-final. Suffice to say, he didn't get the scoreline spot on...
BRAZIL v GERMANY
With Neymar out and Thiago Silva banned I don't fancy Brazil.
I've said all along that I don't think they're good enough and that they carry too many players, and I just think that against a team like Germany they will come up short.
When I watch them play it looks like they don't really know what they're doing; there's no real shape to them and they don't go: 'Right, we're Brazil, let's go out and play' either.
Thiago Silva will be a massive miss in this game because it leaves David Luiz and probably Dante, who everyone goes on about but isn't really that good, at centre-half.
Dante plays at Bayern Munich where week after week in Germany no-one has a go at him, but when he came up against Real Madrid in the Champions League, he didn't know what day it was.
He is nowhere near as good as Thiago Silva and all the German players will know his weaknesses and how to get at him, so him and David Luiz at the back? Germany will be licking their lips.
I knew that with the record Brazil had against Colombia that they would have the psychological edge and come through, but Germany will not be nervous at all and I see them going for this.
They were efficient against France without playing great football but I don't see the point in defending against Brazil because there are loads of chances there for you.
If Germany sit back and play it tight that won't work one bit and Brazil would have too much not to break them down sooner or later, so I think this will be a really open game.
Germany play so high up the field that guys like Hulk, who hasn't been the best, and Willian will get a lot of chances because of their pace, but Brazil haven't been great and I think Germany will win this, with Thomas Muller being key.
He didn't play up front against France with Miroslav Klose coming in but I think he'll play as a striker here because he has great movement and loves running off the ball.
That's the sort of stuff that can kill the Brazilians because they do fall asleep a little bit.
PAUL PREDICTED: Brazil 2-3 Germany (AET)
ACTUAL SCORE: Brazil 1-7 Germany