Guillem Balague: unless Real Madrid play with 12, there's no room for James Rodriguez
Cristano Ronaldo, Gareth Bale and Karim Benzema come first in the pecking order
Last Updated: 21/08/14 2:45pm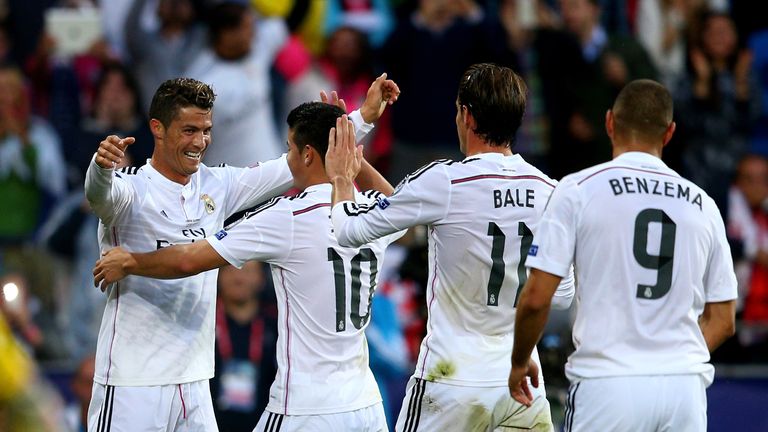 Guillem Balague says Real Madrid's £63m signing James Rodriguez may struggle to find his place in the club's starting XI.
Rodriguez, who shone at this summer's World Cup in Brazil and won the Golden Boot award, joined the Champions League winners in June, becoming the fourth most expensive transfer of all time behind team mates Gareth Bale (£86m), Cristiano Ronaldo (£80m) and Barcelona rival Luis Suarez (£75m).
But despite this huge financial outlay, Sky Sports Spanish expert Guillem Balague warns that the 23-year-old could find himself on the bench this season, as Real manager Carlo Ancelotti struggles to shuffle his pack of galacticos.
Speaking to Sky Sports News, Balague said the only way Rodriguez will find himself on the starting sheet is if one of Madrid's famous front-three are injured, or they're allowed to put 12 players on the pitch!
"[James could find himself] on the bench, because at the moment there is no place for him if Cristiano Ronaldo is fit, Benzema is fit and Bale is fit," said Balague.
"That's where the team of Real Madrid starts – it starts with those three. This is Real Madrid; there's a business model, a galácticos model and they have to start.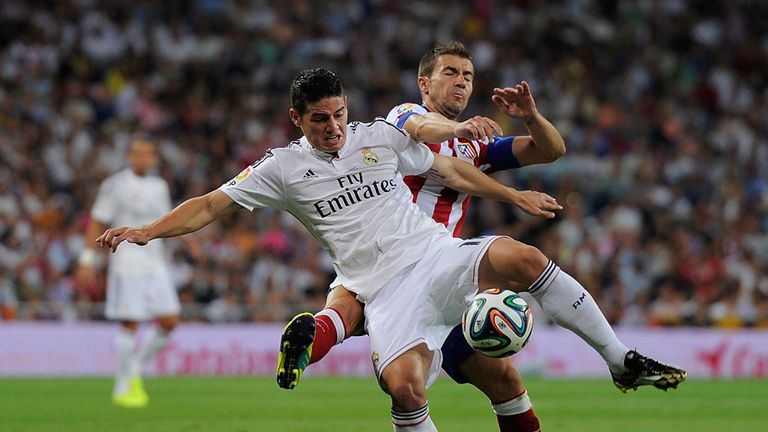 "If that is the case then Ancelotti has to say: 'fine, I've got no problem with that and I've found a solution', which is three midfielders – Kroos, Modric and Xabi Alonso – so no place for James. 
"James could be the replacement for any of those three up front because he's not a midfielder – he has never been a midfielder really. 
 "I think there is a problem there, in terms of him playing regularly, and some would say, 'at the cost that they paid for him he should play!' Well unless they play with 12 there is no place for him at the moment."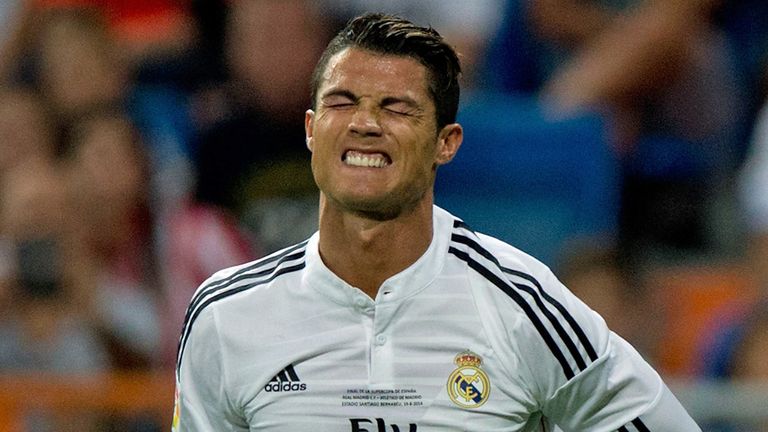 Ronaldo needs a rest
One of those top three players whom Rodriguez could replace in the forthcoming weeks is Cristiano Ronaldo. The Portuguese forward has suffered with injuries in recent months, and had to come off at half-time in Madrid's Super Cup first leg game against Atletico Madrid on Tuesday night, with Rodriguez replacing him and scoring in the second half.
Balague believes, despite his own desire to play, Ronaldo should rest from the game for at least a month.
"At half-time Cristiano Ronaldo had to come off because he felt the problems in his knee were continuing and he was uncomfortable. That's not very good news.
Supercopa live on Sky Sports
Watch Atletico Madrid v Real Madrid in the second leg of the Supercopa live on Sky Sports 5 from 9.25pm on Friday 22 August
"Doctors at Real Madrid insist that Cristiano Ronaldo has to rest for longer. Cristiano is not resting because he wants to play every game.
"It's quite clear that Cristiano Ronaldo has to start listening to the experts. He thinks that the Real Madrid doctors are not giving him the right information; the right analysis to his injury, but it's quite clear, in the way you saw him in the Champions League Final and in the World Cup as well, and now – after having to come off after only 45 competitive minutes at the Santiago Bernabéu – that there is something wrong with him. 
"Some people are saying it's the tendón rotuliano - that's the official name to the muscle he's got problems with – which is the same injury that Rafa Nadal had and forced him to stay eight months out of tennis.
"Nobody is saying he should be out for eight months but people are saying he should actually rest two or three months, perhaps one even. And he thinks 'no, no, no, I want to play.'
"I think he should start listening to the doctors at Real Madrid."