Leicester v Arsenal: Alan Smith says Gunners must sign striker
'Title hopes will fade without new hitman'
Last Updated: 01/09/14 8:00am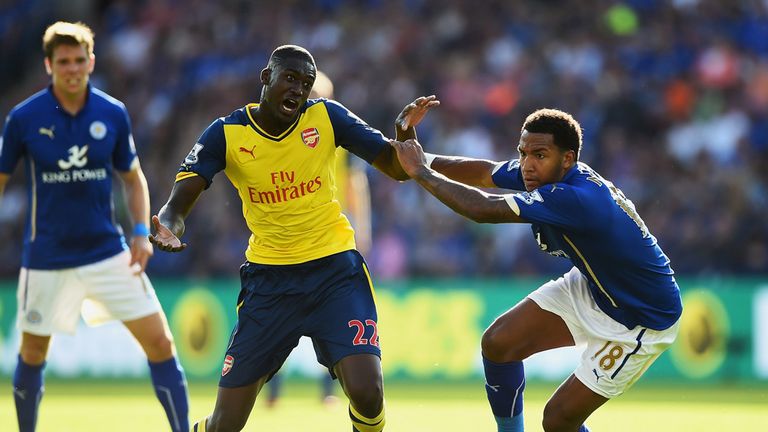 Arsenal are playing with one arm tied behind their back until Arsene Wenger invests in a top class striker, says Alan Smith.
The Gunners were held to a 1-1 draw at Leicester, despite having 24 attempts on goal, and Sky Sports pundit Smith says the North London outfit desperately need to bring in a replacement for the injured Olivier Giroud before the transfer window closes.
While Wenger said after the match the club were 'active' in the market, Smith says Arsenal's title hopes hang in the  balance and time is running out, with Deadline Day on Monday.
Wenger's got to depend on Sanogo, Sanchez and Podolski. I don't think that will be enough to sustain a title challenge.
Alan Smith
"I don't think he has enough up front," said the former Arsenal frontman.
"Between now and January, when Giroud is reported to  be fit again, he's got to depend on Yaya Sanogo and maybe Alexis Sanchez every now and then, plus Lukas Podolski. I don't think that will be enough to sustain a title challenge. And that's what everyone at Arsenal wants and all the supporters.
"He's changed his tact a little bit because he was suggesting before that he thought the club had enough with those players, but now he's said 'we're active'. You sympathise with him to a certain extent because how many strikers are out there that are of the right quality?
"But Arsenal, for a long time now, have been saying 'we've got the money, we can pay the transfer fees, we can pay the salaries and compete with anybody on salaries', so there's no excuse from a financial point of view.
"It's down to how badly you want him, how much you think he would be an advantage to your side.
Frustrating
"It's so frustrating to Arsenal fans because you look at the number of quality players they've got out there and if they could just go that extra mile and get that striker... But then it always seems like 'if they could get one or two more…' They always seem that little bit short.
"When you've got all those creative players, if you haven't got a focal point to your attack so much of it breaks down. They had so much ball against Leicester and so many promising opportunities but they couldn't turn it into a good chance. You are playing with one arm behind your back without a proper top quality striker."
With Man City, Spurs and a trip to Chelsea to come in Arsenal's next four games, Wenger's men are entering a key part of their season – but Smith says it is going to be hard for them to improve on last season's poor record against the top teams without a prolific hitman.
"We've spoken so often about their poor results against the top teams and there will be two big tests coming up against City and Chelsea, particularly the one away from home at Stamford Bridge," he said.
"They've got to address that, but it's going to be even more difficult without a top striker."
See if Arsenal land a striker on Deadline Day by tuning in to Sky Sports News HQ from 6am on Monday