David Moyes and Jose Mourinho must avoid defeat, says Paul Merson
Neither David Moyes or Jose Mourinho can afford to lose on Monday Night Football, says Paul Merson.
Last Updated: 26/08/13 7:42am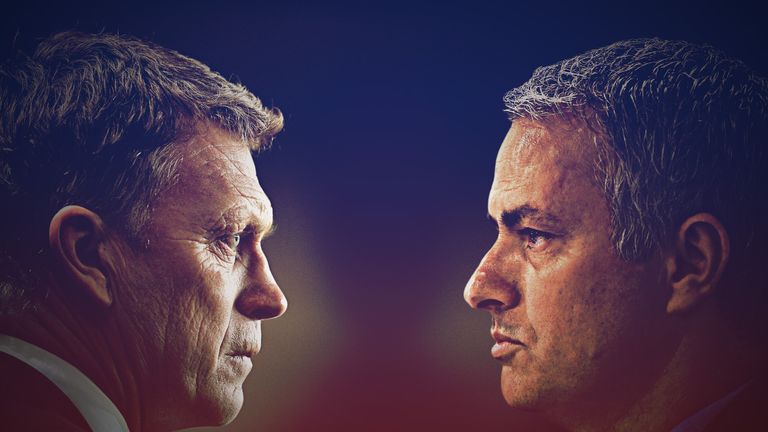 It's United's second and Chelsea's third and both have won and won well, but this one is another level and a chance for both of them to get the upper hand.
If we see another Jose Mourinho celebration and he wins at Old Trafford again, then what a sensational start that will be.
But if they get beaten by United, their next game after that is Bayern Munich in the Super Cup and they could easily lose that as well and all of a sudden, the Chelsea fans might not be so confident.
All of a sudden they'd have only beaten a newly-promoted team, they'd have fallen over the line against a team that finished fifth from the bottom last season and they have been done by Man United. If that happens the start to the season is suddenly not so sweet and reality kicks in.
You don't really expect Mourinho to come under pressure from the fans for a while yet, but that still doesn't mean they can afford to get beaten on Monday Night Football. Of course, they don't want to, but this is one they simply have to come away with at least a point.
So what's flipside for United and especially David Moyes? Well it's the same. And don't think for a minute that Moyes has got more time, just because he's a new manager at Old Trafford. Beating Chelsea is not exactly expected, but defeat certainly must be avoided.
United made a great start at Swansea and it all looks good on the back of that. Most teams don't go there and win, never mind hit four, so that was an impressive start for sure. But don't think that will give count for anything this week!
When you're manager of Everton and Chelsea beat you - no disrespect to them - that was meant to happen. For Moyes now, that is definitely not meant to happen and that is something he is going to have live with that, week in, week out. So imagine the pressure that comes with a game like this.
Signings
When these two meet you will see world-class players throughout both sides but as it's so early in the season, we're not really going to get a chance of seeing any huge signings, any new big, big signings that can be thrown into the mix.
Mourinho says he is going to make another official bid for Wayne Rooney on Tuesday, but why not do that now? Will he start on Monday night? You can bet if he is left out of the squad, everything will point one way.
Does David Moyes fancy him in the side? Do they get on? Who knows. But I do know Danny Wellbeck has started on fire this season, so do they think they need him - especially when money talks.
I do know that Chelsea need another big signing. Whoever it is, they could really have done with him in time for this one, because up front they are still one world-class player short.
Juan Mata, Eden Hazard and Oscar are brilliant and I do think Romelu Lukaku will be good but is still young. I just don't think Demba Ba suits the way they play and as for Fernando Torres, he's two seasons down the line and he hasn't given them want they want either.
Chelsea need a name up top; especially for the Champions League and those big, big Premier League games like this. Someone who leaps out when their opponents look at the team-sheet.
Counter
I am surprised the Chelsea side we will be watching is the same as last year and it is hard to imagine Mourinho not making that big signing. Has everyone turned him down? And when you look at what United did by signing Robin van Persie last season, you can see what it can bring to your side, however good it is.
So what sort of game are we going to expect, given that this is two familiar teams going head-to-head, knowing neither of them can afford to lose?
It is going to be tight but neither are going to shut up shop. Normally you look at the away team for that but there are still too many good players in the Chelsea side to sit back and aim for the point. I think they might sit a little deeper but will counter-attack whenever they can.
It's funny because United love drawing teams in and then hitting them on the break too, so it might just come down to that being the deciding factor. We need an early goal as well, because even with so many good players going forward, this is going to be tight.
Both defences are as good as any and the longer it stays 0-0 the less likely teams are going to get drawn in. Of course United and Chelsea can cancel each other out, but imagine what happens if one of them loses!
PAUL PREDICTS: 1-1