Kevin Phillips
Football Expert & Columnist
Kevin Phillips blogs on the thrill of scoring in front of a full house
Kevin Phillips blogs on home advantage - and the pressure of taking a penalty in front of 80,000 fans.
Last Updated: 29/08/13 11:24am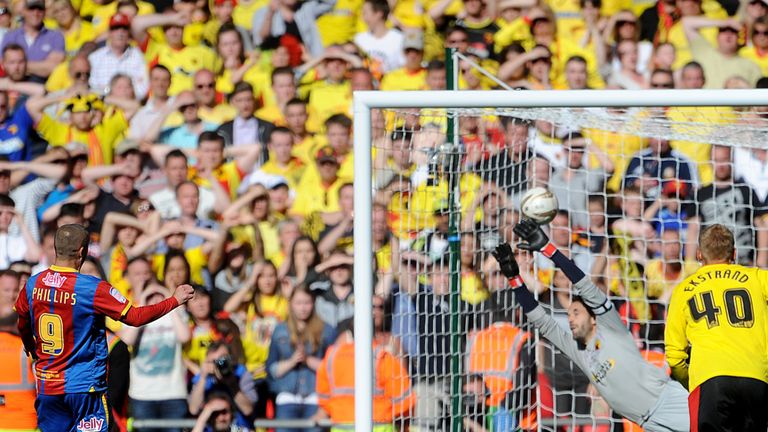 Growing up as a kid I always wanted to be a professional footballer but I also dreamed of playing in front of 20,000 people - and I can remember the first time I experienced that clearly.
My first appearance in football was for Watford against Bristol City but just after that we drew Blackburn - who the previous season had won the Premier League - at home in the League Cup.
We knew it was going to be a sell out about a week before the match and I just couldn't wait for that game.
I was very nervous before kick-off. There was huge pressure playing in front of that many people as a youngster starting to make a name for themselves, and especially against a side with Alan Shearer, Chris Sutton and Colin Hendry in it.
Fortunately, early on there was a sloppy back pass from one of the centre-backs and I capitalised on it; I was one-on-one with Tim Flowers and I remember thinking 'this place is going to erupt if I score this'.
I managed to dink it over him and the noise was incredible. You never get bored of that sound of the crowd when you score! It was an amazing feeling and I just wanted to experience it over and over again. Fortunately that's something I've been lucky enough to do.
Pressure
Of course, playing in front of a huge crowd can be hard at times, too. It can be a lonely place out there if things aren't going well and the bigger the crowd the bigger the pressure on you to perform.
Playing in the Championship Play-Off Final last season, in front of 80,000 fans at Wembley, is an example of that.
When I stepped up to take that penalty in extra time I don't think I've ever been under so much scrutiny - and I've certainly never taken a penalty worth so much money!
That did cross my mind as I approached the ball but you have to keep calm, draw on the experience you've gained through your career and not change your mind at the last second. They're old clichés but they are all true and I hit probably one of the best penalties I've ever hit.
I enjoy those situations, though. At every club I've been at the pressure has been on to score goals and people have asked 'can you do it, can you succeed?' I've been lucky enough to do that and I do thrive on the pressure.
Perhaps it would have been a different story if I missed the penalty but that never crossed my mind at the time!
Home advantage
Playing in the Premier League this season we are going to play in front of big crowds every week so taking on Bristol City in the Capital One Cup on Tuesday, in front of 6,000 fans, was a different experience - but trust me 6,000 fans can be pretty noisy too!
And if things aren't going your way - as they didn't for us at Ashton Gate - you hear the crowd a lot more as well.
That's why home advantage plays such a big part in football. The home side's fans can turn the stadium into a fortress because they give you such a lift; hearing 20-odd thousand people singing, chanting and cheering you on is a great feeling.
Our fans are going to play a huge part in our season this year and are vitally important to our hopes of staying up.
Hopefully we can pay them back with a good result against Sunderland at Selhurst Park on Saturday.