Football Expert & Columnist
Arsenal v Tottenham: North London rivals' squads equally strong, says Jamie Redknapp
There's little to choose between, flair-filled Arsenal and Spurs' powerful squad, says Jamie Redknapp.
Last Updated: 31/08/13 9:58am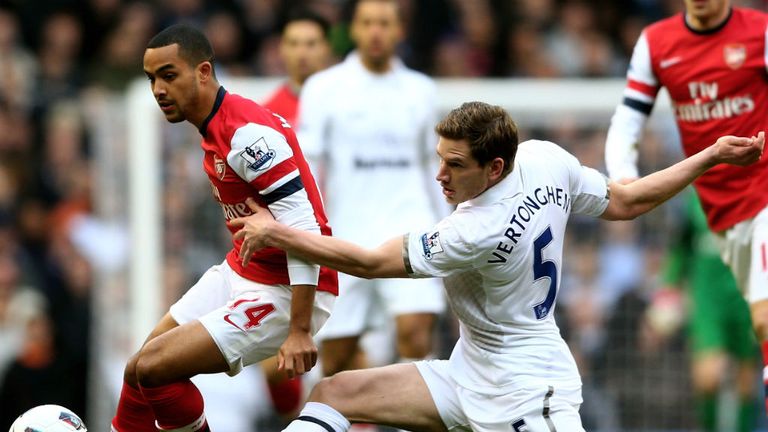 Theo Walcott has defended his Arsenal team-mates and rightly so; they've finished above Spurs for the past however many years and he sees no reason why they can't do it again.
But they're actually quite different in terms of their make-up.
Tottenham have a very powerful squad now with the likes of Etienne Capoue, Paulinho and Sandro in the side. They've also got a strong defence and a better keeper than Arsenal in Hugo Lloris.
But Arsene Wenger's side has more flair - and the lack of creativity at Tottenham is a concern.
They've won their first two Premier League games of the season 1-0 and that says it all, really.
Gareth Bale could be about to follow Luka Modric and Rafael van der Vaart out of the exit door and they've so far replaced those players with powerful midfielders.
Tottenham have always been about creativity - players such as David Ginola and Paul Gascoigne always spring to mind - and I'm wondering who will unlock doors for them this season if Bale does go.
Roma forward Erik Lamela looks set to join them and if he settles in well he could provide the creative spark they're currently missing, while Ajax's Christian Eriksen would certainly add some flair as well.
Gel
Centre-back Vlad Chiriches has just completed his move from Steaua Bucharest as well and of course the crucial thing about making all these signings is getting them to gel as quickly as possible.
I'd suggest Andre Villas-Boas hasn't hand-picked all these players himself, they have most likely been selected by Director of Football Franco Baldini and Chairman Daniel Levy, so finding a formation to get the best out of them and getting the balance right will be the challenge for the Portuguese.
But make no mistake, this is still a very strong Tottenham squad. If they could have kept Bale then there's no reason they couldn't have competed for the title this year. But they just seem to struggle to get up to that next level at the moment.
Arsenal, meanwhile, will be without Lukas Podolski this weekend due to injury and that may encourage Wenger to go into the market.
Reports are suggesting Karim Benzema could be a target and he'd be a great addition. Olivier Giroud has started the campaign well but he could do with some help and the pair of them together up front would be a real threat - and of course Benzema would add another element to their side from set pieces.
Arsenal also need a defensive midfielder with Mikel Arteta injured as they are vulnerable to the counter-attack, as Aston Villa showed - and I expect Tottenham to take advantage of that on Sunday.
I've played in this fixture and it's a good one - and there have been some real high-scoring encounters in the past few years. I expect Sunday not to be any different but it's hard to split the sides so I'm going for a really exciting 2-2 draw.