Football Expert & Columnist
Jamie Redknapp: Ross Barkley key to new-look Everton
Ross Barkley is at the heart of Roberto Martinez's evolution of Everton, says Jamie Redknapp.
Last Updated: 13/09/13 3:59pm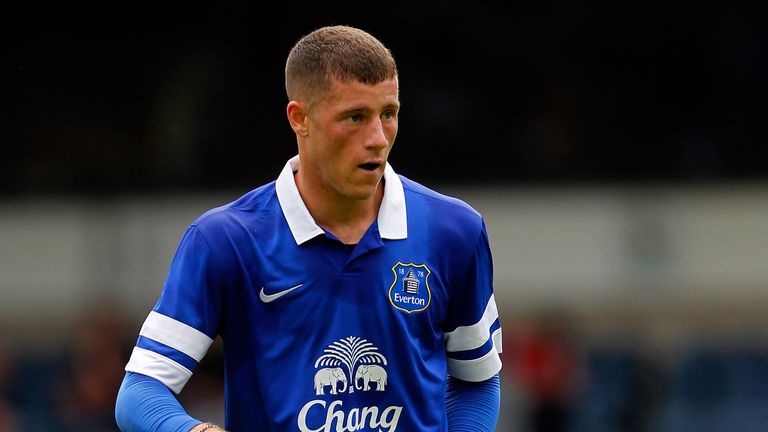 The 19-year-old is one of the most exciting youngsters I've seen in some time and if he hadn't broken his leg a few years ago he'd probably be a regular for England already.
He got his first cap on Friday night against Moldova and, since scoring a fantastic goal on the opening day of the season against Norwich, all eyes have been on him.
But he will face a tough test against a very strong Chelsea side this weekend.
There's no question playing against big sides affects you as a youngster and with the game live on Sky Sports - it's our featured match on Saturday Night Football - there will be added nerves because of that as well.
However, Barkley isn't up against Claude Makelele on Saturday, who was in Jose Mourinho's ranks when he first took a Chelsea side to Goodison Park in February 2005.
The French midfielder won every 50-50, knew where the ball was going to drop and was a great defensive player. Ramires, who is playing in that role now, has a bit more athleticism, but can't see things and stop things quite like Makelele did, so Barkley will have some room to operate.
It's important, though, that whoever plays just behind Barkley, whether that's Gareth Barry or James McCarthy, plays the ball into their number 10 as quickly as possible.
Against a side like Chelsea, a split second can make the difference between Barkley being marked and having space to do his bits and pieces.
Patience
Everton's general approach, though, has been far more patient this season under new boss Roberto Martinez, and I like what he's doing - even if they haven't quite got the results they were hoping for so far.
Following in David Moyes' footsteps won't be easy and the crowd at Goodison - who are amazing and can transform the stadium into a fortress - may just have to be a little more patient with the football their team are playing this year.
Under Moyes, Everton got the ball from back to front quite quickly and their direct style of play certainly got the crowd cheering. But if they can buy into the style Martinez is trying to develop there the Everton fans could see a very strong side emerge this season.
Fitness
Chelsea, meanwhile, return to Premier League action for the first time in nearly three weeks, following their Super Cup interruption.
Since their last Premier League game, their 0-0 draw with Manchester United, when Mourinho started with no strikers in his team, they have recruited former Barcelona and Inter Milan hitman Samuel Eto'o from Anzhi Makhachkala.
If you'd said to me five years ago that Chelsea would have Eto'o and Fernando Torres up front then we could have given them the league trophy there and then. But both of those forwards are different players now.
We all know about Torres' troubles, but I'm fascinated to see how Eto'o will do after his spell in Russia.
I watched Christopher Samba play for QPR last season after joining from Anzhi and he was so unfit I couldn't believe it. When he was at Blackburn he was so strong, quick and powerful, but he was really off the pace after his time playing in Russia.
Similarly I saw Eto'o play in the Europa League last season against Liverpool and he was treading water, playing like a number 10, whereas I remember him playing on the shoulder for Inter Milan, Mallorca and Barcelona, when he was different class.
I'm interested to see how he does but, given what happened to Samba, I'm not expecting too much.