Paul Merson's Premier League predictions - Week 5
Soccer Saturday pundit says pressure is on Moyes at the Etihad
Last Updated: 20/09/13 8:00am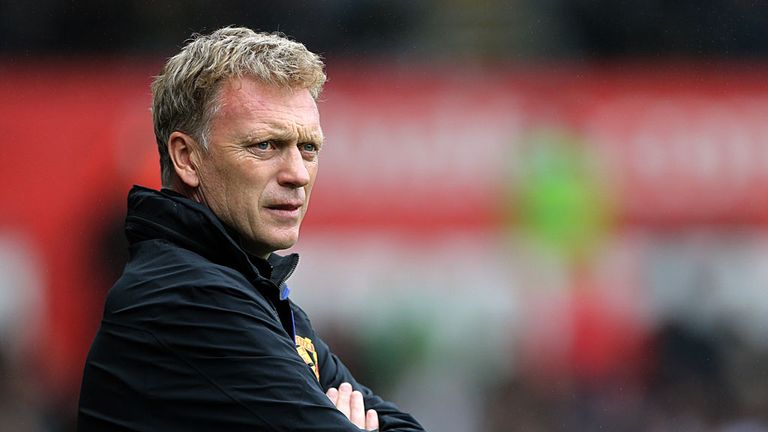 Wayne Rooney has played well in the last couple of games, but those were against Crystal Palace and Bayer Leverkusen. For me, they're not the games he'll be judged on. We need to judge him against the big boys and in games like this Manchester derby, so let's wait and see. The same can be said for David Moyes because in the games against Chelsea and Liverpool, Manchester United didn't really look like scoring. The pressure's on because this is a different kettle of fish to what he experienced at Everton.
Manchester City haven't been great this season, but they'll be up there because of the class they've got in their team. I'm not saying they'll win the league but they should be up there. They looked decent in the first game of the season when they slaughtered Newcastle, but since then the new signings have gone a bit quiet. This is a hard league and it will take time before they come good, but they'll be boosted by the win at Plzen. They've had a nightmare in the Champions League in the last couple of years and will take a lot of confidence from that. That result may make it "advantage Manchester City" going into the derby because I think there's a lot more pressure on David Moyes than there is on Manuel Pellegrini.
I know a lot of the big games so far this season have been quite subdued because all teams are under pressure not to lose, but I think this will be quite open and there should be a few goals, especially if someone scores early. There's a lot of good players on the pitch, but I'm just going for Man City with home advantage.
PAUL PREDICTS: 2-1
Arsenal v Stoke (12.30pm, Sun, Sky Sports 1 HD)
I was very impressed with Arsenal against Marseille in midweek; not so much the way they played but the way they hung in. They were solid in the first-half and got better as the game opened up and showed more class towards the end. It was a typical European away victory and Aaron Ramsey has been on fire. Plus the whole club - players, staff and fans - have been lifted by Mesut Ozil's signing; he's the one world-class player that's been brought into the Premier League this year.
However, this will be a difficult game for them. I've watched Stoke's last two games and they've been playing some very good football. They were comfortable against West Ham and won and were much better than Man City last Saturday. Arsenal underestimated Villa at home on the opening day and they can't afford to do the same against Stoke. I just see Arsenal winning this, but only just because I've been impressed by Stoke so far.
PAUL PREDICTS: 2-1
Chelsea v Fulham (5pm, Sat, Sky Sports 1 HD)
As I said on Soccer Saturday last week, Chelsea haven't got a centre-forward at the moment. Samuel Eto'o was a great player, but you can't always stay a great player. He's gone over to Russia for a few years and been a lot better than everybody else, so he's picked up a few lazy habits. Now he's come into the hardest league in world football and it will take some getting used to. Fernando Torres isn't fit and I've said from day one that Demba Ba is not a Chelsea-type player.
But the biggest shock is no Juan Mata in the team. Has Jose Mourinho come in and said: 'Who was the best player last season? Who got the most assists? I'll leave him out and we'll see who the Special One is." That's the only way I can explain why Mata isn't playing. Everybody reading this knows he should be in the team so how does the Special One not know?
Fulham aren't the best travellers, they're not in the best form and they won't kick you off the park. This is a nice game for Chelsea after a shocking result in Europe - but they were probably saying that about Basel after losing to Everton. I expect Chelsea to win comfortably.
PAUL PREDICTS: 2-0
Norwich v Aston Villa
Aston Villa did not play well against Newcastle and I wrote in this column that I couldn't see them winning that game. But they're a lot better away from home and a trip to Norwich is perfect for them. The home side will need to come on to them and I can see Villa being able to pick them off on the counter-attack with the pace of players like Christian Benteke and Gabriel Agbonlahor going forward.
This is a game that Chris Hughton will have highlighted as the sort of game they need to win this season, but I think that will only play into Paul Lambert's hands even more as he goes back to his old club. I'm going for a narrow away win.
PAUL PREDICTS: 1-2
Liverpool v Southampton
I look at Southampton and I wonder 'why have they tried to fix something that wasn't bust?' I'm not saying that Daniel Osvaldo isn't a good signing, but for me it has caused problems in their formation. It was much better when Rickie Lambert was up front on his own with two people whizzing around him, but Mauricio Pochettino has changed all that and I think it's left them a little bit lost. I can see what he's trying to do and I applaud him for going for it, but they need time to get used to the way they are playing.
The big problem for Liverpool is there's no Philippe Coutinho. He makes things happen and when he's in the team you don't have to solely rely on Steven Gerrard to provide the ammunition. He will be horribly missed over the next few weeks, but I think they'll win this.
PAUL PREDICTS: 2-0
Newcastle v Hull
If Newcastle keep their players fit then they've got the talent in their squad to make things happen. There's not lorryloads of players around that can create something out of nothing, but they've got two top-drawer guys in Hatem Ben Arfa and Yohan Cabaye in the same team and Loic Remy could be a good signing for them as well.
However, Hull are always difficult to beat. They'd have been disappointed not to win their fixture last week after going 1-0 up against Cardiff because I think they are a decent side defensively. Newcastle's key players will need to be at their best to open them up and I think this will be a narrow home win.
PAUL PREDICTS: 1-0
West Brom v Sunderland
West Brom finally scored their first goal of the season last week and I think they will be alright this year. I don't see them being in a relegation battle because as time goes on Victor Anichebe, Nicolas Anelka and Shane Long will work in tandem and get the goals to take them up the table.
But I worry about Sunderland. They lost 3-1 at Crystal Palace and got well beat by Arsenal, which is six goals conceded in just two games. That's the big worry for me and I wonder with all the new players that have come in how long it will take for them all to gel? If they lose this one then they'll struggle to get out of the bottom three in the first seven or eight games and then it looks like a long season. The teams at the bottom need to start well and I'm just going for West Brom.
PAUL PREDICTS: 2-1
West Ham v Everton
I've watched West Ham a few times this season and I don't know how they're going to score until Andy Carroll gets fit. They never looked like scoring a goal against Stoke and Modibo Maiga hasn't really done anything in the last two games. He really hasn't had a kick.
Kevin Nolan doesn't look like the same player when Carroll isn't in the team and he can't make his runs off the big target man. I would be tempted to change things on Saturday and play Nolan up front. He's intelligent and will give you more than Maiga at the moment. They've got to change things because if they don't then I think you'll see "nil" again.
PAUL PREDICTS: 0-2
Crystal Palace v Swansea
Swansea will arrive on the back of a Monday night game against Liverpool and then a Thursday night trip to Valencia, which is a very hard place to go. They've then got to travel to London on Sunday for a Premier League game and the outcome could depend on how fresh they are.
You'd have to say that Crystal Palace are playing them at the right time. They've had a week to get ready for this game after losing at Old Trafford and you'd have to think Swansea might fade towards the end the game after a tiring week. I like Swansea, but I'm going to go for a draw in this one.
PAUL PREDICTS: 1-1
Cardiff v Tottenham
Tottenham were impressive last week and could have beaten Norwich by any score. Plus they look solid and have only let in one goal all season. Andre Villas-Boas looks like a Mourinho Apprentice and has made sure his team are hard to beat, which is the way to do it in this league because nobody will score three or four every week.
But Cardiff is a hard place to go, especially after playing in the Europa League on Thursday night. The manager is already moaning that they've got to play Thursday-Sunday-Tuesday and that could carry through to the players. It's a hard one to call because I don't see how Tottenham will fail to create chances and I'm going to go for a draw - but if I had to pick someone to win I would say Tottenham. I've been impressed with them and I think they've got every chance of winning this Premier League.
PAUL PREDICTS: 1-1