Football Expert & Columnist
Arsenal defenders are the unsung heroes, says Jamie Carragher
Arsenal's attack is getting all the praise but their defence deserves more credit says Jamie Carragher.
Last Updated: 03/10/13 11:50am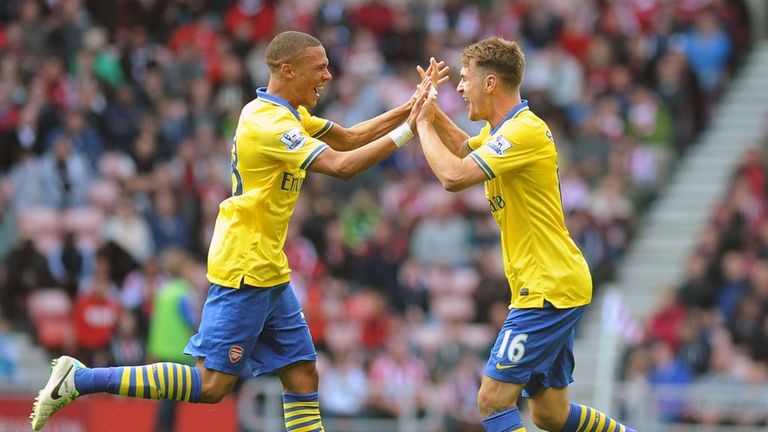 They were never out of control and on Tuesday night in the Champions League they never gave Napoli a sniff.
They had a lot of criticism after the first Premier League defeat at home by Aston Villa and they were bad goals. But as a defensive unit they've really come on and they are the unsung heroes really.
I've been particularly impressed with Kieran Gibbs. He's had a lot of injury problems over the last two years and that's stunted his progress. It's about time he really pushed on and cemented his place at Arsenal.
He's a left-back everybody has talked about for a long time. England have a lot of quality in that position with Ashley Cole and Leighton Baines but it's time for Gibbs to step up at Arsenal and at international level.
The success of the defensive unit has been more down to the defenders than goalkeeper Wojciech Szczesny.
They've protected him well but there will be more to come from him. He's not the biggest or strongest but that's the modern keeper. He's a bit panicky but everybody has bad days and the longer he's there the more confident he will get.
It's all about partnerships though and a good back four needs to be stable. In other areas of the pitch you can play off the cuff and rely on a piece of magic or brilliance. It doesn't matter how good individually you are in defence, you need people around you to play as a unit and that's been a feature of Arsenal's current back four.
One area of the pitch you'd like continuity is in defence. The game is all about big squads and giving other players games and rotating is a big part of that.
I didn't really experience being rotated as a defender and I'm grateful for that. You like to build up relationships at the back. Sami Hyypiä and I rarely got injured at Liverpool and we were always on the team sheet while other players around us were always changed.
It's a bit different with the full-backs because it's a higher intensity for them running up and down the line and so they need to rest, but you'd want centre backs to play together as much as possible.
Individually, the Arsenal defenders aren't the best in the league in their position, but as a unit, although they aren't quite the standard of the old back four of the 1990s, there have been signs of late that they are doing a top job.
Watching the last half an hour at Swansea, I thought there were similarities between the new and old back four. They were defending deep and withstood a lot of pressure and that was what the old defence used to do.
It's difficult to compare but what the current players will want is more clean sheets and that's what the old Arsenal back four were notorious for. As a defender you want clean sheets - it's like an attacker scoring a goal.
That is what they need to do before we start properly comparing them to Tony Adams and co!
I'm still to be convinced Arsenal can win the Premier League title but I see the top four happening and they will be challengers. The longer it goes on and teams drop points and they remain in the top four then the more you will think they can do it.
It's still very early and they've got some tough fixtures coming up so let's wait until Christmas so we can see where we are.
Next up for them is West Brom (live on Sky Sports 1 HD on Sunday at 4pm). You'd have to fancy Arsenal but after coming out on top at Manchester United last weekend the Baggies will have great confidence.
They had an excellent transfer window and that's given them a lift. You feared for them at the start of the season (two losses and two draws in the first four league games) but they've picked themselves up and they will be very confident of getting something against the Gunners.