Football Expert & Columnist
Celtic were outclassed by Barcelona in the Champions League, says Andy Walker
Andy Walker says Celtic's Champions League clash with Ajax is pivotal after their defeat to Barcelona.
Last Updated: 02/10/13 6:31pm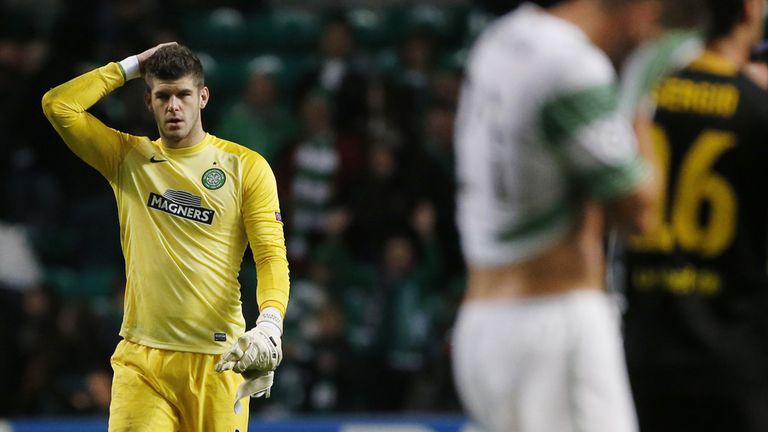 In an atmosphere that can't be bettered anywhere in Europe, it was just too much to ask for Celtic to replicate the astonishing result at the same stage last season when the Scottish champions won a famous victory.
Without the genius of Lionel Messi, a front three of Pedro, Fabregas and Neymar supported by Xavi, Iniesta and Busquets completely dominated possession for long spells but to Celtic's credit, they defended deeply and restricted their more illustrious opponents to very few chances.
But when they did get the ball, Celtic's passing was a huge let down for the fans who were desperate for their men to have some sort of controlled possession, if only for a short time.
But Celtic will rarely play against a group of players with that level of technique. Barcelona move the ball so quickly and their first touch and instant control all over the pitch is fabulous to watch.
The game's biggest talking point was of course the red card shown to Celtic's captain Scott Brown.
Neil Lennon was at great lengths defending his leader in public but privately he must wonder why he was so stupid. A captain leads by example and my first thought was that it was a great foul to give away, Neymar's pace was carrying him away from Brown and into a dangerous area. A cynical foul, worthy of a yellow card, was professional and crucially would allow his teammates to regroup.
Petulant
But the petulant kick when Neymar was on the ground was the act of an immature schoolboy. It's debatable whether any contact was made but from the referee's view, the intent was clear and he quickly swapped the yellow he had in his hand for a red.
Years ago, Brown was renowned for being a bit of a hothead who would often lose his composure but in recent years I thought he had grown out of that and was now showing a level of maturity you'd expect from a Celtic captain.
The changes Neil Lennon made to his team almost worked wonders. A wonderful piece of control set James Forrest up for a stinging left-foot half-volley that brought out a tremendous save from Victor Valdes.
From that corner, Charlie Mulgrew almost gave Celtic the lead but the simple truth is that Celtic have had opportunities to score against both Milan and Barcelona and have failed to find the composure and ruthless, clinical finishing you need to survive against some of the best teams in Europe.
Excellent
What they do have is a goalkeeper who, apart from flapping at a cross on the stroke of half time, enhanced his reputation as someone who can perform on the big occasion.
Fraser Forster was excellent in last season's Champions League campaign and some of his stops late on to deny Barcelona a second goal were world class.
Ajax at home is now pivotal in terms of Celtic's European future this season and somehow, Celtic have to find a way of taking one or two of the relatively few chances they create in this magnificent tournament to survive.