Football Expert & Columnist
Jamie Redknapp: Pellegrini made tactical blunder in Manchester City's defeat to Bayern Munich
Manuel Pellegrini made a massive tactical error that led to Manchester City's loss, says Jamie Redknapp.
Last Updated: 03/10/13 12:49pm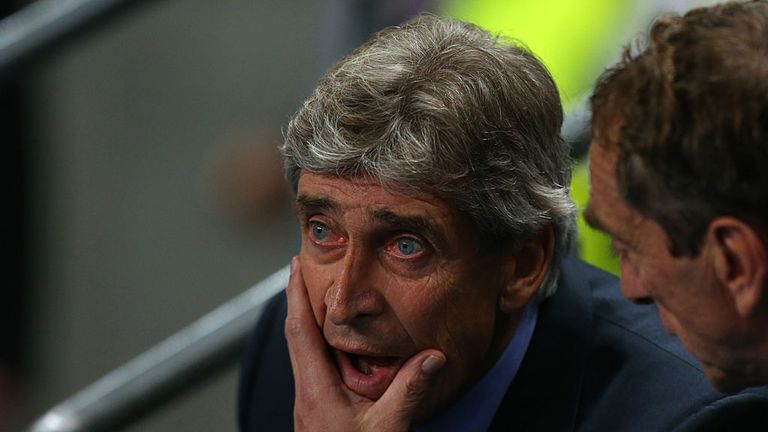 City slumped to a 3-1 defeat to last year's Champions League winners in the Group D clash at the Etihad Stadium with Franck Ribery, Thomas Muller and Arjen Robben all scoring for Bayern before Alvaro Negredo pulled one back for City late on.
Bayern completely overran their opponents, which Redknapp believes was a result of Pellegrini electing to play Sergio Aguero and Edin Dzeko in the same starting line-up while Pep Guardiola packed his midfield with energetic and technically proficient players.
Asked if it was an error for City to play two up front, Redknapp told Sky Sports: "Absolutely, the biggest error. In modern football now, if you look at the best teams over the last few years - Barcelona, Bayern Munich and the best teams in world football - not many teams play with two up front.
"You get that extra man in midfield when you play with the three and that is where they [City] were dominated. I have never seen Yaya Toure so ineffectual because he could not get near anybody. It was the same for Fernandinho.
"Kroos, Lahm, Schweinsteiger - Bayern had the run of that midfield. They were a different class."
"The system they [City] played is where they got it wrong. They gave themselves such a problem. They could not get near anybody in midfield, they were always out numbered."
Bad
Redknapp was also critical of City's defending and picked out Joe Hart's failure to deal with Ribery's effort and Gael Clichy's failure to track Muller's run in the build-up to Bayern's second goal.
Hart had a "a bad night", said Redknapp, but the Sky Sports pundit also highlighted the quality of Bayern's performance and believes the reigning champions are now an even better side since Guardiola took over as manager.
"Like Barcelona, they are happy to pass it short but they are also a bit more direct sometimes and are happy to hit longer passes."
Fellow pundit Graeme Souness agreed that Bayern have improved since their triumph last May and said that the quality they possess is a stark warning to British teams with aspirations of Champions League success this season.
Scary
"The big difference for me is that they hunt the ball further up the field," he said. "We got an indication from Arjen Robben in his interview at the start of the game, he said they now have one holding midfielder as opposed to two, which means they are pressing the ball further up the field.
"But when they had the ball they were just fantastic. The real scary thing for us is that I believe Man City are the best group of all the players in our league. They have quality throughout their squad. They were made to laborious tonight and pedestrian, and that is a worry."