Champions League: Man City's Joe Hart will bounce back - Jeff Stelling
Man City keeper Joe Hart is under fire for another sloppy show, but he deserves our support, says Jeff Stelling.
Last Updated: 03/10/13 3:10pm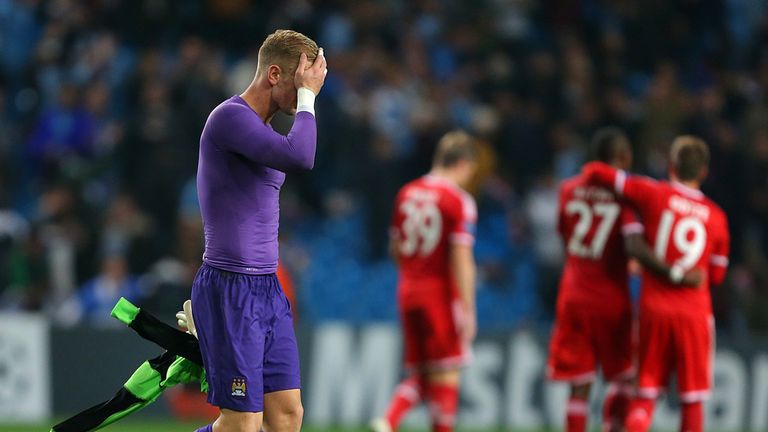 The responsibilities lie with manager Manuel Pellegrini who chose the wrong system and made the wrong selection of players.
Jesus Navas played instead of James Milner, who would have been ideal for Wednesday's match but City were swamped in midfield and that just wasn't rectified.
Franck Ribery and Arjen Robben showed Navas just how a wide player should perform in a game like this.
There are lots of people to blame but even if City had been at their best, Bayern would have probably still beaten them or any side in Europe, probably the world. Bayern were absolutely fantastic.
Magic Munich
I will be surprised come May in Lisbon if they aren't lifting that trophy on the basis of what we saw on Wednesday night.
There's no doubt that Hart has had better nights, but he is the best English keeper by some distance. There's been a clamour for Fraser Forster and I was a big fan of him last season in particular and he deserved to get in the English squad.
He was fantastic for Celtic in midweek against Barcelona, but he has not had a great season by his standards and I'm sure he'd admit that. However, now is not the time in the World Cup qualifiers to be taking a risk on a rookie international goalkeeper and I'm sure Roy Hodgson is not even considering that.
Hart is an absolute certainty for these qualifiers for one reason - that he's the best England have got and probably will be for some years yet. He's a baby in goalkeeping terms and he just needs a bit of an arm around him and I'm sure we'll soon see him back to his best.
Looking at the broader picture for City, losing to Bayern is not a disaster. It does make going over to play CSKA Moscow a bit more difficult and puts more pressure on them, but I'm sure they will still qualify for the knock-out stage.
Everyone was praising City for going out and doing their transfer business early. Actually, what business have they done? I don't understand why Alvaro Negredo didn't start against Bayern.
He's been the only success really and I feel he should be starting more than Edin Dzeko. Fernandinho had a difficult night against Bayern. Gareth Barry told me about how exceptional he was in training before he left for Everton and he just hasn't shown that on the pitch so far.
Navas might be a flying machine but he seems reluctant to take anybody on and use that pace. He had opportunities at the Etihad on Wednesday but his crosses were woeful and he lacked the work ethic needed in the English league.
We may look back in May and say that City actually made some good transfers but at the moment it looks like Arsenal and Tottenham did the good business.
Bad business?
Considering City's record this season, the jury is still very much out on Pellegrini. It's OK to play attacking football but you won't win many games 4-3.
They have showed how good they are against Manchester United and Newcastle at the start of the season - perhaps he just needs to modify the way they play.
He's got a big squad laden with options and some managers are accused of tinkering too much - maybe he needs to look at a few more options. But it is way too early to pass too much judgement on him.
I think he was a little naïve though. He said before the Bayern match that he would attack them and that was naïve.
There were a lot of stats ahead of the City and Bayern match. One said that Pellegrini had never beaten Pep Guardiola. You could pick a thousand managers who haven't beaten Guardiola!
Jeff's Gem of the Week
It has to be Gillingham and their 3-0 win at Crewe. They were bottom of the table and without a win in League One. Manager Martin Allen was seemingly under pressure and I'm just pleased for him because he's a fantastic character.
He's got some unorthodox training methods, but he's a great motivator so I was really pleased for him.