Football Expert & Columnist
Jamie Redknapp and Peter Schmeichel hail arrival of Adnan Januzaj
Jamie Redknapp said Adnan Januzaj made his team-mates look "average" against Sunderland.
Last Updated: 06/10/13 8:42am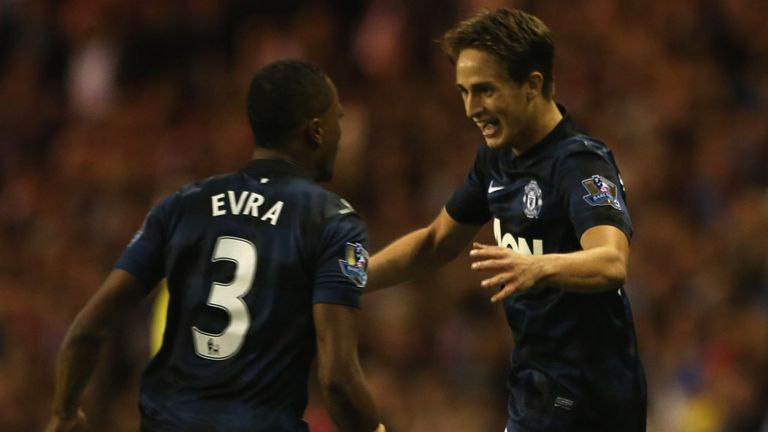 David Moyes made a big call ahead of the Saturday Night Football clash with Sunderland by handing a Premier League debut to the Belgian youngster - but he was rewarded with two goals in a stunning Man of the Match performance.
And Sky Sports pundit Redknapp said the decision of the new Manchester United manager was not really a brave one because the player is clearly "special".
He said: "Every now and again, and it's not very often, a player comes along and makes everybody else on the pitch - and I'm talking about top players - look average. That's what he did today.
"It was a special performance from an 18-year-old. I said before the game I didn't believe it was a risk because I've seen glimpses of this kid.
"He's special and what's the point in waiting? When you need a spark and when you need something to happen for you, which is what Manchester United needed today, go and play him and unleash him.
"He's 18 years of age and nerveless. Every time he got the ball he tried to do something with it.
It was top class and a real pleasure to watch."
Special talent
Former Manchester United goalkeeper Peter Schmeichel was also in the Saturday Night Football studio and said a few of the club's highly-paid stars will be worried about their place in the team now.
He agreed that Januzaj looks like a special talent and applauded his bravery throughout the game.
"For David Moyes to play him and get that out of him was a bonus," Schmeichel said.
"It was a gamble, it was a chance. He has Valencia on the bench and could have played him. He had Welbeck on the bench and could have played him, but he chose to play him because something was missing.
"Something has been missing in the first six games, a little bit of inspiration and my god did we get that today from that young man.
"We've seen something special. All the way throughout the game he wanted the ball and was brave enough to take the ball, even when he was being marked very tightly.
"We saw a little bit of what we don't like as well. He got booked for diving in the penalty box, but a few players tonight should be worried about their positions.
"There's a few players that should be worried."
Schmeichel also paid tribute to United goalkeeper David De Gea for a stunning save just before half-time when his side were trailing 1-0.
He added: "Thank God For David De Gea.
"I think what he pulled out today was one of the best saves I've ever seen in the Premier League. It gave Manchester United a chance. If that goes in then it's 2-0 and then it's really uphill.
"You have to watch the ball before it stops and comes your way. He had to adjust his feet and it was a really difficult height because he had to dive upwards, not downwards.
"It's just an unbelievable save and I think this is a save we'll see time and time again. I say this was significant because it left them with a chance.
"They were 1-0 down and if they lost this game it could have had repercussions for the rest of the season. He kept the team in this game."