Football Expert & Columnist
Jamie Redknapp on Manuel Pellegrini's problems and Ravel Morrison's gift
Man City's start under Manuel Pellegrini is a worry but they will beat West Ham, says Jamie Redknapp.
Last Updated: 21/10/13 10:36am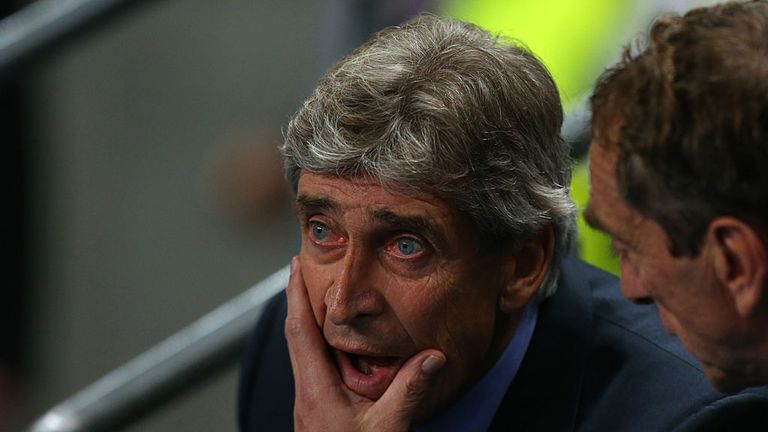 The 4-1 win over Manchester United probably masked over some of their problems but if their neighbours hadn't started so badly themselves, and Jose Mourinho's Chelsea hadn't gone through a sticky patch, too, there may have been a bit more heat on Pellegrini.
As it is, City are only three points off the top of the Premier League table.
But the Chilean's naivety in only playing two central midfield players against Bayern Munich in the Champions League was surprising and his inability to address the problem while the best team in the world were all over them was concerning.
Their domestic away form has also been poor.
When you look at City's squad and all the quality that's there and see them throwing away leads and losing to Cardiff and Aston Villa, that tells you something is wrong.
Of course, senior players need to take some responsibility because they should be pulling people up if they are getting lax or complacent.
But fundamentally it comes down to the manager and it's been a strange start for the former Malaga boss.
Their victory over Manchester United was one of the best I've seen for three or four years, but in losing games which they could have won comfortably they have shown they are much more open this season than they were under Roberto Mancini.
That's something Pellegrini needs to look at; in some games he will need to get an extra midfielder in there and say to Sergio Aguero, Edin Dzeko or Alvaro Negredo they may not start in some games.
It's not easy but that's the problem you have when you have an abundance of riches.
Test
City have got a tough test this weekend when they go to Upton Park on Saturday Night Football.
West Ham's 3-0 win at Tottenham before the international break will be a real boost for them and, with the brilliant atmosphere there, the first goal is going to be crucial.
West Ham set up with no forwards at White Hart Lane, with Ravel Morrison, Ricardo Vaz Te and Mohamed Diame playing up front.
That worked so well for them because they could soak up pressure, use their strength at set pieces to get ahead and then hit Spurs on the counter-attack when the home side went looking for the equaliser.
And if West Ham can score first on Saturday then City could be facing a real problem.
It will also be a big night for Ravel Morrison, who is making plenty of headlines at the moment - and for the right reasons.
Pace
We've got three players coming through for England now who are the most exciting talents we've produced in a long time: Morrison, Ross Barkley and Andros Townsend.
The common denominator is something we don't have enough English players doing - they can all travel at genuine pace with the ball.
All three dribble with their left and right and it makes you twice the player if you can do that.
There are few players so well balanced off both feet (Michael Carrick is another but he does it in a different way - he can pass off both feet).
When you can dribble with either foot it makes you so difficult to defend against. As a defender you don't know whether to show them left or show them right; it's such a talent to have and gives you a different dimension.
Morrison's excellent solo goal against Tottenham showed what he can do and we all know he's a genuine talent. There will be bumps in the road for him, though, and he needs good people around him.
But Sam Allardyce has done a good job with Morrison, after Lee Clark got the ball rolling for him at Birmingham last season, and the penny appears to have dropped for the former Man United youngster.
Advantage
West Ham will try to use their strength at set pieces to their advantage on Saturday, too.
City can be vulnerable at free-kicks and corners and with Winston Reid and James Tomkins a real threat in the air, while the returning Carlton Cole can also have an impact if he comes on.
However, I've got a feeling this could be the game where City's fortunes on the road turn around and they get their first away win in the Premier League this season.
West Ham have done well to accumulate the points they have without Andy Carroll, whose injury has forced them to adapt their system, but City might just have too much quality for them this weekend.
It won't be easy, but if City get that crucial first goal, West Ham will have to come forward and the visitors could exploit the space that creates.
I'm going for a 3-1 win for Man City.