Gary Neville: Manchester United woes can't all be solved with money
Gary Neville says Man Utd have issues all over the team - but splashing the cash is not the solution.
Last Updated: 26/03/14 10:14am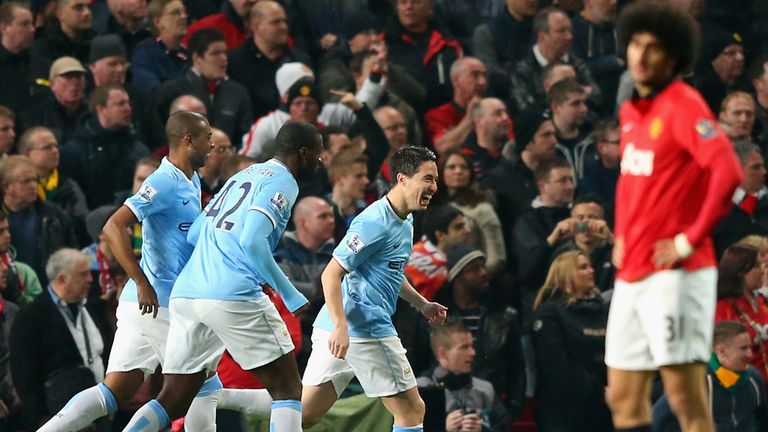 The champions' demoralising season suffered a fresh setback at Old Trafford on Tuesday night as they were comfortably beaten 3-0 by Manchester City, a result which sees them fall 15 points behind their neighbours despite having played two more games.
That prompted former United right-back Neville to question a recruitment policy which has seen them sign the likes of Wilfried Zaha (£15m), Marouane Fellaini (£27.5m) and Juan Mata (£37m) in the last 15 months - despite being linked with world-class talents like Cesc Fabregas, Gareth Bale and Cristiano Ronaldo.
The Sky Sports expert says there are obvious weaknesses throughout Moyes' current team, particularly in defence and midfield, but that the manager must be careful to make the right signings when he goes back into the market.
"The worrying thing is people think the right answer is just to go and chuck another £150million at it," Neville said.
"But it's almost like you've got to know what's wrong with the soup before you throw more ingredients in to make it better - and at the moment I'm not quite sure where you'd start.
Risk-takers
"The defence does not push up the pitch, they're not front-foot defensively, while in midfield you need pressure and drive and they haven't got that.
"They are not risk-takers in midfield so the passing is slow at times. Ryan Giggs is the first midfielder, in the Olympiakos game last week, that I've seen pass the ball forwards.
"Up front I think they've got good players, but it's where you fit them in and how you position them together. Moyes has got some work to do in working that out over the next few months.
"The idea that United need to spend a load of money is very well. They've got money, but they have spent £80million already on Zaha, Fellaini and Mata in the last eight or nine months.
"City have spent £100m and people in this area say they have spent a load of money, well United have spent a load of money as well.
"So it's not going to be a case of just throwing a load of money at it. They've got to get the actual signings right and get the recruitment right.
"In the summer they wanted players of the quality of Fabregas, Bale, [Leighton] Baines and Ronaldo. Those types would have been fantastic and would have given everybody a lift.
"They didn't end up getting them and that was the problem."
Power
City's derby win has reaffirmed Neville's belief that Manuel Pellegrini's side - now three points behind leaders Chelsea with two games in hand - are the favourites for this season's Premier League title.
And despite having tough trips to Arsenal, Liverpool and Everton to come he expects the title race to be a hard-fought battle between City and Chelsea.
Neville added: "I think Liverpool have done brilliantly well, but I think City and Chelsea have got more power, strength and experience and in the end that will count.
"City will get confidence from tonight and I think they'll beat Arsenal on Saturday. I'd be amazed if they didn't.
"The trip to Liverpool is a big game, but you'd say it's as difficult for Liverpool as it will be for City. Anfield is a tough place to go for any team.
"But you've seen Manchester City tonight. They are strong, powerful and they've got goals from different areas of the pitch.
"They are keeping clean sheets at the moment, even though you still suspect that potentially is an area that's weak for them, the centre of defence.
"You'd have to say Martín Demichelis and Vincent Kompany were outstanding tonight and I would say they will go forwards and win the league.
"But that's with not with any great certainty. I wouldn't go rushing to the bookies or anything like that!"