Kevin Phillips
Football Expert & Columnist
Kevin Phillips blogs on Leicester's 'bizarre' promotion and defeat to Brighton
Last Updated: 09/04/14 5:34pm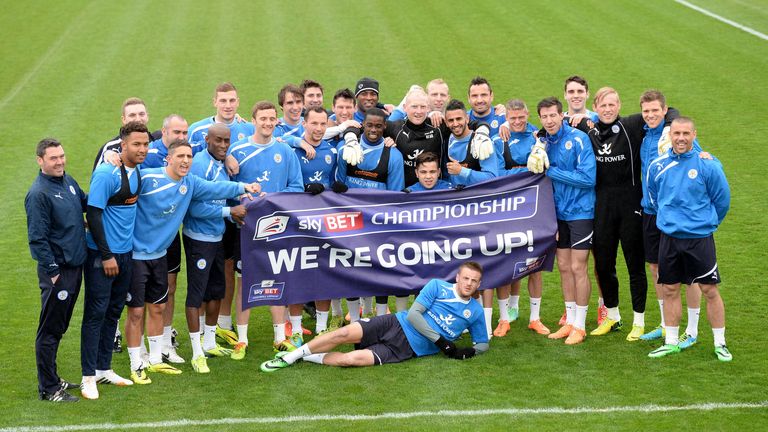 Tuesday night's match with Brighton was supposed to be a celebration for Leicester - but instead it was disappointing to say the least.
We'd secured promotion to the Premier League over the weekend, with QPR and Derby losing on Saturday after we'd beaten Sheffield Wednesday on Friday night, and nearly 30,000 fans were at the King Power to enjoy themselves. And we let them down.
It was a bizarre way to go up and the first time I've been promoted in that way but, nonetheless, it's been a great achievement from the players.
Kevin Phillips
Brighton beat us 4-1, ending our 21-game unbeaten run – which had begun way back in December, coincidently, following a defeat to Brighton – and gave us a huge wake-up call.
Virtually the whole squad had gone out and celebrated on Saturday, which is natural, but perhaps wasn't the right thing to do. In hindsight it would have been better if we had to beat Brighton to secure promotion – but, either way, I'm sure there won't be another performance like that between now and the end of the season.
Bizarre
Looking back on Saturday, it was a strange situation.
We'd got our job done by beating Wednesday at home and just had to sit around and wait to see how QPR and Derby got on against Bournemouth and Middlesbrough respectively.
To be honest, I fancied both results to go our way. Bournemouth are top of the form table and it's always tough going down there, while Middlesbrough is another tough place to go; the Riverside is never that full but the supporters get behind their team and they have players who can hurt you.
I was watching Soccer Saturday at home and it was an odd afternoon, flicking between the scores and a couple of other things on the telly.
When Bournemouth had a man sent off with 25 minutes left I thought QPR might get back into it but credit to Bournemouth for holding on.
Then, when our promotion was confirmed my phone didn't stop beeping with people texting congratulations. I had a few celebratory drinks with the family and it was a good feeling to have secured promotion.
It was a bizarre way to go up and the first time I've been promoted in that way but, nonetheless, it's been a great achievement from the players.
Business
Some of the lads that live in Leicester got together for a celebration but, living about an hour away, it wasn't feasible for me to get over there. However, on Monday morning we had a meeting and the gaffer congratulated the whole club on getting into the Premier League.
And then it was business as usual to train and prepare for the match against Brighton.
That game didn't go as we planned but the celebrations are out of the way now and we'll be back down to business when we head to Reading on Monday night.
The first goal for the club this season was to get promotion and the second was to go up as champions.
We've been top of the table since Boxing Day so to not go up as league winners will put a bit of a downer on the end of the season.
It's going to be difficult because Burnley are hot on our heels now but it's in our own hands and we need to get back to the way we were playing before Brighton and crack on. That's our main aim now.