Football Commentator & Columnist
World Cup 2014: Martin Tyler returns to Rio for first stop on Brazil adventure
Read Martin's World Cup diary as the tournament unfolds...
Last Updated: 11/06/14 12:45pm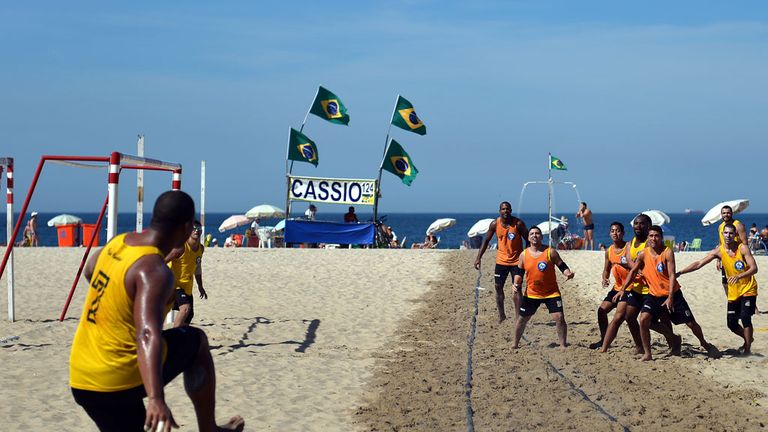 I arrived in Rio at 5.00am local time on Tuesday, after an 11-hour flight, the start of what even for a World Cup veteran like me is going to be a massive adventure.
From what I have experienced in my first 24 hours here in Brazil I am sure there will be enough material to write a blog several times a day. I won't be able to manage that but I will do my best to bring you along for the ride.
This is my 10th World Cup as a commentator and my first trip to Brazil came on the way back from my first, Argentina 1978 — the last World Cup in South America before this.
I stayed in a small hotel on Copacabana Beach, close to where I am writing this now. I was so excited to be in Rio I phoned my parents. My Dad was furious because I reversed the charges!
My only other visit was 30 years ago when I came over with Don Howe, the former England coach and deep thinker about football. The mission was to make a documentary about why Brazilian players had such marvellous techniques.
I was so excited to be in Rio I phoned my parents. My Dad was furious because I reversed the charges!
Martin Tyler
In simple terms, Don's conclusion was that BAD pitches, on which most of them learned the game, held the key — a point worth revisiting amid  the current clamour in England for pristine surfaces which may help indifferent players but do not really sharpen up the best.
Passion
I am here to commentate for Australian television rights holders SBS. We are a small team compared to the major European broadcasters.
Les Murray, their legendary presenter, has already caused a stir Down Under by announcing that this will be his last World Cup. He has nobly carried the flag for football for decades in a country where the beautiful game is in a constant battle with other codes for support.
His passion for football started in his native Hungary in the 1950s, when the Mighty Magyars were the best national team in the world; his family finding sanctuary in Australia after fleeing their homeland when Russia invaded.
Les's studio sidekick is the former Australian international Craig Foster who played in England for a while at Crystal Place and Portsmouth. He has the look of a young Richie Benaud and his insight and analysis is taking him towards the same category of broadcasting.
Reassuring
Brazil is a magnet for football people. Within four hours of landing I was chatting with Gerard Houllier, who is heading FIFA's technical team analysing the World Cup matches. Walking back to my hotel I saw Juan Sebastian Veron signing autographs and posing for photos, looking just as fit as in his time with Manchester United and Chelsea. 
The police presence so far looks increased and reassuring and as I went to bed at the end of my first day at World Cup 2014 the shouts from the beach of Enger-land, Enger-land suggested that there are plenty of visitors here prepared to put their trust in the security forces.
There will be parallel stories here alongside the match coverage and one brought good news on all fronts. Thursday has been declared a public holiday in Sao Paolo, which will should ease the traffic congestion around the opening game between the hosts and Croatia. The city has had a major problem with gridlocking, increased by a strike by workers on metro trains, which for the moment at least is on hold.
Sao Paolo is my next stop on this adventure trail. Then it is Manaus and the start of England's campaign.  To be continued…