World Cup 2014: Vicente del Bosque future uncertain, says Guillem Balague
Last Updated: 21/06/14 12:29pm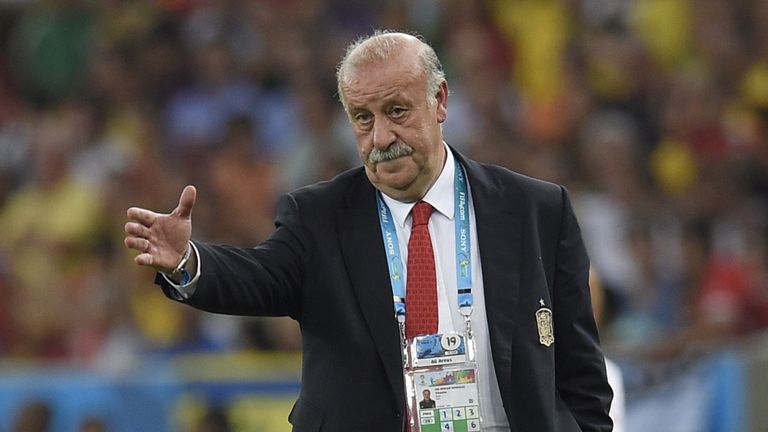 Spain's football association will want Vicente del Bosque to stay on, despite the country's calamitous World Cup says Guillem Balague.
Del Bosque admits he is questioning his future after successive defeats to Holland and Chile ended Spain's hopes of a successful defence.
Critics have attacked the 63-year-old for picking seven over-30s and no under-21s in his 23-man squad but Spanish football expert Balague believes that the Spanish Football Federation will try their utmost to retain Del Bosque's services.
"Did Del Bosque have to bring these guys? I think the answer is 'yes'. We've seen in front of our eyes that these players don't have it anymore. We were saying before the Chile game 'what's the worst thing that can happen?' It's that we get knocked out.
The Federation is going to say 'listen Vicente, go on holiday, have a rest, and let's start over in September'.
Guillem Balague
"Now it is time to think about what went wrong and try to evolve the idea. The question is whether Del Bosque will be there to do so? I've got the impression that he will say 'right, my time is over even though my contract runs until 2016'.
"But the Federation is going to say 'listen Vicente, go on holiday, have a rest, and let's start over in September'. That will be the first thing that the Federation will have to sort out.
"Del Bosque has won a World Cup and a European Championship – he has got all of the credit that he deserves and needs.
"Sergio Ramos has said that the players will respect any decision that he makes and I can tell you that everybody – fans, the media, and the Federation for sure – will want him to stay or at least accept any decision that he takes."
Worried
After Wednesday's 2-0 defeat to Chile, which came on the back of Spain's 5-1 loss to the Netherlands, midfielder Xabi Alonso admitted that the team had been unable "to maintain the same levels of conviction, of hunger" that had been at the heart of so much of the team's success.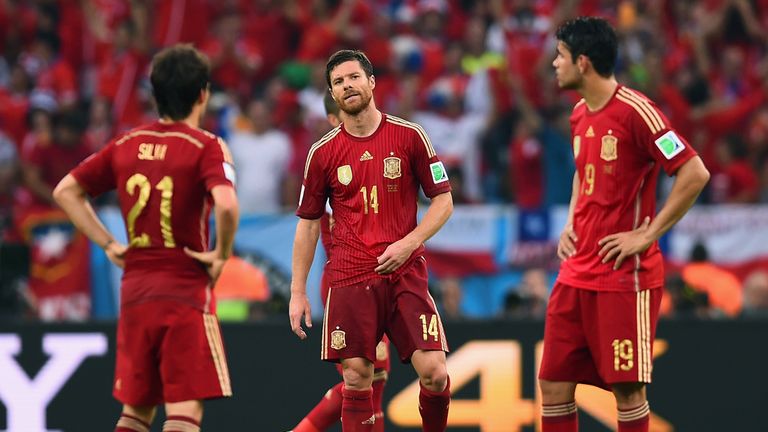 But Balague insisted that Del Bosque was right to persist with the senior players even though the manager clearly had his doubts about their ability to compete at the highest level.
"It's one thing to be defeated, another thing to be badly defeated. We have conceded six goals if you look at 2008, 2010 and 2012. We have conceded seven in just two games.
"What happened? Del Bosque was worried – and he is now admitting it privately – that he was worried about the physical state of the team which means that you cannot give as much mentally as you would like to.
"With that in mind, he realised pretty soon that he couldn't take much more from this team. Again, if that's the case, why didn't Koke play? Why didn't Javi Martinez play? Why did Del Bosque use some of the players who were out of form - Iker Casillas, Sergio Busquets, Xabi Alonso, Xavi Hernandez, Sergio Ramos, Gerard Pique?
"I think the answer is that he wanted to see partly that what we have is what we have – who else would you have brought into Spain to do it better? If it had been youngsters and not these old guys, people would have said 'why are you doing that?' especially if we didn't win the World Cup.
"So we've seen the end of this and now it's time to start over."
Peaked
Spanish daily Marca reported the demise of the World Cup champions by saying "Goodbye to the golden years" while sporting daily, AS, said "It was beautiful while it lasted".
Balague told Sky Sports News that it is important now for the Spanish fans to find solace in their team's epic achievements of recent years.
"This is a generation that has been the best had peaked already and now it is time to reflect on the good times," he said. "It was a six-year party – the best time of my life – but now we have to assess where we go from here.
"The questions were put to some of the players yesterday; it's a little bit too early to analyse exactly what has happened but it's interesting that there are two positions.
"On the one hand, Xabi Alonso is saying that we were not prepared mentally and physically. Iniesta responded by saying 'I don't think it's that' but he didn't give a clear idea.
"If it helps you, Thierry Henry – who was a World Cup winner and then four years later failed with France – told me this morning that mentally and physically the team is tired. Your body wants to give more but it is unable to do so. I think that's what happened to Spain as well."
Spain will play their third and final Group B World Cup match against Australia in Curitiba on Monday.