The Championship: Brighton striker Craig Mackail-Smith can't wait for the season to start
Last Updated: 08/08/14 5:45pm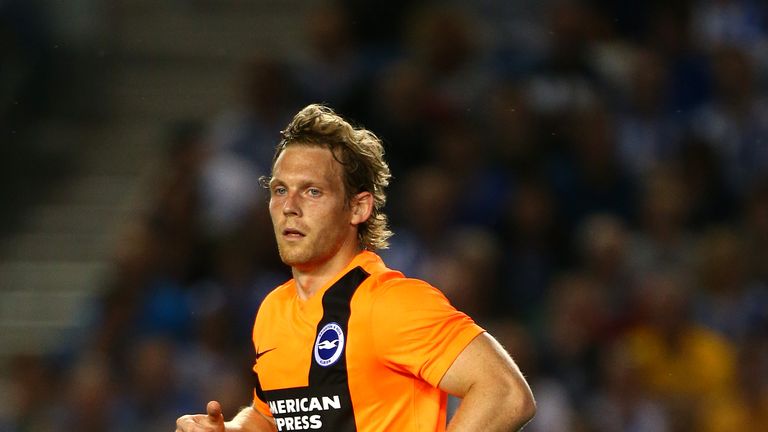 Everyone can't wait for the season to start on Saturday. Pre-season is not a professional footballer's favourite time of the year, so the closer we get to the beginning of the season the more excited we are.
We're at home for our first game against Sheffield Wednesday and that means there will be close to 28,000 fans there; it will be great to get back to playing in front of big crowds. The Football League want supporters to show their support by wearing the home colours on the opening game and having that 'Wall of Colour' does make a little bit of a difference. It makes an atmosphere as you walk out; you see the stadium full of the colour you're playing in, but of course, once we've kicked off we're pretty focused.
Our new manager Sami Hyypia is very relaxed but is guiding us on his way of playing. He's not pushing us too hard because he understands the boys have got to learn a new system, and he's not getting on anyone's back if they don't do the right thing; it's more about positive criticism. The manager demands high standards and that means everyone has been working really hard and pushing each other to get through the training sessions. It's definitely had a positive effect and we're all enjoying working under him.
Style
The style hasn't changed a huge amount. The manager still wants us to keep the ball, probe and look for openings. I still think we're going to be playing with one up front and two forwards off them. He wants us to attack a little bit quicker; we weren't a very high scoring team last season so we need to be a bit more adventurous. That's great for the forward-thinking players and maybe not so great for the defenders! If we get the balance right hopefully we won't concede many, and score plenty.
Of course, I'm hoping we create lots of chances and I score lots of goals. The boys are disappointed that we've lost Leo Ulloa because he was a big player for us and scored 16 goals in the season, and a lot of important ones at that. He was a good character to have around the training ground but we've all wished him the best. He's gone to play in the Premier League and you don't want to hold any player back when they have that opportunity. We've now moved on and brought Chris O'Grady in, and the club are looking to bring in a few other attacking options. It's down to us players to replace the goals that will be missed now Leo is not here.
The manager demands high standards and that means everyone has been working really hard and pushing each other to get through the training sessions
Craig Mackail-Smith
There are so many teams in the Championship that are looking strong this season and the teams that have come up from League One have bought really well and are looking dangerous. I think Norwich are going to be strong, Fulham as well, and then Forest signed Britt Assombalonga so they'll be hard to beat. I also think Derby could go one better than the play-offs this season. It's going to be more difficult this season because they're a lot of strong teams and clubs that have invested in their squads. It will be tough, but if we do our job and the best we can that should be good enough to get us in to the Premier League.