Football Commentator & Columnist
Stats of the Season
From Lukaku to Le Fondre to Lampard... Martin Tyler picks out the best stats of the 2012/13 campaign.
Last Updated: 30/05/13 11:40am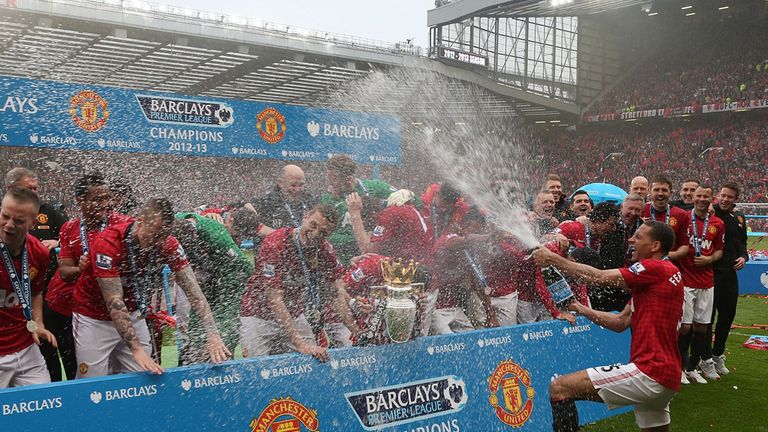 All season long, Martin Tyler has been looking at the best stats and facts from the Premier League and beyond.
Sky Sports' Voice of Football, with the help of his back-up assistants and the boffins at Opta, have answered your quirky questions on the statistical side of the game.
Here, Martin looks back from his favourite stats of the season and we hope you enjoy this review of the campaign in numbers.
He won't be answering any more questions until August, but you can still get a regular fix of Tyler over the next few weeks as he brings you his diary from the Under-21 Championships in Israel...
Tyler's teaser
Before we start, here's the answer to the final Tyler's Teaser of the season - brought to you from the Champions League Final at Wembley.
August
I was at The Etihad Stadium on the opening weekend to see Manchester City's third 3-2 win in a row following their Community Shield success over Chelsea and their title-clinching victory against QPR. It was their seventh consecutive Premier League victory, which equalled the club record.
That opening game for Manchester City against Southampton was the eighth Premier League game in history in which three substitutes have scored (Steve Davis, Rickie Lambert and Edin Dzeko).
Swansea became only the eighth team since the Second World War to score five goals in an away game in the opening round of top-flight fixtures when they won 5-0 at QPR.
Both Fulham and Swansea scored five goals on the opening weekend and we haven't seen two top-flight teams score five goals in the opening fixtures since August 1958.
Everton won their opening two fixtures for only the third time in Premier League history. On the other occasions they had mixed results; in 1993/94 they finished 17th and in 2007/08 they finished fifth.
Carlos Tevez scored his 100th goal in England at Liverpool and his 49th in the Premier League for Manchester City; he is the club's highest scorer in the competition.
Aston Villa goalkeeper Shay Given played for his 16th manager (including caretakers) in the Premier League era; more than any other player. He has worked under Bobby Robson, Graeme Souness, Glenn Roeder, Alex McLeish , Mark Hughes, Ruud Gullit, Kenny Dalglish, Roberto Mancini, Joe Kinnear, Sam Allardyce, Kevin Keegan, Nigel Pearson , Chris Hughton, Tony Parkes, Paul Lambert and John Carver.
September
When Luis Suarez scored a hat-trick at Norwich, he became only the second player to score trebles twice on the same opposition ground in the Premier League (he also scored three at Carrow Road last season). The only other man to achieve this feat is Manchester United's Wayne Rooney, who has twice scored hat-tricks at Bolton's Reebok Stadium.
Reading went 25 days without a Premier League game in late August / September, but that wasn't a record. QPR once went a remarkable 28 days without a fixture! After they lost to Manchester United on Saturday February 5, 1994 they did not play again until exactly four weeks later against Manchester City on Saturday March 5, 1994. In fact, they didn't play a game at all in that time as they'd already been knocked out of the FA Cup by Stockport.
Southampton went four games without putting a point on the board at the start of this season before a 4-1 win over Aston Villa in September. Of the three teams to have gone longer before recording their first win, the only one to survive was... Southampton. In 1998/99 they went five games before securing a point but still finished 17th.
Newcastle beat Everton to the 1,000 goal mark, despite playing two seasons fewer in the Premier League. They achieved the tally AGAINST the Toffees side when Demba Ba scored at Goodison Park in a 2-2 draw in September.
Steven Gerrard scored his sixth Premier League goal in his 25th Premier League appearance against Manchester United and that makes him the joint sixth highest scorer against Sir Alex Ferguson's side in the Premier League after Duncan Ferguson, Les Ferdinand, Robbie Fowler, Thierry Henry and Alan Shearer.
October
The game between West Brom and QPR on October 22 saw players from 22 different nations represented. Only one game in history has featured more; players from 23 different nations appeared in Wigan's 4-3 victory over Blackburn Rovers on February 5, 2011
Liverpool did not win at home until their fifth Premier League home game of the season (a 1-0 win against Reading). The only two occasions in history when they've had to wait that long were 1894/95 (finished 16/16) and 1911-12 (finished 17/20)
Swansea's clash with Manchester City witnessed more second-half injury time than any other Premier League game in Opta's record books. They played 12mins42secs additional time at the end.
Manchester United matched the record for the longest run without a draw from the start of a Premier League season (the 18-game record was set by Bolton last term).
Stoke's 0-0 draw at Anfield meant they haven't won away at Liverpool in their last 49 attempts - a top-flight record. No other team has gone more than 40 top-flight games without winning away against a single opponent!
November
It wasn't until Adam Johnson's strike on November 10 against Everton that a Sunderland other than Steven Fletcher scored a Premier League goal. In fact, Sunderland's top Premier League scorer in the month of October was Demba Ba (who scored at the wrong end in the North East derby).
Chris Brunt became West Brom's leading appearance-maker in the Premier League, overtaking the record of 106 held by Jonathan Greening.
Southampton conceded 24 goals in their first eight Premier League games this season; a Premier League record. However, the last time they conceded more than 20 goals in the first eight games (1998/99) they still managed to avoid relegation.
Manchester City are unbeaten in their last 17 Premier League games in the month of November - a record that now rolls on to next year. The last time they lost in this month was 1-0 to Manchester United in November 2008.
You might be surprised to learn that Arsenal's win over Spurs was the 29th time a Premier League game has finished 5-2 - so while you might think it's rare, the scoreline crops up, on average, at least once a season.
Roberto Di Matteo departed Chelsea with the seventh highest win percentage of Chelsea's 29 full-time managers, having won 24 of his 42 games (57.1%) in all competitions.
December
Arsenal's Santi Cazorla became the third Spaniard to get a hat-trick and the second this season (Jordi Gomez got the other, also against Reading). In total, three Spaniards have scored trebles in 2012, including Fernando Torres against QPR last season.
Arsenal's game against Reading was a first for Lukas Podolski. It was the first time he had started a game for Arsenal in the league and not been substituted. His run of 14 consecutive substitutions is a longer streak than any player in Premier League history.
QPR's start of 16 games with a victory ended with a win over Fulham, but is the longest winless start in Premier League history. The previous record was set by Swindon Town in 1993/94, who failed to win any of their first 15 games (W0 D6 L9) before eventually picking up three points with a 1-0 win at home to QPR on November 24.
When Aston Villa faced Stoke on December 8 and Liverpool on December 15, none of the starting line-up had ever played for another team in the Premier League.
Edin Dzeko became the fourth player in Premier League history to score twice in the opening five minutes of a game when he got a quick-fire brace against Norwich. The others were Ryan Giggs (1995), Duncan Ferguson (2000) and Marcus Bent (2002)
Newcastle have become the first team to score three goals in two successive Premier League games and ended up losing them both; 4-3 against Manchester United and 7-3 against Arsenal.
January
According to those clever chaps at Opta, Clint Dempsey's equaliser for Tottenham was only the seventh time in 795 Premier League games that Manchester United have conceded an injury-time goal that affected the final result of the match.
Manchester United are unbeaten in the last 23 Premier League games at Old Trafford in the month of January, winning the last 18. Their last January defeat in the Premier League at Old Trafford was against Liverpool on January 22, 2002.
Mario Balotelli departed Manchester City with 20 Premier League goals to his name, but he has only been credited with one league assist in his time at the club - although it was a very memorable one as it set up the Sergio Aguero goal that won the title in stoppage time in 2011/12.
The only other player to end a Premier League career with 20+ goals and only one assist was Hernan Crespo of Chelsea.
Luis Suarez's opener for Liverpool against Arsenal was the 100th goal between the two clubs in the Premier League and that tally rose to 103 by the end of the night (Arsenal have 47 and Liverpool have 56). The Suarez goal was also Liverpool's 250th against Arsenal in the league.
Bradford City became the first club from the fourth tier to knock three different Premier League clubs out of the League Cup after beating Wigan, Arsenal and Aston Villa.
Jon Walters (v Chelsea) became the third player to score two own goals in one Premier League match after Jamie Carragher (v Man Utd, 1999) and Michael Proctor (v Charlton, 2003)
February
Adam Le Fondre equalled the record for goals scored as a substitute (6) in a single Premier League season.
Sylvain Distin became the 26th player to reach 400 Premier League appearances and the first outfield player from beyond the UK and Ireland to reach that particular landmark.
Robbie Elliot played in goal for Newcastle for the first time - with a name one letter different to former Newcastle full-back Robbie Elliott. That prompted us to look for players with the same name who have played for the same club in the Premier League and we discovered two; Everton have had two players called MARK HUGHES and Manchester United have had two men called LEE MARTIN.
Frank Lampard made his 592nd Chelsea appearance, equalling John Hollins in third place on the all-time list of Chelsea appearance-makers.
Daniel Sturridge's goal against Manchester City meant City fell just short in their bid to achieve seven consecutive shutouts, which would have been a new club record.
Four Frenchmen started for Newcastle against Chelsea, but that's far from the record for players from a single nation (excluding Englishmen) starting in a Premier League team. According to Opta, that record is held by Fulham who named SEVEN Frenchmen in their starting XI against Middlesbrough on the opening day of the 2003/04 season in Chris Coleman's first game as permanent manager
March
Wes Hoolahan of Norwich City became the first player from either Northern Ireland or Republic of Ireland to score a Premier League goal on St Patrick's Day (March 17) when he netted against Sunderland.
I watched Liverpool beat Tottenham, which meant Michael Dawson lost a Premier League game in which he had started for the first time since August 2011 when Tottenham lost 5-1 to Manchester City. In that time he had gone 17 Premier League starts without losing.
I was also at the 42nd Premier League North London derby to witness the ninth Tottenham win (there have been 17 draws and 16 Arsenal victories). It is only the seventh time in the last 20 derbies the team that scored first won the match and it will be 100 years this year since Arsenal moved to North London from South London which started the rivalry.
It was the 400th home game for Tottenham in the Premier League and their 200th Premier League win at White Hart Lane. The result also saw Spurs go 12 games unbeaten, which is their best run in the Premier League era.
The North London Derby has now produced more goals than any other fixture in Premier League history with the 42 meetings yielding 124 goals - taking it ahead of Manchester United v Everton (121 goals).
April
Manchester United scored for a 66th Premier League home game in a row in their 3-0 win against Aston Villa; a Premier League record. That run would come to an end in their next home game against Chelsea.
Manchester City are currently on a run of scoring in 50 Premier League home games in a row, so could beat that record next season.
Norwich had two goalscorers with the same surname in the same game when Elliott and Ryan Bennett scored against Reading. This is the sixth time that a club has done this in the Premier League after Mark and Stephen Hughes (Everton); Darren and Marcus Bent (Charlton); Joe and Ashley Cole (Chelsea); Kolo and Yaya Toure (Man City); and Mark and Kevin Davies (Bolton).
Man City's defeat to Tottenham was the first time since December 2011 that they have lost after leading at half-time.
Fulham drew 1-1 with Aston Villa, despite not having a shot on target.
May
Manchester United's 5-5 draw at West Brom was the first time we have seen a 5-5 draw in the Premier League and it's the first top-flight game to finish 5-5 since a meeting of Newcastle and QPR in September 1984. It's only the second time in history that Manchester United have drawn 5-5 - the other occasion being a Division Two game against Lincoln in 1895.
That game was also only the second time in Premier League history that Manchester United have led a game by three goals and not won it. The only other time that they let a three-goal lead slip was in January 1994 when they were 3-0 up against Liverpool at Anfield and drew 3-3.
Romelu Lukaku became only the third player in Premier League history to score a hat-trick against Manchester United; the others being David Bentley (in a 4-3 win for Blackburn in February 2006) and Dirk Kuyt (in a 3-1 win for Liverpool in March 2011).
He also became only the fifth player in Premier League history to have scored a hat-trick as a substitute after Ole Gunnar Solskjaer, Jimmy Floyd Hasselbaink, Robert Earnshaw and Emmanuel Adebayor.
Theo Walcott's strike against QPR, timed at 20 seconds by Opta, was the quickest in the Premier League this season, beating Robin van Persie's opener for Manchester United against West Ham, which clocked in at 31 seconds.
Tottenham got 72 points, which would have been enough to reach the Champions League in 10 of the last 11 seasons.
Swansea and Tottenham went through the whole season without being given a penalty. That's only happened to five other teams in the history of the Premier League.
Manchester United set a new record for the number of scorers in one Premier League season with 20; Van Persie (24), Rooney (12), Hernández (8), Kagawa (5), Evra (4), Evans (3), Rafael (3), Cleverley (2), Giggs (2), Carrick (1), Valencia (1), Fletcher (1), Powell (1), Scholes (1), Anderson (1), Nani (1), Welbeck (1), Vidic (1), Büttner (1), Ferdinand (1)