Football Commentator & Columnist
Martin Tyler blogs on England's U21 exit and Alan Dzagoev
Martin Tyler blogs on Alan Smith's insatiable appetite and an empty feeling after England's U21 exit.
Last Updated: 13/06/13 10:07am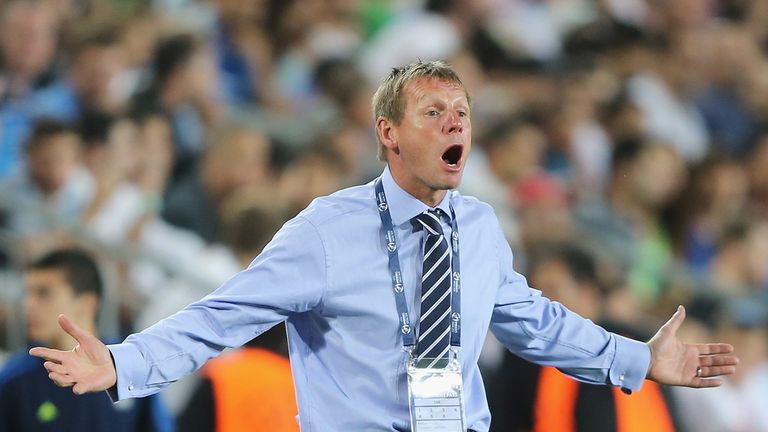 This was partly because the England squad had departed earlier that day, leaving a massive vacuum in our schedule...but in Alan's case it was more an emptiness in his stomach because he needs very regular replenishment.
I have hesitated to mention this earlier in our time in Israel, mostly because he is a fellow blogger and I would be decidedly concerned about his right of reply. But, as you would expect from me, the truth has to be told!
Smudger needs to be properly fed and watered and Wednesday evening came to a late but happy conclusion. We had been commentating on Russia v Germany at Netanya, which is by far the nearest to our base of the four stadia in use in the Uefa Under-21 Finals. Even so, there was a feeling of trepidation from my esteemed colleague that the kitchen would be closed.
That proved not to be the case and after a plate of ravioli washed down with a small glass of Sauvignon Blanc the former England striker went to bed with a big smile on his face.
It wasn't just the late dinner that gave cause for satisfaction, he told me. Earlier in the day lunch had been even more satisfying in the shape of an entrecote steak, medium rare, just to his liking. No wonder he had been in particularly excellent form with his broadcast of the game in Netanya!
If he ever gets bored with football he has a journalistic future as a restaurant critic.
Quality
In Netanya it was Russia who went the way of England with a third consecutive defeat, despite the excellence of Alan Dzagoev who, with 27 full caps, must surely be the most decorated member of any squad in an Under-21 Finals.
Alan Smith was also taken with the German striker Kevin Volland who plays for Hoffenheim but at 20 looks destined for a move to a bigger club. He could even be an outsider to be in German's squad in Brazil next summer.
Generally though, Germany's selection here did not have the quality of the U21 class of 2009 which thrashed England in the final in Malmo. Several of that team contributed to an even more impressive result a year later when Germany knocked England out of the South Africa World Cup.
The England exit has also led to the separation again of our "twin" reporters. Bryan Swanson has been recalled to London by Sky Sports News which is very sad since he and Patrick Davidson had only just discovered their journalistic bond. Pat's disappointment was tempered by general acclaim for an excellent interview with Stuart Pearce the day before England's final match against Israel.
From within the England hotel I can only add that the preparation by Stuart and his staff was meticulous. Why it did not bear fruit is a discussion for another time in a more serious setting.
As a commentator I have just covered six games in eight days, involving all eight of the nations in the Finals. For all the swotting, the fact is that some days you perform better than others and that goes for players too.
We have been left here in Israel with plenty of food for thought. For one of our number though, thought for food is just as important!