Football Commentator & Columnist
Steven Gerrard can restore pride and value to England shirt, says Martin Tyler
Retired midfielder can still help to make international football appealing to youngsters
Last Updated: 21/07/14 7:44pm
Martin Tyler says Steven Gerrard can still be of use to the next generation of England footballers, even though his playing days are over.
The Liverpool midfielder, who played 114 times for his country and is the third most capped player in England's history, has announced his decision to stand down from international football to focus on his club career but will take up a high-profile ambassadorial role with the FA.
Sky Sports commentator Tyler believes that the lustre of wearing the national shirt has been lost in recent years, but that great names like Gerrard can help to restore some pride in the jersey by extolling the values of playing for England.
He told Sky Sports News: "It's a pinnacle for a cricketer to play for your country. It brings you the rewards and the fame. In football you get that without playing for England now and that's something that has got to be looked at.
"Maybe Steven Gerrard is in a good position to actually start off this discussion and try to help the next generation, even though he's not going to be part of it as a player, try to get the right kind of values in so that England can have the success that as a nation we deserve.
"We're into sport because we love it, but as a media we have to bear some sort of responsibility as well. We can't be frightening people who are playing for England, we've got to be encouraging them and praising them when they do well.
"Steven Gerrard is the person to carry on the discussion. I'm just throwing the subject out for you all really."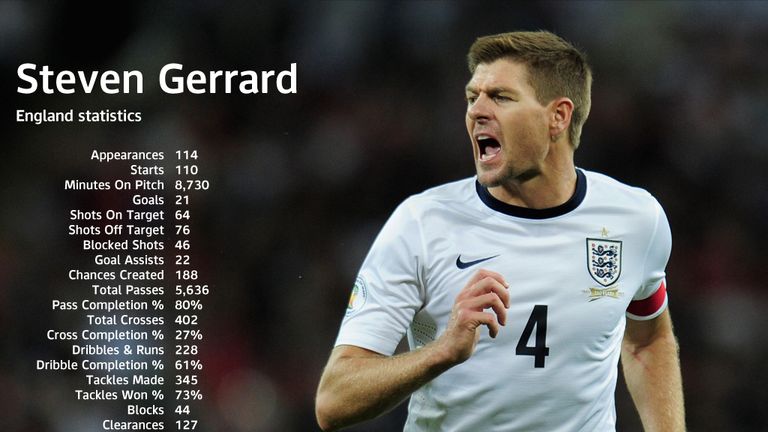 Roy Hodgson must now decide upon a new captain with the likes of Joe Hart and Wayne Rooney among the early favourites for the position.
However, Tyler says the new man must be allowed to focus on providing success on the pitch, rather than being burdened with too many off-field duties.
"We make a lot out of being England captain," he added.
"It comes with more than just the armband. There are all sorts of media responsibilities and, particularly for the FA, commercial responsibilities as well.
"I think that's why we have that image. We acknowledge the new captain and bring him in with lots of fanfares and we wave goodbye emotionally to captains like Steven Gerrard who stood down today.
"But really, as far as the football team is concerned, it's about winning games. The captain has a certain part in that, but he doesn't have to sell the shirts, for me."