Warner hits back at Fifa
Jack Warner has responded to his Fifa suspension with further allegations about the organisation.
Last Updated: 30/05/11 9:47am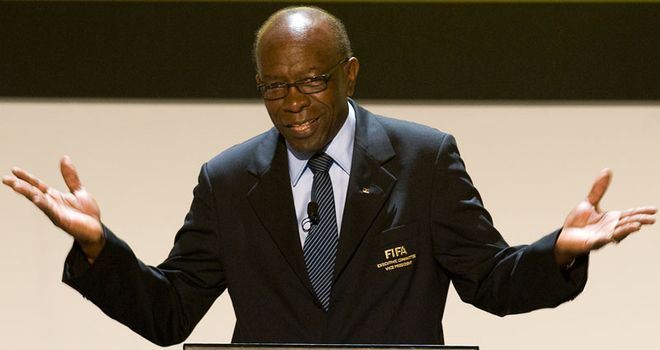 Jack Warner has responded to his Fifa suspension with allegations about the organisation's president Sepp Blatter - and that Fifa secretary general Jerome Valcke suggested the 2022 World Cup was 'bought'.
Warner claimed Blatter made gifts of computers to officials plus an unauthorised 1million US dollar gift to his confederation CONCACAF.
Caribbean football chief Warner, banned by Fifa's ethics committee on Sunday along with Asian confederation president Mohamed Bin Hammam pending the outcome of a full inquiry into allegations they paid officials 40,000 dollars each in bribes, denied making any payments.
Allegations
Warner said in a statement: "I denied the allegations that I made statements at the CFU [Caribbean Football Union] meeting about gifts being given by Mr Bin Hammam.
"I also indicated that at the Miami CONCACAF Congress on May 3 Mr Blatter made a gift of one million USD to CONCACAF to spend as it deems fit.
"This annoyed [UEFA] President Michel Platini who was present and he approached Secretary General Jerome Valcke complaining that Mr Blatter had no permission from the Finance Committee to make this gift to which Jerome replied that he will find the money for Mr Blatter.
"I also indicated at the CFU meeting held in Trinidad on May 10 which was requested by Mr Bin Hammam, FIFA through Mr Blatter organised gifts of laptops and projectors to all members of the Caribbean and no objections have been made today of this to date."
Warner said 13 federations had written to the ethics committee backing him up.
Warner's apparent revelation of an email from Valcke about Bin Hammam running against Blatter for Fifa president is potentially even more explosive.
Valcke, according to Warner's statement, wrote to him suggesting that Qatari Bin Hammam had "bought" the 2022 World Cup for his country.
Elections
Warner added: "I wrote to Valcke telling him, among other things, that the outcome of the elections may cause some fracture in the Arab world which we can ill-afford now and that I will like to ask Bin Hammam to withdraw from the race.
"To which Jerome replied to me and I quote: 'For MBH, I never understood why he was running. If really he thought he had a chance or just being an extreme way to express how much he does not like anymore JSB [Blatter]. Or he thought you can buy FIFA as they bought the WC'."
Warner reiterated his claim that the complaints against him were part of a conspiracy.
He added: "The complaints made in this matter are politically motivated against Mr Bin Hammam and me and are designed, among other things, to cause serious prejudice and damage to both Mr Bin Hammam and myself at one of the most critical times for the FIFA."