The Duke Spirit
The Duke Spirit talk West Ham, Tony Cottee and days playing for the Isle of Wight.
Last Updated: 07/09/11 4:09pm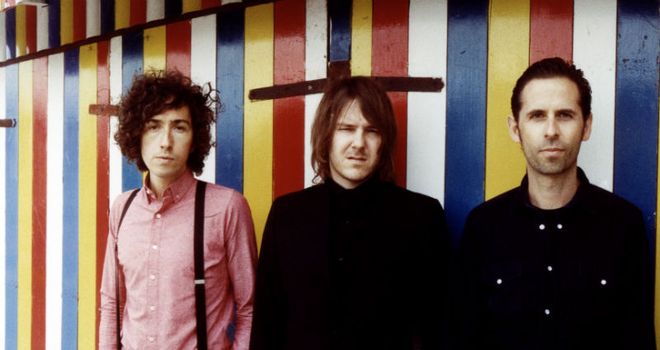 When skysports.com received press information telling us Marc Sallis of The Duke Spirit was an indoor bowls fan, we have to admit we thought it was a wind-up.
But Sallis is indeed a fan of pretty much every sport, including bowls, and is an especially passionate follower of West Ham after being brought up as a Hammer.
Ahead of the release of The Duke Spirit's new album, 'Bruiser', and with the band in the middle of a European tour, we were therefore happy to hear about Tony Cottee, Sam Allardyce and impressing for the Isle of Wight.
West Ham United
My dad's side of the family has always supported the team. My granddad was born just around the corner, so the whole Sallis family are West Ham through and through. It was natural for me to support them.
What have you made of relegation and the arrival of Sam Allardyce?
To be honest, I probably came to terms with relegation last Christmas. I look at it on the positive side. It has given us the chance to rebuild the team. I don't think anyone is really very excited about Allardyce coming in. He is not known for playing the football we love.
Southend United v ?
It was on Boxing Day at some point in the early Eighties. I was really young and it was a typical cold, overcast Boxing Day. It was pretty cool. I remember standing on old terraces, the way it was, and being really excited. I was a little bit nervous as well, because I was so small. I was with my dad and granddad and it was basically a family outing.
Tony Cottee
He was on fire in those years in the Eighties when I was just starting to get into football. He would have been a top player anyway. But the fact that he was at West Ham made it even better. I think he makes a good pundit these days on Sky Sports. He is good and talks quite a lot of sense. I always loved Julian Dicks as well. He was tough and wasn't necessarily the best, but he had charisma and gave everything for the team.
Hooligans
They ruined my football experience in the Eighties. Because I was so young, I couldn't go to a game by myself. My parents were put off taking kids to football, because there was that element. Even when I was 11 or 12, there was still a hangover and my parents were still a bit wary of letting me go, because of the football hooligans. They were the biggest villains.
World Cup
The Diego Maradona handball, his unbelievable goal against England and everything that followed in 1986. I watched it sat around the TV with my family at home. But that wasn't as a bad as going out in 1990 to the Germans. I was on a school camp and they got a TV. We were all sat there watching and there were kids crying.
Isle of Wight
I played for the Isle of Wight at county level. I never really played for a team outside of school. But I played for my school and my county. I was always played upfront. I used to do a lot of track and field and I was a sprinter. But I preferred to play on the wing.
West Ham 1982/83
It would have been the West Ham home kit in around 1982/83. I then went on to own the Bryan Robson shin pads and some John Barnes signature boots. I'm not really one for shirts these days, but I do wear the scarf.
Faith No More - The Real Thing
It was on vinyl. I remember going in the shop and putting up my own money to buy that. I've still got it now and dig it out for a listen. There were probably lots of other novelty songs, like the Ghostbusters theme, which I had bought for me while I was growing up.
The Duke Spirit's new album, 'Bruiser', is released on 19th September. For more details - thedukespirit.com