The Subways
Billy Lunn of The Subways talks Arsenal, Dennis Bergkamp and the villainous Teddy Sheringham.
Last Updated: 16/09/11 4:13pm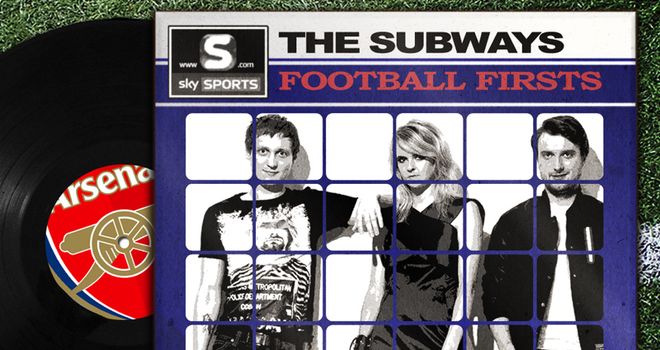 After watching transfer deadline day unfold in the pub and admitting his liver has 'taken a few beatings' in the wake of Arsenal's humiliation against Manchester United, Gunners fan Billy Lunn is feeling a little better.
The arrivals of the likes of Per Mertesacker and Mikel Arteta mean The Subways frontman is a little more optimistic about the footballing future at Emirates Stadium ahead of the return to Premier League action against Swansea on Saturday.
Lunn has been an Arsenal fan since being wowed by Highbury as a child and, ahead of a 19th September release of new album 'Money and Celebrity' and live tour, he was more than happy to talk about the heroic Dennis Bergkamp and the villainous Teddy Sheringham.
Arsenal
I grew up in Welwyn Garden City. My dad, my brother and me were on the train going into London and I remember seeing Highbury and saying, 'dad, wow, what's that?'. I think it was then a few weeks later and someone asked me in the playground who I supported. I said, 'Arsenal' and from then on I have been totally obsessed. As a I got into rock & roll, I did get a bit disillusioned with the diving and all the money in football. But my tour manager set up a fantasy football league a few years ago and I was totally hooked again.
Luton v Bristol City
Luton lost 2-1 or 1-0, I can't remember. I definitely know Luton lost, because it was my friend who invited me along and he said, 'aggh, my lucky hat didn't work today'. That was so many years ago. I must have been probably eight years old. My parents got a bit concerned about how much I liked Arsenal and didn't take me to a game, because they thought it might tip me over the edge.
Dennis Bergkamp
His style, his finesse, every time he got the ball, you knew the team Arsenal were playing against and all their supporters were scared. He was an absolute genius. I remember trying to copy one of his goals with his left foot, when I am right-footed. Sometimes I still go and watch his goal against Newcastle on YouTube and just get shivers.
Teddy Sheringham
He was a Tottenham player and I guess it was because everyone else liked him so much. He was one of those dangerous players as well. Some people would say they didn't rate him that much. But every time he got the ball he definitely put the fear in me.
Nayim
In the Cup Winners' Cup final in the final seconds of extra-time! It was one of those fluke, ridiculous things. My sister's boyfriend was a Spurs supporter and I can just remember him screaming. I cried my eyes out.
Templewood School
I was put as a forward in my first match. I only got that after I scored an utterly brilliant goal, again, going back to Bergkamp, when I was copying him. It was brilliant! Then when it came to the game, I'm not a very competitive person, every time I got the ball I was too scared to do anything but pass.
Arsenal away 1995/96
It was the one that looked like lightning. Now I look back on it, I just think, 'what a hideous strip'. Actually, the new away kit is utterly disgusting. It is a bit reminiscent of the lightning. The shorts were also really coarse. They were like swimming shorts.
Blur - Parklife
I've still got it now. The case has taken a battering over the years, but I've kept the CD in really good condition. I remember being obsessed with 'Girls & Boys'. I remember my mum taking me to Tesco to buy it.
New album 'Money and Celebrity' is released on 19th September on Cooking Vinyl. See www.thesubways.net for more details.