Brad slams unforgiving league
Brad Friedel feels English goalkeeping talent has slipped because the Premier League is such a results-based business.
Last Updated: 17/09/11 1:26pm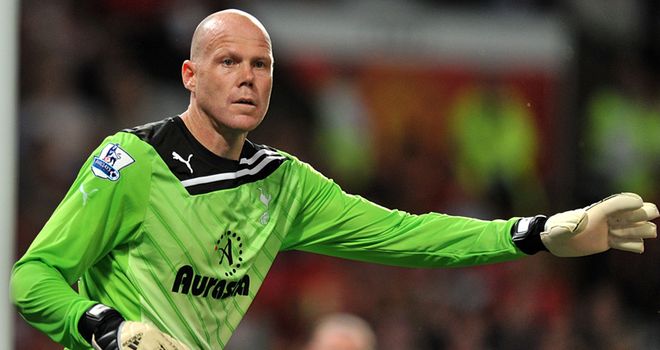 Brad Friedel believes the Premier League has become such a results-based business it has caused the standard of English goalkeeping talent to slip.
The veteran American shot-stopper, who signed for Tottenham during the summer transfer window as a free agent, is entering his 14th season in the top flight.
But the 40-year-old claims the demands and pitfalls on the football pitch can be unforgiving, especially if that goalkeeper is English.
Development
He told The Daily Telegraph: "When I first came over (in the mid-90s) every team seemed to have, if not English, then a top British or Irish goalkeeper.
"I've never been involved in the development side of things over here so I don't know where it slipped but maybe it's because results became so important, people wanted results 'yesterday', or because the finances with foreign players were a little bit easier. There are a whole host of things.
"In saying that, Joe Hart is an outstanding goalkeeper, so is Ben Foster and Scott Carson. Chris Kirkland is very good but has played with injuries. David James too.
"But it's not like it was before when you could pick from 10 who could be in the England squad - the likes of Seaman and Flowers, Woods and Martyn and you could just go on down the list. Wales had Southall, Dibble. Ireland had Bonner, Alan Kelly, Shay Given. There just seemed to be more."
Howler
The criticism, he feels, is more often than not wrong and he recalls the incident involving Paul Robinson during England's 2-0 away defeat to Croatia in a Euro 2008 qualifier. Robinson conceded when he took an air-shot as he tried to clear the ball after it hit a divot.
"He got a back-pass that hit a divot in the turf and there was nothing he could do," Friedel says. "And people made it like it was his howler. Well, don't pass the ball back to him like that, towards the goal! He got a divot.
"When I was reading the papers I saw the word 'howler'. But how is that? Why is the country coming down on him like that? It's unbelievable.
"It's not just Robinson. There are others. David James, I've played with James, I know he's an eccentric fella, an eccentric goalkeeper, but every little mistake he made people were on to him. Whoosh. He had the mind to be able to take it. Rob Green made a mistake (in the 2010 World Cup against, of course, the United States). OK, it should be reported. But the next day it should be dead.
"Over here it goes on and on and on and on. Green can play three years of flawless football now and then makes a mistake and they will rerun what he did (in South Africa). That's just how it is over here."