Blatter stands firm in row
Sepp Blatter has defended his record on tackling discrimination while appearing to stand by his comments regarding racism in football.
Last Updated: 17/11/11 8:19pm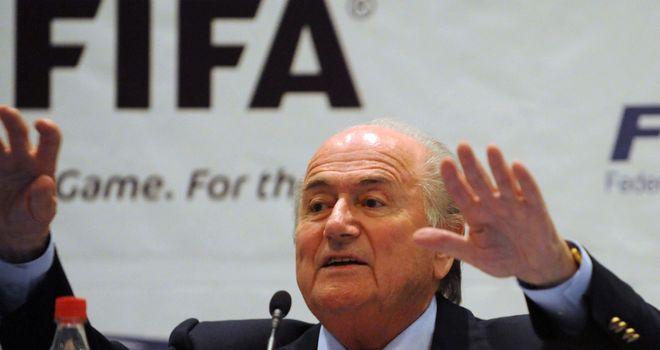 FIFA president Sepp Blatter has defended his record on tackling discrimination, while appearing to stand by his suggestion that racism on the pitch should be settled by a handshake.
Blatter followed his controversial comments in a fresh TV interview on Thursday where he apparently likened racist abuse on the pitch to "foul language".
The uproar sparked by comments made in earlier interviews given to CNN and Al Jazeera has led to influential figures in British sport to call for Blatter to step down.
Outside of Britain, the controversy has barely caused a ripple - it merited a single paragraph in French sports daily L'Equipe, and was treated similarly in Spain, Italy, Germany and the United States.
Standing firm
In an interview with Fox Soccer, Blatter stuck to his guns.
He said: "I can tell you in all my life in football now has been accompanied by fighting discrimination and fighting racism.
"I thought, and I'm still a very optimistic man, that after the World Cup in South Africa where it was really connecting the people, all different races, all different cultures being brought together through football, that not only in the continent of Africa but everywhere in the world that this was over.
"But still, where human beings are, there are still some moments and we can never stop going against racism, against discrimination.
"But if you also be a little bit in a sporting spirit when there is something happening on the field of play, during a match between two players - I call it foul language.
"I'm not saying about discrimination, but it's foul language, it's a foul play. At the end of the match, if you have foul play (when) the match is over you shake hands now because it's what we want to do. Before the match and at the end of the match everyone shall shake hands and therefore also forget what has been on the field of play.
"But having said that, I go on with my determination and my energy to go against all discrimination and racism."
Blatter's earlier comments led to a Twitter war of words between him and England defender Rio Ferdinand.
Appalling
Meanwhile, sports minister Hugh Robertson and players' chief Gordon Taylor called for Blatter to step down, while Prime Minister David Cameron branded his comments "appalling".
The furore has been heightened by the fact there are two high-profile current cases in England involving alleged racism on the pitch.
Chelsea's John Terry is being investigated by the Football Association and the police after allegations he racially abused QPR defender Anton Ferdinand, Rio's brother, and the Football Association yesterday charged Liverpool's Luis Suarez with racially abusing Manchester United's Patrice Evra.