What if?
Peter Fraser thinks Roberto Mancini should have shown more ambition with Manchester City in the Champions League
By Follow Peter Fraser on twitter - @SkySportsPeteF
Last Updated: 07/12/11 11:19pm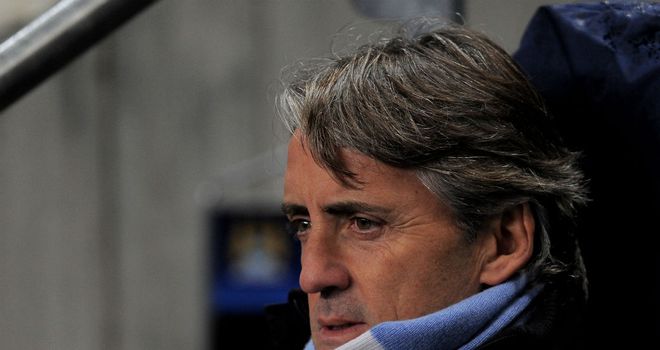 Manchester City's debut UEFA Champions League campaign was over before it began. They were beaten in the mind.
An almost inevitable victory over Bayern Munich on Wednesday night was not enough when combined with Napoli's win at Villarreal to mean Roberto Mancini's club were condemned to competing on the Thursday nights of the Europa League in the second half of the season.
It is a huge disappointment after the wave of expectation which swept around the blue half of Manchester following the success of finishing third in the 2010/11 Premier League and consequently qualifying for Europe's elite club competition.
But there has also always been a certain lack of surprise to the conclusion ever since the edgy, cautious and almost awestruck draw with Napoli at a previously euphoric Etihad Stadium during the Group A opener on 14th September.
Manchester City chief football operations officer Brian Marwood had said at the Champions League group-stage draw in August: "We feel we can have a tilt at four competitions (the Premier League, FA Cup, Carling Cup and Champions League). Speaking to Roberto during the summer and talking about the players he wanted to bring in, it was an ambition of his to really compete for four trophies and that's how we start."
In truth, it appeared the 2011/12 Champions League campaign was never more than a midweek pilot programme for City. Since the defeat at Bayern Munich, when Carlos Tevez's future at the club was essentially over, on Matchday Two, there have been rumblings coming out of those associated with the club that continental achievements are a long-term ambition. But why should this have been the case for a multi-talented, exciting and deep squad which has been assembled at multi-million-pound expense?
Undeniable
Mancini recently said: "When we started our season, the Premier League was the first target for us. I think we should be realistic in the Champions League. There are four or five teams who are better and ready to win a Champions League."
It is easy to consider Primera Liga giants Barcelona and Real Madrid as better teams than City, in theory given they have not faced each other, while Bayern administered an educating defeat at the Allianz Arena back in September. AC Milan? Possibly. But it is difficult to see why a City side including the likes of Joe Hart, Vincent Kompany, David Silva and Sergio Aguero to name just a few should have feared any other team from around Europe.
The issue is that City's participation in the Champions League this season reminded of their last Premier League campaign. There seemed to be a degree of caution or playing within themselves - that they themselves did not think they could, or want to, go and win the competition.
Mancini has freed his players in the current domestic season and his squad are playing with undeniable confidence in their methods. In the Premier League, City's build-up is patient, disciplined and then ruthlessly and blisteringly effective.
So why so different in Europe? The only time City looked close to mirroring their domestic form on the continent was when soundly beating a wretched Villarreal in Spain on Matchday Four.
Meticulous
The obvious response is to suggest City are playing against better teams than they face in the Premier League on a weekly basis. Group A was a tough draw. But as well-drilled as Napoli have been in their lightening counter-attacks led by Edinson Cavani, Ezequiel Lavezzi and Marek Hamsik, there is an argument with regards to whether they are a superior side to City. They may have defeated City in Italy, but would Napoli be leading the Premier League after 14 matches?
Tottenham demonstrated to momentous effect what could be achieved in the Champions League during their journey to the 2010/11 quarter-finals, when any sense of an inferiority complex was shredded to defeat both Inter Milan and AC Milan before ultimately suffering defeat to Real Madrid.
The argument that City lacked the necessary experience also fails to stand up. At the beginning of the season, players in City's squad had made a combined total of 288 appearances in the Champions League. Admittedly these were not as a team or with City. But the same applies to Napoli. The Serie A club's squad began the campaign with just 52 Champions League appearances. Yet they have reached the knockout stages.
English clubs have also been criticised for the standard of their defending in Europe this season. However, in the 2010/11 group stages, Arsenal, Chelsea, United and Tottenham conceded a combined total of 23 goals. This season, Arsenal, Chelsea, City and United let in 21. That is again reason City should have had confidence and more ambition.
The problem seemed to be in City's mindset, which was instilled by a meticulous Mancini. As with last season's Premier League, the Italian was clearly interested in a one-step-at-a-time method. He was not giving thought to the possibility of overachieving. If the Premier League is won this season, the Champions League will likely be the priority in 2012/13.
It is a disappointment City did not make more of a fist of the European Cup in their slow start. Perhaps Mancini holds some scars from perennially underachieving in the Champions League over his four years with Inter Milan, when his best achievement was reaching the last 16. Whatever the reason, the end of City's participation in this season's Champions League leaves a feeling of 'what if...?'. Expect Mancini and his players to provide an entirely different prospect next season.
Have your say on City's Champions League campaign via the form below