Cue Benny Hill music
The shadowy world of the football agent is one that is cloaked in secrecy amid accusations of greed. Thankfully, we've got one of the good guys on board to lift the lid on what life really is like at the sharp end of a notoriously cut throat business.
By Secret Agent - Follow me on Twitter @SSSecretAgent
Last Updated: 28/02/12 11:45am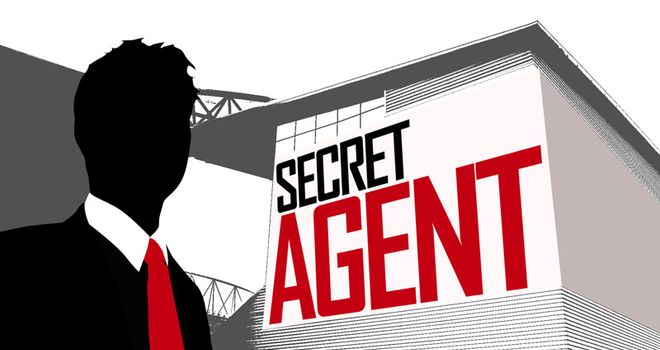 I'm often asked why clubs leave it until the last few days of the transfer window to do a deal, but in their defence January is a notoriously tough time for players and their employers. No club purposely sets out to make a last-minute panic buy on the final day of the month but sometimes circumstances dictate that it can't be avoided.
The ideal scenario would be for clubs to identify targets well in advance of the window opening on the first of day of this month. It would certainly make my job easier! It is not always, or in fact ever, as simple as that. In September or October a club may be comfortably away from the relegation places and looking to meet their target of a middle table finish, so in this scenario there would be little need to tweak the squad much, if at all.
Eight weeks down the line and a run of poor of results sees you precariously positioned on the precipice of the drop zone, out of the FA Cup and facing a backlash from the club's supporters. It may seem ridiculously short-sighted but a club's business plan can change dramatically within the space of a few weeks if results go against them.
Add to that club all the others in similar positions and then chuck in those at the other end of the table, punching above their weight like Newcastle, and it's not difficult to fathom why there's so much spending in January. Let's not forget that every transfer triggers another, with the selling club likely to have to reinvest to plug any holes left by a sale. It's a circle that's never quite complete but as agents, that's the way we like it.
In the summer a club has time to plan a transfer strategy but by January such well laid plans will be thrown away quicker than Kerry Katona's resolve to follow yet another New Year diet!
Players will also be wondering what the window will bring for them. It will be a mixture of some hoping for a big move, others hankering after a new contract to give them security, or a loan move until the end of the season. Footballers get bad press but it can be difficult for them in a profession where the dole queue is always just a couple of years away, three at best.
As an agent during the last couple of days of the window I will have an idea if something will happen to one of my players before it slams shut. If something seems to be brewing I will advise them to make sure they have their passport to hand and to pack an overnight bag and leave it in the boot of their car just in case the call comes in and we have to move quickly. I'm like an expectant father at this time of year!
I learnt a harsh lesson during one January window a couple of years back. A player from Europe who I was 'sort of' representing was in negotiations with a Premier League club to join them on a permanent deal.
When I say 'sort of' representing, I was looking after his interests in England only. I had a mandate signed and a buyer ready; the clock was ticking down meaning our negotiating hand was getting stronger by the minute.
The talks went long into the night of Jan 30 in a hotel near the club's stadium. We seemed to be arriving at an agreement but we just had a couple of clauses to agree on and the deal would be signed lunchtime on deadline day.
We all retired to our rooms for the night expecting that the deal would be a formality to complete in the morning. I was tired after a long day and ready for some shut eye after driving a hard bargain. The player had left all the talking to me and the club officials while he messed around with this mobile phone.
Come the next morning I went down to breakfast in the hotel restaurant and waited for the player to join me but after a while I realised that he'd probably tired himself out with all the texting he was doing while I haggled over his contract (and my commission of course).
I finished off my eggs benedict and coffee, checked out of the hotel making sure the bill was covered by his suitors (of course) and then waited in the hotel lobby for the player to join me before getting into the car sent by the club to take us to the training ground for his medical.
I rang the player on his mobile; it took a while to connect which I thought was strange. Why was the ringtone the same you get when you call abroad? Maybe it was because his phone was an international number. It rang out so I sent a text telling him to get his backside downstairs in five minutes to go for the medical.
The five minutes elapsed and there was still no sign of him. I tried to ring his phone again. This time it went straight to voice mail, odd. I then decided to ring his room from reception and that just rang out too. Perhaps he was in the shower getting ready. I decided to give him another five minutes then I would go and knock on for him.
The car from the club arrived but still no sign of Lord Lucan. At this point I decided to go up to his room and knock him up, still nothing. I tried his phone again. This time it rang, again with the international ring tone, again no answer. At this point I was getting a little suspicious, but where was he? He had no car, no driving licence and we were in the middle of nowhere.
Had he been abducted by Russian mafia wanting a cut of his money?
Well later on that morning I finally got hold of the player. He answered his phone sheepishly, with good reason as it transpired. He was in Portugal! He had sneaked out of the hotel to a waiting car at 2am to take him to the airport to catch a private jet to Lisbon. He had signed for a club in Portugal at 7am.
Obviously his text conversations, while I tried to set up the deal in England, were with another agent in Europe working for the Portuguese club.
I stood in the corridor outside his room in a rage for messing up the deal and making me look stupid, but also half of me was laughing as I imagined him jumping out of the hotel window, passport in hand as he shiftily got into a waiting car. I can only presume it had blacked out windows, I certainly hope so. It was like something out of a James Bond film mixed with a bit of Cannonball Run.
Lesson learnt; make sure your player isn't texting while you try to make a deal and sleep in the same room as the bugger the night before a contract is due to be signed.
As our poet laureate Dizzee Rascal once said 'Bonkers', but I love it.