You 'avin a laugh?
The shadowy world of the football agent is one that is cloaked in secrecy amid accusations of greed. Thankfully, we've got one of the good guys on board to lift the lid on what life really is like at the sharp end of a notoriously cut throat business.
By Secret Agent - Follow me on Twitter @SSSecretAgent
Last Updated: 28/02/12 11:44am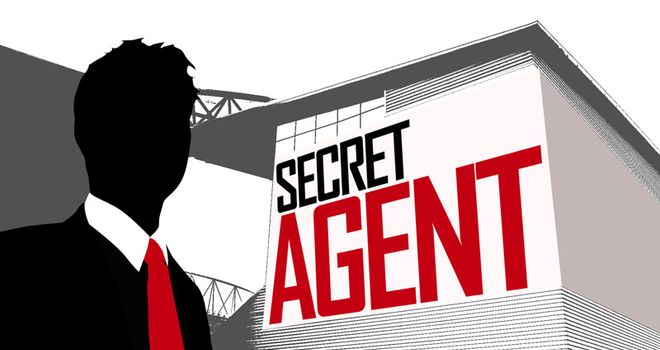 With a reported 30 candidates applying for every available job these days it may surprise you I've come across a number of players, without a club, refusing offers. We are talking about players who were released at the end of last summer but are still without an employer. Mainly these are lads who have had offers in this country or abroad but they refuse to take them on the grounds of the amount of cash on offer.
I'm gobsmacked that this is happening. Every year hundreds of players are released by their clubs after they become surplus to requirements or there's not enough budget available to keep them in the squad. Many of these players drop out of full-time football and have to supplement their wages by getting a day job; something they never would have envisaged when they signed their first professional contracts.
This window I've been asked to find clubs for players who were on the books of Premier League and Championship sides last year. As they were on big bucks at their last clubs they regularly turn their nose up at an offer of £10,000 or £15,000 a month even though they haven't kicked a ball or earned a penny since last summer. To you or I £15,000 might seem like serious coin but half of these lads act as though I've asked them to play for free...it's a strange old world.
They reject the offers out of hand on the principle of money because they are used to getting ten to fifteen grand a week. Hey lads, I used to get free milk at school but life's a b**** and you move on. Wake up boys! It's at times like these I try to remind them why they took up the sport in the first place - was it for a love of the beautiful game or because they were chasing a million a year pre-tax?
If you're good enough these sorts of offers would be on the table. It's a hard thing to say but if you've been out of work for over six months you're not good enough and it's probably fair to say you were vastly over-paid at your last club. Suck it up. You're still able to earn in one year what most people would in four ... playing football ... I weep!
If you have been following my blogs you will know I've been working on a move for a Premier League player for a while now and it's an ongoing concern. One club has shown their hand and talks will take place this weekend if the two parties involved can agree on the fee.
I haven't discounted that other clubs may become involved in the days before the window shuts either. I'm certainly keeping in contact with all the other clubs who have previously expressed an interest. But one club has a foot in the driver's side of the car. They are not quite sat in the seat but are definitely looking at adjusting for leg room!
At this stage of negotiations it's my job to keep it ticking over between the two clubs. Any hitches that arise will require me to use my skill and charm to keep it on track. I'm almost at the stage where I can become slightly excited that a deal will happen, but experience of past failed transfers keeps my feet grounded. A lot can still go wrong with three parties involved (buying club, selling club and player with agent).
Now I know where the phrase 'protracted move' comes from.
I may be on the payroll these days but that doesn't stop me getting excited at the prospect of transfer deadline being played out on Sky Sports News. Just the other day I caught the trailer and started to daydream about how one day it'll be me negotiating that Robinho deal, or ushering Dimitar Berbatov through the back door at Old Trafford.
If you've not seen the ad our intrepid presenters, including the indomitable Jim White, are put through their paces on an army assault course. Try and check it out just to see Natalie Sawyer in an army uniform! I'm watching for work purposes of course...
It's all tongue and cheek but Deadline Day on Sky Sports is fast becoming a (bi)annual British TV institution, almost like the Queen's speech or Andy Murray getting knocked at the semi-final stage of Wimbledon.
I hate to be the bearer of bad news but I can't help but think that this window may turn out to be a bit of a damp squib. Not much has happened to date and if the whispers I am hearing are right I don't see a whole lot changing between now and midnight Jan 31. The silver fox is the grandmaster of keeping our spirits up though and remember it'll only take one big deal to kick the window into life. The domino effect is never more prevalent than in the football industry.
Don't get me wrong there will be plenty to talk about on the day to keep us enthralled but I can't see any Torres/Carroll type deals going through like last January. Maybe we were spoilt a year ago, let's hope not.
One of the reasons for a lack of major signings is due to the relative scarcity of managerial changes this season. Only QPR and Sunderland have swapped bosses to date, so there is only really two bosses who have carte blanche to say they're not happy with what they've already got. Telling your chairman six months after the event you're not sure your summer buys are much cop is likely to lead to only thing and it's not a blank chequebook. Given Mark Hughes' predilection to spend big it's no surprise QPR are the more active of the two. Sunderland are doing well so minimal changes there I've heard, although Martin O'Neill wants a striker. Especially now Nicklas Bendtner is injured.
Another reason is the lack of top end quality currently available on the open market. And what there is available is grossly over-priced. If Manchester United can't find the right creative midfielder to join without paying way over the odds then there's not much hope for the rest of the Premier League.
Fergie's recent comment on transfers where he said 'what is the point of bringing just anyone in for the sake of it when what's available is mediocre' was spot on.
That's not for a minute going to stop us from getting the popcorn in on Tuesday night though!